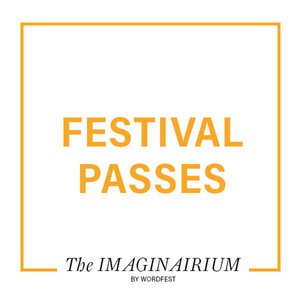 Festival Passes (Oct. 14 – 23)
NOTE: IF YOU PURCHASE A PASS AFTER 10AM ON AUG 26, ADMISSION TO LOUISE PENNY IS NOT INCLUDED (THIS EVENT IS NOW SOLD OUT)

Looking to see as much of the Imaginairium as possible for the best price? A Festival Pass offers incredible value, giving you access to more than 38 events, and it pays for itself in just under 7 Imaginarium experiences.
Gain entry to all regular events and make the most of your Imaginairium experience in Calgary from October 14 to 23, 2019. Pass holders have the option of reserving tickets in advance (subject to availability) or are admitted on a first come, first served basis at the door. This pass excludes food-related Imaginairium events and events occurring outside the fall festival program.
2019 Pass Holders also save on the box office fees normally added to the price of single tickets. We have eliminated these surcharges on the pass, making our passes an even more attractive option for people looking to attend a lot of events.