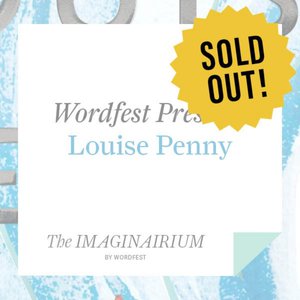 A Conversation with Louise Penny
Oct 23 @ 7:30 PM - 9 PM MT
Patricia A. Whelan Performance Hall, Central Library
800 3 Street SE
We can't think of a better way to close the 2019 Imaginairium than with two Canadian powerhouses, the luminous Louise Penny and the sublime Shelagh Rogers. We've been waiting since 2010 for one of Wordfest's favourite authors to return to Calgary with a new Chief Inspector Gamache novel. A Better Man asks the Impossible question: What would you do if your child's killer might walk free?
A Better Man
Catastrophic spring flooding, blistering attacks in the media, and a mysterious disappearance greet Chief Inspector Armand Gamache as he returns to the Sûreté du Québec. It is Chief Inspector Armand Gamache's first day back as head of the homicide department, a job he temporarily shares with his previous second-in-command, Jean-Guy Beauvoir. Flood waters are rising across the province. In the middle of the turmoil a father approaches Gamache, pleading for help in finding his daughter.
As crisis piles upon crisis, Gamache tries to hold off the encroaching chaos, and realizes the search for Vivienne Godin should be abandoned. But with a daughter of his own, he finds himself developing a profound, and perhaps unwise, empathy for her distraught father.
"With an uncompromising eye, Penny explores the depths of human emotion, both horrifying and sublime. Her love for her characters and for the mystical village of Three Pines is apparent on every page." —Publishers Weekly
About Louise Penny
Louise Penny is the author of the #1 New York Times and Globe and Mail bestselling series of Chief Inspector Armand Gamache novels. She has won numerous awards, including a CWA Dagger and the Agatha Award (six times), and was a finalist for the Edgar Award for Best Novel. In 2017, she received the Order of Canada for her contributions to Canadian culture. Louise has a fierce love for golden retrievers and lives in a small village south of Montreal with her dog, Bishop.