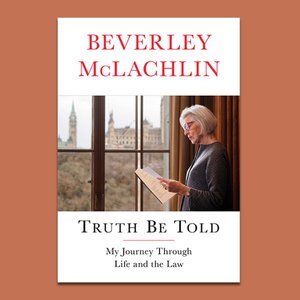 Wordfest Presents Beverley McLachlin
Former Chief Justice of the Supreme Court of Canada Beverley McLachlin offers an intimate and revealing look at her life, from her childhood in the Alberta foothills to her career on the Supreme Court, where she helped to shape the social and moral fabric of the country. This event includes an on-stage interview hosted by Susan Wright (Susan on the Soapbox) and Q&A, followed by a book signing.
About Truth Be Told: My Journey Through Life and the Law
As a young woman, Beverley McLachlin moved to Edmonton to pursue a degree in philosophy. There, she discovered her passion lay not in academia, but in the real world; solving problems directly related to the lives of the people around her. And in law, she found the tools to do exactly that.
She soon realized, though, that the world was not always willing to accept her. In her early years as an articling student and lawyer, she encountered sexism, exclusion, and old boys' clubs at every turn. And outside the courtroom, personal loss and tragedies struck close to home. Nonetheless, her passion for the law and the pursuit of justice pulled her through her darkest moments.
With warmth, honesty, and deep wisdom, Former Chief Justice of the Supreme Court of Canada Beverley McLachlin invites us into her legal and personal life — into the hopes and doubts, and the triumphs and losses on and off the bench. Through it all, her constant faith in justice remained her true north. In an age of division and uncertainty, McLachlin's memoir is a reminder that justice and the rule of law remain our best hope for a progressive and bright future.
About Beverley McLachlin
Beverley McLachlin was the Chief Justice of the Supreme Court of Canada from 2000 to 2017. She is the first woman to hold that position  and the longest-serving Chief Justice in Canadian history. Born in rural Pincher Creek, Alberta, McLachlin studied philosophy and law at the University of Alberta before being called to the bar in 1969. After teaching at the University of British Columbia,  she was appointed a judge in 1981. Throughout her prestigious career, she has served on many courts, including the County Court of Vancouver, the Supreme Court of British Columbia, the British Columbia Court of Appeal, and the Supreme Court of Canada. In 2019,  McLachlin became a Companion of the Order of Canada, the highest honour within the Order. Her first novel, Full Disclosure, was an instant national bestseller.
Dive Deeper