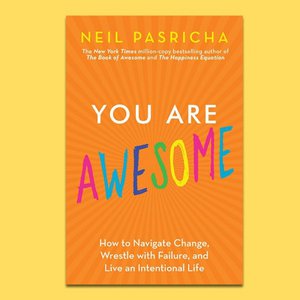 Wordfest Presents Neil Pasricha (You Are Awesome)
Dec 04 @ 7 PM - 8:15 PM
Patricia A. Whelan Performance Hall, Central Library
800 3 Street SE
Hi there! YOU are awesome. Find out why with the bestselling author of The Book of Awesome and The Happiness Equation, Neil Pasricha. Our cellphones teach us that we're not good enough; yesterday's butterflies are tomorrow's panic attacks. Let's learn how to be resilient together. This event includes an on-stage interview followed by an audience Q&A and book signing.
About You Are Awesome
We are lucky. For most of us, famine, plague, economic depression, and other life-threatening catastrophes are the stuff of history books. We're living in an era with the highest-ever rates of longevity, education, and wealth. Cars drive us home as our phones entertain us before we arrive to food delivered to the front door. We have it all!

But there's just one side effect. We no longer have the tools to handle failure...or even perceived failure. When we fall, we lie on the sidewalk crying. When we spill, we splatter. When we crack, we shatter.

We are turning into an army of porcelain dolls.

A rude email from the boss means calling in sick. Only two likes on our post means we don't have friends. Record numbers of students have clinical anxiety. And what about depression, loneliness, and suicide?

All rising! What do we desperately need to learn?

RESILIENCE. And we need to learn it fast.

Read You Are Awesome to learn:
• The single word that keeps your options open after failure
• What every commencement speech gets wrong
• 3 ways to dramatically accelerate your ability to learn and adapt
• The 2-minute morning practice that helps eliminate worry
• Why you need an Untouchable Day (and how to get one)
• and much, much more...

Because the truth is, you really are awesome.
"With all the world throws at us, resilience is now a precious commodity, and it's the underpinning of this terrifically helpful book by Neil Pasricha. You Are Awesome is more than a boost for your self-esteem, it's a perspective-setter for failure and success, and an homage to the amazing reserves of the human soul." —Mitch Albom, author of Finding Chika and The Five People You Meet In Heaven
About Neil Pasricha
Neil Pasricha thinks, writes, and speaks about intentional living. He hosts the award-winning podcast 3 Bookswhere he's on a fifteen-year-long quest to uncover the thousand most formative books in the world. He gives over fifty speeches a year, appearing for audiences at TED, SXSW, and Google. He has degrees from Queen's University and Harvard Business School. He lives in Toronto with his wife and three sons. Connect with him on Twitter, Instagram, Facebook using the handle @neilpasricha. You can visit him at GlobalHappiness.org, Neil.blog, 3books.co, and 1000awesomethings.com. You can email him at neil@globalhappiness.org.