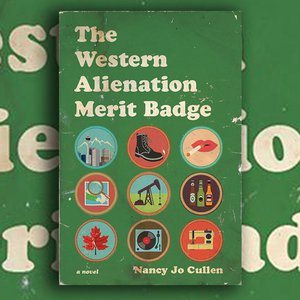 Wordfest We've Read This Book Club: Western Alienation Merit Badge
Have you vowed to wean yourself off Netflix and get some serious reading done this fall – then have a great chat about what you've read with an equally engaged group of book lovers?
Come prepared to delve into The Western Alienation Merit Badge by Nancy Jo Cullen, described by Casey Plett as "A queer prairie novel of my dreams – electric, funny, hot, heartbreaking, scathing, like a mix of Sarah Schulman and Chandra Mayor. The Western Alienation Merit Badge flashes effortlessly back and forth between four decades of sisterhood, poverty, estrangement, grief, queerness and, well, alienation."
This event is hosted by blogger and book reviewer Anne Logan of ivereadthis.com, and is part of Wordfest's monthly book club series on the top floor of Memorial Park Library. Check out Anne Logan's review of The Western Alienation Merit Badge in Alberta Views Magazine.
About The Western Alienation Merit Badge
Set in Calgary in 1982, during the recession that arrived on the heels of Canada's National Energy Program, The Western Alienation Merit Badge follows the Murray family as they struggle with grief and find themselves on the brink of financial ruin. After the death of her stepmother, Frances "Frankie" Murray returns to Calgary to help her father, Jimmy, and her sister, Bernadette, pay the mortgage on the family home. When Robyn, a long-lost friend, becomes their house guest old tensions are reignited and Jimmy, Bernadette and Frances find themselves increasingly alienated from one another.

Part family drama, part queer coming-of-age story, The Western Alienation Merit Badge explores the complex dynamics of a small family falling apart.
About your host, Anne Logan
Anne Logan worked in the Canadian publishing industry for 7 years, and loved every minute of it. Now she reviews books online at ivereadthis.com, and on-air for CBC Calgary.