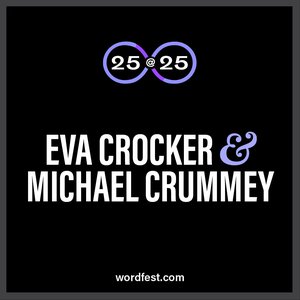 25@25: Eva Crocker & Michael Crummey
Sep 29 @ 7 PM - 8 PM MT $15
Online

Last week, Shelagh Rogers passed the daisy to Michael Crummey. He has selected fellow Newfoundlander Eva Crocker to be his virtual stage-mate - so everyone pour something strong, this will be an east coast banger for the books! Says Crummey, "Her work is very much Newfoundland centric, but in a completely different way than mine. Urban, millennial, dystopic, and exploring sexuality, and gender in a way unimaginable even 20 years ago." 
The 60-minute conversation, hosted by CBC Radio's Jennifer Keene, will start at 7:00 PM MT. (The pre-show will begin at 6:50 PM MT.) And as we do every Tuesday, we'll be revealing the names of the next two authors in the 25@25 Daisy Chain at the end of the show, making you the first to know!
Pass or ticket holders will be automatically registered for this event, with access to the live stream on Wordfest.com, as well as the option of watching it on demand whenever works for you. Look for our unique Digital Doggie Bag after the event with all the links, goodies and references from the conversation.
About Michael Crummey
In 1994 Michael Crummey won the inaugural RBC Bronwen Wallace Award for young unpublished writers and he's been racking up nominations and awards for his work ever since. Crummey is the author of the memoir Newfoundland: Journey into a Lost Nation; three books of poetry, including Arguments with Gravity, winner of the Writers' Alliance of Newfoundland and Labrador Book Award for Poetry; and the short fiction collection Flesh & Blood. His first novel, River Thieves, was a finalist for the Scotiabank Giller Prize, and his second novel, The Wreckage, was a finalist for the Rogers Writers' Trust Fiction Prize. His third novel, Galore, won the Commonwealth Writers' Prize (Canada and the Caribbean) and was a finalist for the Governor General's Literary Award. His fourth novel, Sweetland, was also a finalist for the Governor General's Literary Award. His most recent novel, The Innocents, was the winner of the 2020 Thomas Raddal Atlantic Fiction Award and was a finalist for the Scotiabank Giller Prize, the Rogers Writers' Trust Fiction Prize and the Governor General's Literary Award, Crummey lives in St. John's, Newfoundland.
About The Innocents
*FINALIST FOR THE 2019 SCOTIABANK GILLER PRIZE
*FINALIST FOR THE 2019 GOVERNOR GENERAL'S LITERARY AWARD
*FINALIST FOR THE 2019 ROGERS WRITERS' TRUST FICTION PRIZE
*WINNER OF THE 2020 THOMAS RADDALL ATLANTIC FICTION AWARD*NATIONAL BESTSELLER
*NAMED ONE OF THE BEST BOOKS OF 2019 BY The Globe and Mail • CBC • Toronto Star • Maclean's
A brother and sister are orphaned in an isolated cove on Newfoundland's northern coastline. Their home is a stretch of rocky shore governed by the feral ocean, by a relentless pendulum of abundance and murderous scarcity. Still children with only the barest notion of the outside world, they have nothing but the family's boat and the little knowledge passed on haphazardly by their mother and father to keep them.

As they fight for their own survival through years of meagre catches and storms and ravaging illness, it is their fierce loyalty to each other that motivates and sustains them. But as seasons pass and they wade deeper into the mystery of their own natures, even that loyalty will be tested.

The Innocents is richly imagined and compulsively readable, a riveting story of hardship and survival, and an unflinching exploration of the bond between brother and sister. By turns electrifying and heartbreaking, it is a testament to the bounty and barbarity of the world, to the wonders and strangeness of our individual selves.
About Eva Crocker
Eva Crocker is the author of the critically acclaimed debut short story collection Barrelling Forward, which won the Alistair MacLeod Prize for Short Fiction and the CAA Emerging Writer Award, was a finalist for the Writers' Trust Dayne Ogilvie Prize for LGBTQ Emerging Writers and the NLCU Fresh Fish Award for Emerging Writers, and was a National Post Best Book. All I Ask is Crocker's first novel.
About All I Ask
"All I Ask is a compelling novel and an impressive accomplishment for one of our most promising writers." — Megan Gail Coles, author of Small Game Hunting at the Local Coward Gun Club
Like Sally Rooney's Conversations with Friends and Eileen Myles's Chelsea Girls, All I Ask by the award-winning and highly acclaimed author Eva Crocker is a defining novel of a generation.

A little before seven in the morning, Stacey wakes to the police pounding on her door. They search her home and seize her computer and her phone, telling her they're looking for "illegal digital material." Left to unravel what's happened, Stacey must find a way to take back the privacy and freedom she feels she has lost.

Luckily, she has her friends. Smart and tough and almost terrifyingly open, Stacey and her circle are uncommonly free of biases and boundaries, but this incident reveals how they are still susceptible to society's traps. Navigating her way through friendship, love, and sex, Stacey strives to restore her self-confidence and to actualize the most authentic way to live her life — one that acknowledges both her power and her vulnerability, her joy and her fear.

All I Ask is a bold and bracing exploration of what it's like to be young in a time when everything and nothing seems possible. With a playwright's ear for dialogue and a wry, delicate confidence, Eva Crocker writes with a compassionate but unsentimental eye on human nature that perfectly captures the pitfalls of relying on the people you love.
Buy Their Books
The Innocents
Owl's Nest Books | Shelf Life Books
All I Ask
Owl's Nest Books | Shelf Life Books
Buy Their Recommended Books
To continue with the generosity that is at the heart of the Daisy Chain concept – and help promote the work of authors whose book events have been affected by COVID-19 – we asked the 25@25 authors to highlight a book published in 2020 that they would encourage you to read. These books will be available at Owl's Nest and Shelf Life in Calgary. If you buy five or more of the 25@25 authors' featured books (either their current title or their backlist) or their recommended books, you will receive a 25% discount. Please contact the booksellers for more details about the discount.
Buy Michael Crummey's Pick:  Songs for the End of the World by Saleema Nawaz
"Sometimes a writer is so in tune with the world we live in that they manage to predict the future. Saleema Nawaaz is one of those writers. And this is one of those books"
Owl's Nest Books | Shelf Life Books
Buy Eva Crocker's Pick:  How to Pronounce Knife by Souvankham Thammavongsa

"It took me the whole summer to read How to Pronounce Knife because I was savoring the stories, I wanted to let each one resonate a while before moving on to the next one. The worlds Souvankham Thammavongsa conjures feel so real,  she writes about work and parent-child relationships with honesty and compassion.I'm reading the collection a second time right now and thinking about craft because these feel perfect short stories to me. I'm trying to understand how pacing and tension and endings work in each one and learn from it. I was so happy when I read the backflap yesterday and saw that Thammavongsa has a novel on the way, I can't wait to read more of her work." 
Owl's Nest Books | Shelf Life Books
Curiouser?
Articles:
Reviews:
"Eva Crocker's new book All I Ask is wickedly funny, sexy joyous… with heart" – The Star
"Eva Crocker delivers exhilarating read in first novel" – The Telegram