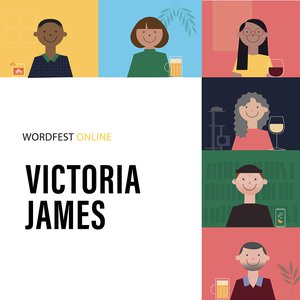 A Spirited Conversation with Victoria James
May 11 @ 5:30 PM - 6:15 PM MT
Online

Join us for Wordfest's first online Spirited Conversation, featuring Victoria James, the author of the bestselling Wine Girl: The Obstacles, Humiliations, and Triumphs of a Young Sommelier. The 45-minute live-stream will feature a conversation hosted by Wordfest's CEO, Shelley Youngblut, followed by an audience Q&A. 
To enable you to fully benefit from Victoria's expertise, she has put together a special Wordfest Quarantine Wine Collection. Calgary's Metrovino Fine Wines will be delighted to deliver this unique selection directly to you or have it available for curbside pickup at their store at 722 11th Ave. S.W.
Your Wordfest Quarantine Wine Collection includes: 
White: Eva Fricke Riesling "Mellifluous"  2018 (Rheingau, Germany)  $29.       
Rosé: Leitz 1-2-DRY Pinot Noir Rosé  (Rheingau, Germany) $23.       
Fortified, dry, white: Valdespino "Deliciosa" Manzanilla 375ml (Jerez, Spain)  $23. 
Red: Guy Breton Beaujolais-Villages "Marylou" 2018 (Beaujolais, France) $33.      
Red: Julien Cecillon  Syrah "Les Graviers" 2018 (N. Rhône, France)  $29.       
Splurge (to celebrate when we can gather again in person): Champagne Gaston Chiquet "Special Club" Brut 2011 $93.

Total: $230 plus GST. Order at wine@metrovino.com or call 403-205-3356. (Note: the package can be purchased without the Champagne, but consider it your celebratory libation when we can safely gather again in person.)
Get the Book
We are so grateful to Harper Collins Canada for making it possible for us to connect with Victoria. To order a copy Wine Girl, please get in touch with your local book stores (let's keep them in business!). Here are Calgary booksellers that would love to be able to deliver through curbside pickup or to your home. 
If you purchase from Cookbook Co., they will add it to your wine delivery or pickup.
The Cookbook Co. | Owl's Nest Books | Shelf Life | The Next Page | Indigo.ca
Event Details
The preshow reel will begin at 5:15 PM MT. The interview will start at 5:30 PM MT.
This event is free but if you RSVP, we'll send you easy instructions to help you get set up, as well as our unique Digital Doggie Bag after the event, sharing all the links, goodies and references that Victoria and Shelley mention.
About Wine Girl
At just twenty-one, the age when most people are starting to drink (well, legally at least), Victoria James became the country's youngest sommelier at a Michelin-starred restaurant. Even as Victoria was selling bottles worth hundreds and thousands of dollars during the day, passing sommelier certification exams with flying colors, and receiving distinction from all kinds of press, there were still groping patrons, bosses who abused their role and status, and a trip to the hospital emergency room.
It would take hitting bottom at a new restaurant and restorative trips to the vineyards where she could feel closest to the wine she loved for Victoria to re-emerge, clear-eyed and passionate, and a proud leader of her own Michelin-starred restaurant.
Exhilarating and inspiring, Wine Girl is the memoir of a young woman breaking free from an abusive and traumatic childhood on her own terms; an ethnography of the glittering, high-octane, but notoriously corrosive restaurant industry; and above all, a love letter to the restorative and life-changing effects of good wine and good hospitality.
About Victoria James 
Victoria James has worked in restaurants since she was thirteen. She was certified as a sommelier when she was twenty-one, making her the youngest sommelier in the country. She was Food & Wine's Sommelier of the Year in 2018, and has appeared on both Forbes and Zagat's "30 Under 30" lists. She has worked at some of the most prestigious restaurants in New York City, including Marea and Aureole. Currently, she is the Beverage Director and partner at Cote, a Michelin-starred hot spot in the Flatiron district. She is the author of Drink Pink: A Celebration of Rosé, which Harper Design published in 2017, and now, Wine Girl. 
Curiouser?
Articles & Reviews: