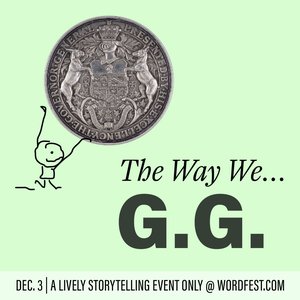 The Way We GG
Dec 03 @ 7 PM - 8 PM MT
Online

The 2020 edition of our annual celebration of the Governor General's Literary Awards is a lively storytelling event featuring four past GG nominees and winners: Meg Braem, Lorna Crozier – in her 11th Wordfest appearance! – as well as Don Gillmor and Benjamin Hertwig. Each writer shares an open-mic style monologue on the theme of luck and fortune (whether good or bad). The hour-long broadcast will start at 7:00 PM MT and will be hosted by Wordfest's CEO and Creative Ringleader Shelley Youngblut. (The pre-show begins at 6:50 PM MT.) You can also watch On Demand at Wordfest.com after the initial broadcast.
The broadcast on Wordfest.com is free, but if you RSVP, we'll send you a reminder along with easy instructions to help you get set up, as well as our unique Digital Doggie Bag after the event with extended interviews with the four authors.
This event is organized in collaboration with the Canada Council for the Arts to celebrate the finalists and winners of the Governor General's Literary Awards.
THE STORYTELLERS
About Meg Braem
Meg Braem is an Alberta-based playwright. Her plays have been nominated for the Governor General's Literary Award, received the Alberta Literary Award for Drama and have twice won the Alberta Playwriting Competition.  Her work has been presented at the University of Lethbridge, Lunchbox Theatre, The Belfry Theatre, Sage Theatre, Sparrow and Finch Theatre, Theatre Transit, Atomic Vaudeville, and Intrepid Theatre.  Most recently Braem premiered Flight Risk at Lunchbox Theatre and her play The Josephine Knot was published by Playwrights Canada Press. Braem is co-author of Amplify: Graphic Narratives of Feminist Resistance (University of Toronto Press, 2019) with Norah Bowman and Dominique Hui. Braem was the Lee Playwright-in-Residence at the University of Alberta from 2017-2020 and is the 2020/21 Canadian Writer-in-Residence in the Calgary Distinguished Writer's Program at the University of Calgary.
About Blood: A Scientific Romance
Twin sisters Poubelle and Angelique are bonded in both biology and shared tragedy after a car accident leaves them orphaned along a prairie highway in a pool of blood. But the young twins are brought home with Dr Glass after their remarkable recovery, and quickly find themselves the subject of endless experiments. In a quest to study Poubelle and Angelique's undeniable bond, Dr Glass's questionable practices are soon scrutinized by a young doctor who might be the twins' only hope for a normal life. Blood: A Scientific Romance probes the questions: do relationships take on new meaning when they begin to shape not only our experiences, but our biology? And do we, in fact, complete one another?
About Lorna Crozier
Lorna Crozier is the author of the memoir Through the Garden, a finalist for the Hilary Weston Writers' Trust Prize for Nonfiction. She has published eighteen books of poetry, including God of Shadows, What the Soul Doesn't Want, The Wrong Cat, Small Mechanics, The Blue Hour of the Day: Selected Poems, and Whetstone. She is also the author of The Book of Marvels: A Compendium of Everyday Things and the memoir Small Beneath the Sky, which won the Hubert Evans Award for Creative Nonfiction. She won the Governor General's Literary Award for Poetry for Inventing the Hawk60 and three additional collections were finalists for the Governor General's Literary Award for Poetry. She has received the Canadian Authors Association Award, three Pat Lowther Memorial Awards, the Raymond Souster Award, and the Dorothy Livesay Poetry Prize. She was awarded the BC Lieutenant Governor's Award for Literary Excellence and the George Woodcock Lifetime Achievement Award. Crozier is a Professor Emerita at the University of Victoria and an Officer of the Order of Canada, and she has received five honorary doctorates for her contributions to Canadian literature. Born in Swift Current, Saskatchewan, she now lives in British Columbia.
About Through the Garden: A Love Story (with Cats)
A deeply affecting portrait of a long partnership and a clear-eyed account of the impact of a serious illness, writing as consolation, and the enduring significance of poetry from one of Canada's most celebrated voices.

When we ran off together in 1978, abandoning our marriages and leaving wreckage in our wake, I was a "promising writer," Patrick had just won the Governor General's Award. I was so happy for him, and I've continued to be every time an honour comes his way, but I knew if I didn't grow, if I remained merely someone who showed potential, we wouldn't last. I swore I wouldn't play the dutiful wife, cheerleader, and muse of the great male writer, and he didn't envision a partner like that. We aspired to flourish together and thrive in words and books and gardens.
When Lorna Crozier and Patrick Lane met at a poetry workshop in 1976, they had no idea that they would go on to write more than forty books between them, balancing their careers with their devotion to each other, and to their beloved cats, for decades. Then, in January 2017, their life together changed unexpectedly when Patrick became seriously ill. Despite tests and the opinions of many specialists, doctors remained baffled. There was no diagnosis and no effective treatment plan. The illness devastated them both.
During this time, Lorna turned to her writing as a way of making sense of her grief and for consolation. She revisited her poems, tracing her own path as a poet along with the evolution of her relationship with Patrick. The result is an intimate and intensely moving memoir about the difficulties and joys of creating a life with someone and the risks and immense rewards of partnership. At once a spirited account of the past and a poignant reckoning with the present, it is, above all, an extraordinary and unforgettable love story.

Told with unflinching honesty and fierce tenderness, Through the Garden is a candid, clear-eyed portrait of a long partnership and an acknowledgement, a tribute, and a gift.
About Don Gillmor
Don Gillmor is one of Canada's most accomplished writers. His most recent book, To the River, won the Governor General's Literary Award for Non-fiction, and his previous journalism on suicide earned him both a National Newspaper Award and a National Magazine Award. Gillmor is also the author of the bestselling, award-winning two-volume Canada: A People's History, and his other books include the novels Kanata, Mount Pleasant, and Long Change, which were published to critical acclaim. Two of the nine books he's written for children were also nominated for the Governor General's Literary Award. He lives in Toronto with his wife and two children.
About To the River: Losing My Brother
The Governor General's Literary award-winning exploration of suicide in which one of Canada's most gifted writers attempts to understand why his brother took his own life. Which leads him to another powerful question: Why are boomers killing themselves at a far greater rate than the Silent Generation before them or the generations that have followed?
In the spring of 2006, Don Gillmor travelled to Whitehorse to reconstruct the last days of his brother, David, a talented musician whose truck and cowboy hat had been found at the edge of the Yukon River. David's family, his wife and his friends had different theories about his disappearance. Some thought he had run away; some thought he'd met with foul play; but most believed that David, who at forty-eight was about to give up the night life for a day job, had intentionally walked into the water. Just as Don was about to paddle the river looking for traces, David's body was recovered. And Don's canoe trip turned into an act of remembrance and mourning.
Though David could now be laid to rest, there was no rest for his survivors. In this tender, probing, surprising work, Don Gillmor helps those left behind understand why people kill themselves and how to live with the aftermath. And he asks why, for the first time, it's not the teenaged or the elderly who have the highest suicide rate, but the middle aged. Especially men.
About Benjamin Hertwig
Benjamin Hertwig is a writer and artist living on Coast Salish lands. His debut poetry collection, Slow War, received the Alberta Book Award for poetry and was a finalist for the Governor General's Award. He is the recipient of a National Magazine Award, and his fiction and non-fiction have appeared in places like the Walrus, the New York Times, and the Sun Magazine. He's currently working away on a novel set in his hometown of Edmonton. 
About Slow War
Benjamin Hertwig's debut collection of poetry, Slow War, is at once an account of contemporary warfare and a personal journey of loss and the search for healing. It stands in the tradition of Wilfred Owen's "Dulce et Decorum Est" and Kevin Powers' "Letter Composed During a Lull in the Fighting". 

A century after the First World War, Hertwig presents both the personal cost of war in poems such as "Somewhere in Flanders/Afghanistan" and "Food Habits of Coyotes, as Determined by Examination of Stomach Contents," and the potential for healing in unlikely places in "A Poem Is Not Guantánamo Bay." This collection provides no easy answers – Hertwig looks at the war in Afghanistan with the unflinching gaze of a soldier and the sustained attention of a poet. In his accounting of warfare and its difficult aftermath on the homefront, the personal becomes political.
While these poems inhabit both experimental and traditional forms, the breakdown of language channels a descent into violence and an ascent into a future that no longer feels certain, where history and trauma are forever intertwined. Hertwig reminds us that remembering war is a political act and that writing about war is a way we remember.
Buy the Books
Blood: A Scientific Romance
Owl's Nest Books | Shelf Life Books
Through the Garden: A Love Story (with Cats)
Owl's Nest Books | Shelf Life Books
To the River: Losing my Brother
Owl's Nest Books | Shelf Life Books
Slow War
Owl's Nest Books | Shelf Life Books
Curiouser?
Articles: