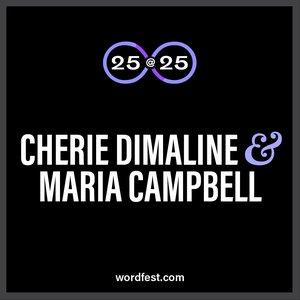 Wordfest 25@25: Cherie Dimaline & Maria Campbell
Oct 27 @ 7 PM - 8 PM MT $15
Online

On Oct. 20, Seth passed the daisy to Cherie Dimaline, who invited Maria Campbell to be her virtual stage-mate. "This is the pairing I most hoped would happen during our 25@25 celebration," says Wordfest's Shelley Youngblut. "Part of the inspiration for this series came during the 2019 Imaginairium, when Shelagh Rogers asked Cherie Dimaline about her mentors. Cherie brought up Maria with such authentic love that all I wanted was for more people to learn about this remarkable artist and the influence she has had on generations of Indigenous writers."
The 60-minute conversation, hosted by Anne Collins, the publisher of Knopf Random Canada, will start at 7:00 PM MT. (The pre-show will begin at 6:50 PM MT.)  As we do every Tuesday, we'll be revealing the names of the next two authors in the 25@25 Daisy Chain at the end of the show, making you the first to know!
25@25 pass holders have been automatically registered for this event, with access to the live stream on Wordfest.com, as well as the option of watching it on demand whenever works for you. 
Single tickets are now on sale for $15, and include on-demand viewing of this event only. (You can always upgrade to a full pass at any time for access to all 13 anniversary events. Just email boxoffice@wordfest.com.)
You'll also receive our unique Digital Doggie Bag sent to your email after the event, with all the links, goodies, and references from the conversation.
About Cherie Dimaline
Cherie Dimaline's young adult novel The Marrow Thieves shot to the top of the bestseller lists when it was published in 2017, and stayed there for more than a year. It won the Governor General's Literary Award, the Kirkus Prize in the young adult literature category, the Burt Award for First Nations, Métis and Inuit Literature, was a finalist for the Trillium Book Award and, among other honours, was a fan favourite in the 2018 edition of CBC's Canada Reads. It was also a Book of Year on numerous lists including the National Public Radio, the School Library Journal, the New York Public Library, the Globe and Mail, Quill & Quire and the CBC. Cherie was named Emerging Artist of the Year at the Ontario Premier's Awards for Excellence in the Arts in 2014, and became the first Indigenous writer in residence at the Toronto Public Library. From the Georgian Bay Métis Community in Ontario, she now lives in Vancouver.
About Empire of Wild
"Ripping, roaring, fur-flying, and more!" says Margaret Atwood about this captivating novel from the author of The Marrow Thieves, the #1 national bestseller, multi-award winner, and Canada Reads finalist

"Wildly entertaining and profound and essential." –Tommy Orange, The New York Times
Broken-hearted Joan has been searching for her husband, Victor, for almost a year—ever since he went missing on the night they had their first serious argument. One hung-over morning in a Walmart parking lot in a little town near Georgian Bay, she is drawn to a revival tent where the local Métis have been flocking to hear a charismatic preacher. By the time she staggers into the tent the service is over, but as she is about to leave, she hears an unmistakable voice.
She turns, and there is Victor. Only he insists he is not Victor, but the Reverend Eugene Wolff, on a mission to bring his people to Jesus. And he doesn't seem to be faking: there isn't even a flicker of recognition in his eyes.
With only two allies—her odd, Johnny-Cash-loving, 12-year-old nephew Zeus, and Ajean, a foul-mouthed euchre shark with deep knowledge of the old ways—Joan sets out to remind the Reverend Wolff of who he really is. If he really is Victor, his life, and the life of everyone she loves, depends upon her success.

Inspired by the traditional Métis story of the Rogarou—a werewolf-like creature that haunts the roads and woods of Métis communities—Cherie Dimaline has created a propulsive, stunning and sensuous novel.
About Maria Campbell
Maria Campbell is a Métis writer, playwright, filmmaker, scholar, teacher, community organizer, activist, and elder (born 26 April 1939 in Park Valley, SK). Campbell's memoir Halfbreed (1973) is regarded as a foundational work of Indigenous literature in Canada. She has authored several other books and plays, and has directed and written scripts for a number of films. She has also worked with Indigenous youth in community theatre and advocated for the hiring and recognition of Indigenous people in the arts. She has mentored many Indigenous artists during her career, co-established shelters for Indigenous women and children, and run a writers' camp at the national historical site at Batoche, where she has produced commemorative events related to the famous battle of the 1885 North-West Resistance. Maria Campbell is an officer of the Order of Canada and holds six honorary doctorates.
About Halfbreed
"You can almost feel this book vibrating in your hands, it is so compelling. You read it with a kind of agonized heart-in-the-mouth sensation, halfway between laughter and tears...Truth is stronger than fiction. –Victoria Times-Columnist
A new, fully restored edition of the essential Canadian classic.
An unflinchingly honest memoir of her experience as a Métis woman in Canada, Maria Campbell's Halfbreed depicts the realities that she endured and, above all, overcame. Maria was born in Northern Saskatchewan, her father the grandson of a Scottish businessman and Métis woman—a niece of Gabriel Dumont whose family fought alongside Riel and Dumont in the 1885 Rebellion; her mother the daughter of a Cree woman and French-American man. This extraordinary account, originally published in 1973, bravely explores the poverty, oppression, alcoholism, addiction, and tragedy Maria endured throughout her childhood and into her early adult life, underscored by living in the margins of a country pervaded by hatred, discrimination, and mistrust. Laced with spare moments of love and joy, this is a memoir of family ties and finding an identity in a heritage that is neither wholly Indigenous or Anglo; of strength and resilience; of indomitable spirit.
This edition of Halfbreed includes a new introduction written by Indigenous (Métis) scholar Dr. Kim Anderson detailing the extraordinary work that Maria has been doing since its original publication 46 years ago, and an afterword by the author looking at what has changed, and also what has not, for Indigenous people in Canada today. Restored are the recently discovered missing pages from the original text of this groundbreaking and significant work.
About Anne Collins
Anne Collins is Publisher of the Knopf Random Canada Publishing Group, which includes Knopf Canada, Random House Canada, and Vintage Canada. She grew up on a farm in southern Ontario where books were her antidote to chores and her gateway to other lives. They still are. Before she was hired to rebuild the Random House Canada imprint in 1998, she was a magazine editor, journalist, and author who won the Governor General's Literary Award for Non-fiction for In the Sleep Room: The Story of the CIA Brainwashing Experiments in Canada.
Her work as an editor reflects her admiration for writers who push themselves to the brink of their capacities and creativity, no matter the form. She publishes and edits a broad range of authors including Jann Arden, Julian Barnes, Gary Barwin, Celina Caesar-Chavannes, Douglas Coupland, Roméo Dallaire, Cherie Dimaline, Daemon Fairless, Don Gillmor, Chris Hadfield, Wayne Johnston, Robert Kolker, Shaena Lambert, Amanda Leduc, Annabel Lyon, Linden MacIntyre, J.B. MacKinnon, Ami McKay, Tessa McWatt, Sean Michaels, Alexandra Morton, Jo Nesbø, Jodi Picoult, Eden Robinson, Sarah Weinman, Ian Williams, and Alissa York. In 2019, she became the eighth recipient of the Ivy Award, which honours a significant contribution to Canadian publishing.
Buy Their Books
Empire of Wild
Owl's Nest Books | Shelf Life Books
Halfbreed
Owl's Nest Books | Shelf Life Books
Buy Their Recommended Books
To continue with the generosity of the Daisy Chain concept – and help promote the work of other authors whose events have been affected by COVID-19 – we asked the 25@25 authors to highlight a book published in 2020 that they would encourage you to read. 
Buy Cherie Dimalines's Recommended Book: 
I have three books from 2020 that I love. I will say them quick. Elatsoe by Darcie Little Badger is a YA book that's brilliant. Black Water by David Robertson; it's about his father and Norway House. And Crosshairs by Catherine Hernandez. It's People of Color and Queer people and what happens to those communities in the situation of an Apocalypse.
Elatsoe
Owl's Nest Books | Shelf Life Books
Black Water
Owl's Nest Books | Shelf Life Books
Crosshairs
Owl's Nest Books | Shelf Life Books
Buy Maria Campbell's Recommended Book:  
I would like to recommend a book be re-published. Blueberry Clouds by Rita Bouvier. It was published by Thistledown Press in Saskatchewan. It's a book of poetry. It's a good one. There's are many wonderful books.
Out of Print
Curiouser?
Review:
Article:
"Maria Campbell, author of the classic memoir Halfbreed, writing two books that celebrate Cree storytelling" – CBC Books
Interviews with and Articles about Cherie Dimaline. – CBC Books
"Indigenous Writers are Changing Sci-Fi" – New York Times