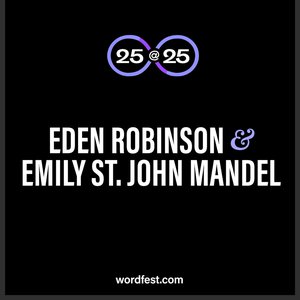 Wordfest 25@25: Eden Robinson & Emily St. John Mandel
Nov 17 @ 7 PM - 8 PM MT $15
Online

We (literarily) screamed with delight when this virtual pairing came together!
Eden Robinson and Emily St. John Mandel made their respective Wordfest debuts in 2000 and 2009 as writers to watch. Author of the post-apocalyptic classic, Station Eleven ), St. John Mandel's newest novel The Glass Hotel has been at the top of the Canadian bestseller list since it was released in spring 2020 and has been shortlisted for the 2020 Scotiabank Giller Prize. Robinson is fresh from her spot as runner-up on the 2020 edition of Canada Reads for her bestseller Son of a Trickster (shortlisted for the 2019 Scotiabank Giller Prize), which has also been adapted for TV and debuts on Oct. 7 on the CBC. The final book in her Trickster trilogy, Return of the Trickster, will be released in spring 2021. 
The 60-minute conversation will start at 7:00 PM MT. (The pre-show will begin at 6:50 PM MT.) We'll be revealing the names of the next two authors in the 25@25 Daisy Chain at the end of the show, making you the first to know!
As a pass holder, you have been automatically registered for this event, with access to the live stream on Wordfest.com, as well as the option of watching it on demand whenever works for you. Look for our unique Digital Doggie Bag after the event with all the links, goodies and references from the conversation.
About Eden Robinson
Eden Robinson has matriarchal tendencies. Doesn't have a pressure cooker, but knows how to jar salmon. Her smoked salmon will not likely kill you. Hobbies: Shopping for the Apocalypse, using vocabulary as a weapon, nominating cousins to council while they're out of town, chair yoga, looking up possible diseases or syndromes on the interwebs, perfecting gluten-free bannock and playing Mah-jong. Be warned, she writes novels and tends to be cranky when interrupted.
About Return of the Trickster
The third and final book of the brilliant and captivating Trickster Trilogy, from the bestselling author of the Scotiabank Giller-prize finalist Son of a Trickster and Trickster Drift. The powerful resolution of a story that has already sparked the new CBC-TV series Trickster and inspired the debaters on Canada Reads 

Jared, teenaged trouble magnet, wakes up in a hospital bed feeling like hell. Not for the first time.

Some of the people he loves—the ones who are deaf to the magic that swirls around him—assume he fell off the wagon after a tough year of sobriety. They think that's why movers found him naked, dangerously dehydrated and confused in the basement of his mom's old house in Kitimat. The truth for Jared is so much worse. He finally knows for sure that he has no hope of ever being normal because he really is the son of Wee'git, a Trickster, and he's won the magic lottery—he is the only one of Wee'git's 535 children who is a Trickster too. He is actually in such bad shape because he was forced into mortal combat with his father's sister, Aunt Georgina, a maniacal ogress hungry for his power. In the struggle, he transported her and her posse of shape-shifting coy wolves to another dimension where the coy wolves all died. Now Georgina doesn't only want to turn him into her slave, she wants revenge on his whole family.

There's more bad news: the only person in his life who is happy that he's a Trickster is his ex, Sarah. Everyone else he loves is either pissed with him or in danger from the dark forces he's accidentally unleashed in their world. His mother Maggie, a hard-partying, gun-toting, tough-as-nails witch, resents like hell that Jared has taken after his father, but she is also determined that no one is going to hurt her boy. For Maggie it's simple—Kill or be killed, bucko—and soon Jared is at the centre of an all-out war. A horrible place to be for the sweetest Trickster there's ever been, one whose first instinct is not mischief and mind games but to make the world around him a kinder, safer, place.
About Emily St. John Mandel
Emily St. John Mandel is the author of four novels, including Station Eleven, which was a finalist for a National Book Award and the PEN/Faulkner Award; won the 2015 Arthur C. Clarke Award, the Toronto Book Award and the Morning News Tournament of Books; and has been translated into 31 languages. A previous novel, The Singer's Gun, was the 2014 winner of the Prix Mystère de la Critique in France. Her short fiction and essays have been anthologized in numerous collections, including The Best American Mystery Stories 2013. She is a staff writer for The Millions. She lives in New York City with her husband and daughter.
About The Glass Hotel
#1 national bestseller, New York Times bestseller
From the award-winning author of Station Eleven, The Glass Hotel is a captivating novel of money, beauty, white-collar crime, ghosts and moral compromise in which a woman disappears from a container ship off the coast of Mauritania and a massive Ponzi scheme implodes in New York, dragging countless fortunes with it.
Vincent is a bartender at the Hotel Caiette, a five-star glass-and-cedar palace on the northernmost tip of Vancouver Island. New York financier Jonathan Alkaitis owns the hotel. When he passes Vincent his card with a tip, it's the beginning of their life together. That same day, a hooded figure scrawls a note on the windowed wall of the hotel: "Why don't you swallow broken glass." Leon Prevant, a shipping executive for a company called Neptune-Avramidis, sees the note from the hotel bar and is shaken to his core. Thirteen years later, Vincent mysteriously disappears from the deck of a Neptune-Avramidis ship.
Weaving together the lives of these characters, The Glass Hotel moves between the ship, the skyscrapers of Manhattan and the wilderness of remote British Columbia, painting a breathtaking picture of greed and guilt, fantasy and delusion, art and the ghosts of our pasts.
Buy Their Books
Return of the Trickster (Preorder)
Owl's Nest Books | Shelf Life Books
The Glass Hotel
Owl's Nest Books | Shelf Life Books
Buy Their Recommended Books
To continue with the generosity implicity of the Daisy Chain concept – and help promote the work of authors whose book events have been affected by COVID-19 – we asked the 25@25 authors to highlight a book published in 2020 that they would encourage you to read. These books will be available at Owl's Nest and Shelf Life in Calgary (if you buy five or more of the 25@25 authors books or their recommended books, you will receive a 25% discount).
Buy Eden Robinson's Recommended Book: Love after the End: An Anthology of Two-Spirit and Indigiqueer Speculative Fiction edited by Joshua Whitehead
"I was most impressed with the re-imagining of our relationship with the land, with the shape of our futures, with the joyous imaginations of this collection."
Owl's Nest Books | Shelf Life Books
Buy Emily St. John Mandel's Recommended Book: Migrations: A Novel by Charlotte McConaghy
"McConaghy is Australian, not Canadian, but she's a wildly talented debut novelist who I assume wasn't able to tour given the pandemic, and she deserves the widest possible readership."
Owl's Nest Books | Shelf Life Books
Curiouser?
Articles about Emily St. John Mandel:
Articles about Eden Robinson:
"Author Eden Robinson's Trickster returns with humanity and empathy" – The Toronto Star 
"Why Son of a Trickster author Eden Robinson became a writer — and how she keeps getting better" – CBC Canada Reads
"When vampire horror meets First Nations mythology" – Maclean's