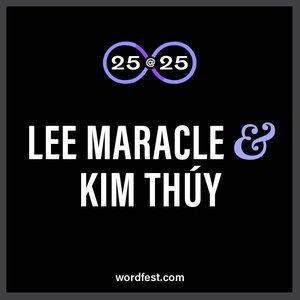 Wordfest 25@25: Lee Maracle & Kim Thúy
Dec 08 @ 7 PM - 8 PM MT
Online

Last but certainly not least. Please join us for the grand finale of our 25@25 extravaganza, featuring two of our favourite Wordfest alumni: Lee Maracle and Kim Thúy.
The 60-minute conversation, hosted by Wordfest's CEO and Creative Ringleader Shelley Youngblut, will start at 7:00 PM MT. (The pre-show will begin at 6:50 PM MT.)  
As a passholder you will be automatically registered for this event, with access to the live stream on Wordfest.com, as well as the option of watching it on demand whenever works for you. Look for our unique Digital Doggie Bag after the event with all the links, goodies and references from the conversation.
About Lee Maracle
Lee Maracle is the author of many critically acclaimed works including the novels Ravensong, Daughters Are Forever, and Celia's Song, a young adult novel Will's Garden, and the poetry collections Bent Box, and Hope Matters, written collaboratively with her daughters Columpa Bobb and Tania Carter. A collection of essays, My Conversations with Canadians, was a finalist for the Toronto Book Award and the First Nations Communities READ Award. Maracle is a recipient of the Queen's Diamond Jubilee Medal and is an Officer of the Order of Canada. A member of the Stó:lō Nation, Maracle lives in Toronto and teaches at the University of Toronto.
About Celia's Song
Finalist, 2020 Neustadt International Prize for Literature
Longlisted, 2015 CBC Canada Reads. Shortlisted, 2015 ReLit Award
Mink is a witness, a shape shifter, compelled to follow the story that has ensnared Celia and her village, on the West coast of Vancouver Island in Nuu'Chahlnuth territory. Celia is a seer who — despite being convinced she's a little "off" — must heal her village with the assistance of her sister, her mother and father, and her nephews. While Mink is visiting, a double-headed sea serpent falls off the house front during a fierce storm. The old snake, ostracized from the village decades earlier, has left his terrible influence on Amos, a residential school survivor. The occurrence signals the unfolding of an ordeal that pulls Celia out of her reveries and into the tragedy of her cousin's granddaughter. Each one of Celia's family becomes involved in creating a greater solution than merely attending to her cousin's granddaughter.
Celia's Song relates one Nuu'Chahlnuth family's harrowing experiences over several generations, after the brutality, interference, and neglect resulting from contact with Europeans.
About Kim Thúy
Born in Saigon in 1968, Kim Thúy left Vietnam with the boat people at the age of ten and settled with her family in Quebec. A graduate in translation and law, she has worked as a seamstress, interpreter, lawyer, restaurant owner, and commentator on radio and television. Her first book, Ru, was shortlisted for the Scotiabank Giller Prize, won the Governor General's Literary Award for fiction, and won the nationwide competition Canada Reads.  Her other novels include Vi , longlisted for the Scotiabank Giller Prize, and Mãn. She is also the author of the cookbook Secrets from My Vietnamese Kitchen. Thúy lives in Montreal and devotes herself to writing.
About Vi
Longlisted for the Scotiabank Giller Prize
The perfect complement to the exquisitely wrought novels Ru and Mãn, in Vi Canada Reads winner Kim Thúy explores the lives, loves and struggles of Vietnamese refugees as they reinvent themselves in new lands.

The daughter of an enterprising mother and a wealthy, spoiled father who never had to grow up, Vi was the youngest of their four children and the only girl. They gave her a name that meant "precious, tiny one," destined to be cosseted and protected, the family's little treasure. But the Vietnam War destroys life as they've known it. Vi, along with her mother and brothers, manages to escape—but her father stays behind, leaving a painful void as the rest of the family must make a new life for themselves in Canada.
While her family puts down roots, life has different plans for Vi. Taken under the wing of Hà, a worldly family friend, and her diplomat lover, Vi tests personal boundaries and crosses international ones, letting the winds of life buffet her. From Saigon to Montreal, from Suzhou to Boston to the fall of the Berlin Wall, she is witness to the immensity of geography, the intricate fabric of humanity, the complexity of love, the infinite possibilities before her. Ever the quiet observer, somehow Vi must find a way to finally take her place in the world.
Buy Their Books
Celia's Song
Owl's Nest Books | Shelf Life Books
Vi
Owl's Nest Books | Shelf Life Books
Buy Their Recommended Books
To continue with the generosity that is at the heart of the Daisy Chain concept – and help promote the work of authors whose book events have been affected by COVID-19 – we asked the 25@25 authors to highlight a book published in 2020 that they would encourage you to read. These books will be available at Owl's Nest and Shelf Life in Calgary. If you buy five or more of the 25@25 authors' featured books (either their current title or their backlist) or their recommended books, you will receive a 25% discount. Please contact the booksellers for more details about the discount.
Buy Lee Maracle's Recommended Book: How We Go Home: Voices from Indigenous North America by Sara Sinclair
Owl's Nest Books | Shelf Life Books
Curiouser?
Articles: