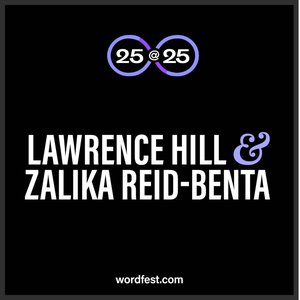 Wordfest 25@25: Lawrence Hill & Zalika Reid-Benta
Oct 06 @ 7 PM - 8 PM MT $15
Online

Audience favourite Lawrence Hill asked to be joined onstage by Zalika Reid-Benta, who will be making her first appearance at Wordfest. 
The 60-minute conversation will start at 7:00 PM MT. (The pre-show will begin at 6:50 PM MT.) We'll be revealing the names of the next two authors in the 25@25 Daisy Chain at the end of the show, making you the first to know!
As a pass holder, you have been automatically registered for this event, with access to the live stream on Wordfest.com, as well as the option of watching it on demand whenever works for you. Look for our unique Digital Doggie Bag after the event with all the links, goodies and references from the conversation.
About Lawrence Hill
Lawrence Hill is the author of 10 books of fiction and non-fiction. His first Wordfest appearance was at the second festival in 1997, and he returned to our stages in 2007 and 2015 (touring with The Illegal, which was chosen as the book every Canadian needs to read by Canada Reads in 2016).
In 2005, he won his first literary honour: a National Magazine Award for the article "Is Africa's Pain Black America's Burden?" published in The Walrus. His first two novels were Some Great Thing and Any Known Blood, and his first non-fiction work to attract national attention was the memoir Black Berry, Sweet Juice: On Being Black and White in Canada. But it was his third novel, The Book of Negroes (HarperCollins Canada, 2007) — published in some countries as Someone Knows My Name and in French as Aminata — that attracted widespread attention in Canada and other countries. 
Lawrence Hill's non-fiction book, Blood: The Stuff of Life was published in September 2013 by House of Anansi Press. Blood is a personal consideration of the physical, social, cultural and psychological aspects of blood, and how it defines, unites and divides us. Hill drew from the book to deliver the 2013 Massey Lectures across Canada. 
In 2013, Hill published the essay Dear Sir, I Intend to Burn Your Book: An Anatomy of a Book Burning (University of Alberta Press).
Hill is currently writing a new novel and a children's book. He is a professor of creative writing at the University of Guelph, in Ontario.
About The Illegal
National Post Book of the Year
CBC Best Book of the Year
CBC Canada Reads
Globe and Mail Best Book of the Year
Keita Ali is on the run.
Like every boy on the mountainous island of Zantoroland, running is all Keita's ever wanted to do. In one of the poorest nations in the world, running means respect. Running means riches—until Keita is targeted for his father's outspoken political views and discovers he must run for his family's survival.
He signs on with notorious marathon agent Anton Hamm, but when Keita fails to place among the top finishers in his first race, he escapes into Freedom State—a wealthy island nation that has elected a government bent on deporting the refugees living within its borders in the community of AfricTown. Keita can stay safe only if he keeps moving and eludes Hamm and the officials who would deport him to his own country, where he would face almost certain death.
This is the new underground: a place where tens of thousands of people deemed to be "illegal" live below the radar of the police and government officials. As Keita surfaces from time to time to earn cash prizes by running local road races, he has to assess whether the people he meets are friends or enemies: John Falconer, a gifted student struggling to escape the limits of his AfricTown upbringing; Ivernia Beech, a spirited old woman at risk of being forced into an assisted living facility; Rocco Calder, a recreational marathoner and the immigration minister; Lula DiStefano, self-declared queen of AfricTown and madam of the community's infamous brothel; and Viola Hill, a reporter who is investigating the lengths to which her government will go to stop illegal immigration.
Keita's very existence in Freedom State is illegal. As he trains in secret, eluding capture, the stakes keep getting higher. Soon, he is running not only for his life, but for his sister's life, too.
Fast moving and compelling, The Illegal casts a satirical eye on people who have turned their backs on undocumented refugees struggling to survive in a nation that does not want them. Hill's depiction of life on the borderlands of society urges us to consider the plight of the unseen and the forgotten who live among us.
About Zalika Reid-Benta
Zalika Reid-Benta's short story collection, Frying Plantain, won the Danuta Gleed Literary Award, the Rakuten Kobo Emerging Writer Prize for Literary Fiction, and was a finalist for the Trillium Book Award and the Forest of Reading Evergreen Award. It was longlisted for the Scotiabank Giller Prize, appeared on many must-read lists, and was one of Indigo's Best Books of the Year. Zalika is the winner of the ByBlacks People's Choice Award for Best Author, was a Writer in Residence forOpen Book, and was named a CBC Writer to Watch. She received an M.F.A. in fiction from Columbia University, was a John Gardner Fiction Fellow at the Bread Loaf Writers' Conference, and is an alumnus of the Banff Centre Writing Studio. 
Connect with her on Twitter @literati167 or on Instagram @zalikarb
About Frying Plantain
Kara Davis is a girl caught in the middle — of her Canadian nationality and her desire to be a "true" Jamaican, of her mother and grandmother's rages and life lessons, of having to avoid being thought of as too "faas" or too "quiet" or too "bold" or too "soft." Set in "Little Jamaica," Toronto's Eglinton West neighbourhood, Kara moves from girlhood to the threshold of adulthood, from elementary school to high school graduation, in these twelve interconnected stories. We see her on a visit to Jamaica, startled by the sight of a severed pig's head in her great aunt's freezer; in junior high, the victim of a devastating prank by her closest friends; and as a teenager in and out of her grandmother's house, trying to cope with the ongoing battles between her unyielding grandparents.
A rich and unforgettable portrait of growing up between worlds, Frying Plantain shows how, in one charged moment, friendship and love can turn to enmity and hate, well-meaning protection can become control, and teasing play can turn to something much darker. In her brilliantly incisive debut, Zalika Reid-Benta artfully depicts the tensions between mothers and daughters, second-generation Canadians and first-generation cultural expectations, and Black identity and predominately white society.
Buy Their Books
The Illegal
Owl's Nest Books | Shelf Life Books
Frying Plantain
Owl's Nest Books | Shelf Life Books
Recommended Books
To continue with the generosity that is at the heart of the Daisy Chain concept – and help promote the work of authors whose book events have been affected by COVID-19 – we asked the 25@25 authors to highlight a book published in 2020 that they would encourage you to read. These books will be available at Owl's Nest and Shelf Life in Calgary. If you buy five or more of the 25@25 authors' featured books (either their current title or their backlist) or their recommended books, you will receive a 25% discount. Please contact the booksellers for more details about the discount.
Buy Lawrence Hill's Recommended Book: Crosshairs by Catherine Hernandez
"I was excited to read an advance copy of Crosshairs , and found it to be an utterly compelling dystopia. Catherine Hernandez prophesies Canadian genocide against queer, Black, brown and Indigenous folks. At the same time, she inspires the reader with her depiction of a resistance full of characters who – even in the face of hatred and complacency – show love, pride, endurance, courage and who insist on living to the very last breath."
Owl's Nest Books | Shelf Life Books
Buy Zalika Reid-Benta's Recommended Book: The Dyzgraphxst by Canisia Lubrin
"I was taken by the complete beauty and the nuance and the striking language of The Dyzgraphxst. It's a masterful exploration of various themes, and it's one of those books that I can't describe because of the rawness and the emotion. It's a book that covers a lot of things. Maybe that sounds kind of obvious, but I think when you come across a collection or come across a book where you're just so overcome, that you can't articulate the amount of emotion within you, that's really special. That's something that I feel with Canisia, and I feel like everybody should be reading this book."
Owl's Nest Books | Shelf Life Books
Curiouser?
Articles & Videos about Lawrence Hill:
Articles about Zalika Reid-Benta: