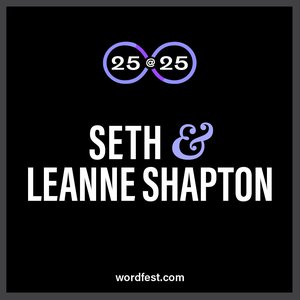 Wordfest 25@25: Seth & Leanne Shapton
Oct 20 @ 7 PM - 8 PM MT
Online

This multi-faceted edition of 25@25 features two Canadian magicians of text and image: the cartooning legend Seth, and writer and artist Leanne Shapton.
The 60-minute conversation, hosted by artist Jason Logan, will start at 7:00 PM MT. (The pre-show will begin at 6:50 PM MT.) And as we do every Tuesday, we'll be revealing the names of the next two authors in the 25@25 Daisy Chain at the end of the show, making you the first to know!
Pass or ticket holders will be automatically registered for this event, with access to the live stream on Wordfest.com, as well as the option of watching it on demand whenever works for you. Look for our unique Digital Doggie Bag after the event with all the links, goodies and references from the conversation.
About Seth
Seth is the cartoonist behind the comic book series Palookaville, which started in the stone age as a pamphlet and is now a semi-annual hardcover. His comics have appeared in the New York Times Magazine, Best American Comics, and McSweeney's Quarterly. His illustrations have appeared in numerous publications including the cover of the New Yorker, the Walrus, and Canadian Notes & Queries. He was Lemony Snicket's partner for the Young Readers series, All the Wrong Questions, and illustrated and designed a deluxe edition of Stephen Leacock's Sunshine Sketches of a Little Town. He is the designer for several classic comics reprint series, notably collections of work by Charles Schulz, John Stanley, and Doug Wright. The cartoonist has exhibited throughout the world in a variety of group and solo shows. He was the subject of a solo exhibition at the Art Gallery of Ontario, which showcased the first public display of his model city Dominion. He is now a part of the Gallery's permanent collection. Dominion City subsequently toured Galleries in Eastern and Central Canada and will be travelling to select galleries in the west in 2014. He is the subject of the 2014 National Film Board documentary entitled Seth's Dominion. Seth lives in Guelph, Ontario, with his wife Tania and their two cats in an old house he has named "Inkwell's End."
About Clyde Fans 
THE FIRST GRAPHIC NOVEL EVER NOMINATED FOR THE SCOTIABANK GILLER PRIZE!
Legendary Canadian cartoonist Seth's magnus opus Clyde Fans, two decades in the making, appeared on twenty best of 2019 lists, including those from the New York Times, the Guardian, and Washington Post, and was nominated for an Eisner Award, the Trillium Book Award, and the Scotiabank Giller Prize. Clyde Fans peels back the optimism of mid-twentieth century capitalism, showing the rituals, hopes, and delusions of a vanished middle-class—garrulous self-made men in wool suits extolling the virtues of their wares to taciturn shopkeepers. Much like the myth of an ever-growing economy, the Clyde Fans family business is a fraud. The patriarch has abandoned it to mismatched sons, one who strives to keep the company afloat and the other who retreats into his memories.
Abe and Simon Matchcard are brothers, struggling to save their archaic family business selling oscillating fans in a world switching to air conditioning. Simon flirts with becoming a salesman as a last-ditch effort to leave the protective walls of the family home, but is ultimately unable to escape Abe's critical voice in his head. As Clyde Fans Co. crumbles, so does the relationship between the two men, who choose very different life paths but both end up utterly unhappy.
Seth's intimate storytelling and gorgeous art allow cityscapes and detailed period objects to tell their own stories as the brothers struggle to find themselves suffocating in an airless home.
About Leanne Shapton
Leanne Shapton is an author, artist and publisher based in New York City. Her books include Swimming Studies (winner of the 2012 National Book Critic's Circle Award for Autobiography and longlisted for the William Hill Sports Book of the Year 2012), Important Artifacts and Personal Property from the Collection of Lenore Doolan and Harold Morris,  Toys Talking and The Native Trees of Canada. She was also the coauthor, with Sheila Heti and Heidi Julavits, of The New York Times bestselling Women in Clothes. Shapton is the co-founder, with photographer Jason Fulford, of J&L Books, an internationally-distributed not-for-profit imprint specializing in art and photography books. Shapton is a fellow of the Royal Canadian Geographical Society. She grew up in Mississauga, Ontario, and lives in New York City.
About Guestbook: Ghost Stories
"Reading [Guestbook] feels akin to walking through an art exhibit, each piece linked in ways that are ineffable but clear. . . yearning, like a ghost, lingers long after the stories are done." – NPR
One of our most imaginative writers and artists explores the visitations that haunt us in the midst of life, and reinvents the very way we narrate experience.
A tennis prodigy collapses after his wins, crediting them to an invisible, not entirely benevolent presence. A series of ghosts appear at their former bedsides, some distraught, some fascinated, to witness their unfamiliar occupants. A woman returns from a visit to Alcatraz with an uncomfortable feeling. The spirit of a prisoner has attached himself to you, a friend tells her. He sensed the sympathy you had for those men. In more than two dozen stories and vignettes, accompanied by an evocative curiosity cabinet of artifacts and images, Guestbook beckons us through the glimmering, unsettling evidence that marks our paths in life.
Buy Their Books
Clyde Fans
Owl's Nest Books | Shelf Life Books
Guestbook: Ghost Stories
Owl's Nest Books | Shelf Life Books
Buy Their Recommended Books
To continue with the generosity that is at the heart of the Daisy Chain concept – and help promote the work of authors whose book events have been affected by COVID-19 – we asked the 25@25 authors to highlight a book published in 2020 that they would encourage you to read. These books will be available at Owl's Nest and Shelf Life in Calgary. If you buy five or more of the 25@25 authors' featured books (either their current title or their backlist) or their recommended books, you will receive a 25% discount. Please contact the booksellers for more details about the discount.
Buy Seth's Recommended Book: Familiar Face by Michael Deforge
"There is no one like Michael Deforge for pushing you to reconsider how reality operates. This book is literally about the capriciousness of identity.  Who are we? With typical Deforge brilliance he takes a thought experiment far outside the realms of conventional storytelling. Fresh ideas on every page."
Owl's Nest Books | Shelf Life Books
Buy Leanne Shapton's Recommended Book:  Moms by Yeong Shin Ma
"I love when a book lets you into the beauty and pain of a very specific place or subculture. This gave me a glimpse into the very tough and complicated lives of Korean divorcees of a certain age. Written by the son of one."
Owl's Nest Books  | Shelf Life Books
Curiouser?
Articles:
Reviews:
Watch:
Listen: