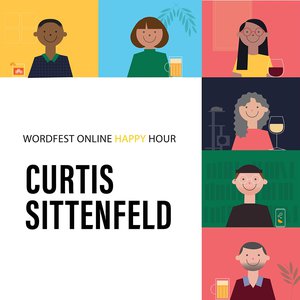 Wordfest Online Happy Hour with Curtis Sittenfeld
Jun 11 @ 5:30 PM - 6:15 PM MT
Online

Join us for Wordfest's Happy Hour event with New York Times bestselling author Curtis Sittenfeld, as we dive into her new book Rodham. Pour yourself your favourite libation and tune into Wordfest's Live-Stream on Wordfest.com at 5:30 PM (MT) for this timely conversation hosted by Wordfest's CEO & Creative Ringleader Shelley Youngblut.
The pre-show reel will begin at 5:15 PM MT. The interview will start at 5:30 PM MT.
This event is free but if you RSVP, we'll send you our unique Digital Doggie Bag after the event, sharing all the links, goodies and references that Curtis and Shelley mention.
We are so grateful to Penguin Random House for making it possible for us to connect with Curtis. To get a copy of Rodham, please get in touch with your local book stores (let's keep them in business!). Here are Calgary booksellers that would love to be able to deliver through curb-side pickup or to your home: 
 Owl's Nest Books | Shelf Life | Pages On Kensington |The Next Page | Indigo.ca
About Rodham
In 1971, Hillary Rodham is a young woman full of promise: Life magazine has covered her Wellesley commencement speech, she's attending Yale Law School, and she's on the forefront of student activism and the women's rights movement. And then she meets Bill Clinton. A handsome, charismatic southerner and fellow law student, Bill is already planning his political career. In each other, the two find a profound intellectual, emotional, and physical connection that neither has previously experienced.
In the real world, Hillary followed Bill back to Arkansas, and he proposed several times; although she said no more than once, as we all know, she eventually accepted and became Hillary Clinton.
But in Curtis Sittenfeld's powerfully imagined tour-de-force of fiction, Hillary takes a different road. Feeling doubt about the prospective marriage, she endures their devastating breakup and leaves Arkansas. Over the next four decades, she blazes her own trail—one that unfolds in public as well as in private, that involves crossing paths again (and again) with Bill Clinton, that raises questions about the tradeoffs all of us must make in building a life.
Brilliantly weaving a riveting fictional tale into actual historical events, Curtis Sittenfeld delivers an uncannily astute and witty story for our times. In exploring the loneliness, moral ambivalence, and iron determination that characterize the quest for political power, as well as both the exhilaration and painful compromises demanded of female ambition in a world still run mostly by men, Rodham is a singular and unforgettable novel.
About Curtis Sittenfeld
Curtis Sittenfeld is the New York Times bestselling author of the novels Prep, The Man of My Dreams, American Wife, Sisterland, and Eligible, and the story collection You Think It, I'll Say It, which have been translated into thirty languages. Her short stories have appeared in The New Yorker, The Washington Post Magazine, Esquire, and The Best American Short Stories, of which she was the 2020 guest editor. Her nonfiction has appeared in The New York Times, The Atlantic, Time, and Vanity Fair, and on public radio's This American Life.
Curiouser?
Articles: