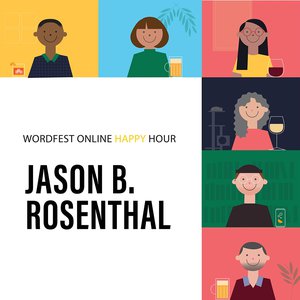 Wordfest Online Happy Hour with Jason B. Rosenthal
May 21 @ 5:30 PM - 6:15 PM MT
Online

Join us for Wordfest's Online Happy Hour event with Jason Rosenthal, the author of the inspiring memoir of love and loss, My Wife Said You May Want To Marry Me. Pour yourself an Anejo tequila (preferably Casamigos) on ice with a lime, or a Topo Chico (Jason's favourite libations) and tune in to the live-stream on our Facebook page for a conversation hosted by Wordfest's CEO, Shelley Youngblut, followed by an audience Q&A. 
The pre-show reel will begin at 5:15 PM MT. The interview will start at 5:30 PM MT. We will send you detailed instructions about how to access the live-stream after you've RSVP'd.
This event is free but if you RSVP, we'll send you easy instructions to help you get set up, as well as our unique Digital Doggie Bag after the event, sharing all the links, goodies and references that Jason and Shelley mention.
We are so grateful to Harper Collins Canada for making it possible for us to connect with Jason. To get a copy of My Wife Said You May Want To Marry Me, please get in touch with your local book stores (let's keep them in business!). Here are Calgary booksellers that would love to be able to deliver through curbside pickup or to your home: 
 Owl's Nest Books | Shelf Life | The Next Page | Indigo.ca
About My Wife Said You May Want To Marry Me
On March 3, 2017, Amy Krouse Rosenthal penned an op-ed piece for the New York Times' "Modern Love" column —"You May Want to Marry My Husband." It appeared ten days before her death from ovarian cancer. A heartbreaking, wry, brutally honest, and creative play on a personal ad—in which a dying wife encouraged her husband to go on and find happiness after her demise — the column quickly went viral, reaching more than five million people worldwide.
In My Wife Said You May Want to Marry Me, Jason describes what came next: his commitment to respecting Amy's wish, even as he struggled with her loss. Surveying his life before, with, and after Amy, Jason ruminates on love, the pain of watching a loved one suffer, and what it means to heal — how he and their three children, despite their profound sorrow, went on. Jason's emotional journey offers insights on dying and death and the excruciating pain of losing a soulmate, and illuminates the lessons he learned.
As he reflects on Amy's gift to him — a fresh start to fill his empty space with a new story — Jason describes how he continues to honour Amy's life and her last wish, and how he seeks to appreciate every day and live in the moment while trying to help others coping with loss. My Wife Said You May Want to Marry Me is the poignant, unreserved, and inspiring story of a great love, the aftermath of a marriage ended too soon, and how a surviving partner eventually found a new perspective on life's joys in the wake of tremendous loss.
About Jason Rosenthal 
Jason B. Rosenthal is the number one New York Times bestselling author of Dear Boy, cowritten with his daughter, Paris. He is the board chair of the Amy Krouse Rosenthal Foundation, which supports both childhood literacy and research in early detection of ovarian cancer. A lawyer, public speaker, and devoted father of three, he is passionate about helping others find ways to fill their blank spaces as he continues to fill his own. Jason resides in Chicago, a city he is proud to call home.
Curiouser?
Articles and Reviews:
"He became one of America's most famous widowers — thanks to his wife. Now he's trying to teach us about grief." — The Washington Post
"Jason Rosenthal on life after loss" — CBS
"His dying wife wrote a viral essay, 'You May Want to Marry My Husband.' Now Chicagoan Jason Rosenthal is telling his story of love and loss" — Chicago Tribune
"'Modern Love' Widower's Book Taps into Collective Grief" — CHICAGO