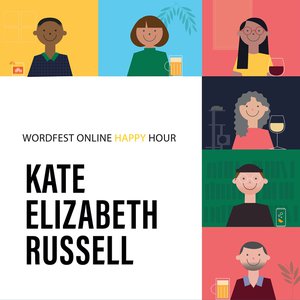 Wordfest Online Happy Hour with Kate Elizabeth Russell
Apr 23 @ 5:30 PM - 6:15 PM MT
Online

Join us for Wordfest's fourth Online Happy Hour event with Kate Elizabeth Russell, the author of one of the most controversial books of the year, My Dark Vanessa. The live-stream on Zoom will feature a conversation hosted by Wordfest's CEO, Shelley Youngblut, followed by an audience Q&A. 
The preshow reel will begin at 5:15 PM MT. The interview will start at 5:30 PM MT. We will send you detailed instructions about how to access the live-stream on Zoom after you've RSVP'd.
A few tips for the best possible experience:
Download zoom before the meeting. https://zoom.us/download 
Leave your comments in the Chat section during the webinar. Wordfest will be monitoring your questions and the host will ask as many as possible during the event.  
If you are using the chat you can decide between sending the question to the Wordfest Team "All Panelists" or sharing with the audience "All Panelists and Attendees"  
This event is free but if you RSVP, we'll send you easy instructions to help you get set up, as well as our unique Digital Doggie Bag after the event, sharing all the links, goodies and references that Kate and Shelley mention.
We are so grateful to Harper Collins Canada for making it possible for us to connect with Kate. To get a copy of My Dark Vanessa, please get in touch with your local book stores (let's keep them in business!). Here are Calgary booksellers that would love to be able to deliver through curbside pickup or to your home: 
 Owl's Nest Books | Shelf Life | Pages On Kensington | Indigo.ca
About My Dark Vanessa
2000. Bright, ambitious, and yearning for adulthood, fifteen-year-old Vanessa Wye becomes entangled in an affair with Jacob Strane, her magnetic and guileful forty-two-year-old English teacher.
2017. Amid the rising wave of allegations against powerful men, a reckoning is coming due. Strane has been accused of sexual abuse by a former student, who reaches out to Vanessa, and now Vanessa suddenly finds herself facing an impossible choice: remain silent, firm in the belief that her teenage self willingly engaged in this relationship, or redefine herself and the events of her past. But how can Vanessa reject her first love, the man who fundamentally transformed her and has been a persistent presence in her life? Is it possible that the man she loved as a teenager—and who professed to worship only her—may be far different from what she has always believed?
Alternating between Vanessa's present and her past, My Dark Vanessa juxtaposes memory and trauma with the breathless excitement of a teenage girl discovering the power her own body can wield. Thought-provoking and impossible to put down, this is a masterful portrayal of troubled adolescence and its repercussions that raises vital questions about agency, consent, complicity, and victimhood. Written with the haunting intimacy of The Girls and the creeping intensity of Room, My Dark Vanessa is an era-defining novel that brilliantly captures and reflects the shifting cultural mores transforming our relationships and society itself.
About Kate Elizabeth Russell 
Kate Elizabeth Russell is a writer living in Madison, Wisconsin. Her debut novel, My Dark Vanessa will be translated into over twenty languages. Originally from eastern Maine, she earned an MFA from Indiana University and a PhD from the University of Kansas.
Curiouser?
Articles and Reviews:
"The book that scared Weinstein: My Dark Vanessa by Kate Elizabeth Russell" — Metro Newspaper UK
"Is My Dark Vanessa the most controversial novel of the year? Author Kate Elizabeth Russell speaks out" — The Guardian
"How 'My Dark Vanessa' Became One Of The Biggest Books Of The Year" — Buzzfeed News
"'My Dark Vanessa' Is Unsettling, Complicated, and Impossible to Put Down" — Vice