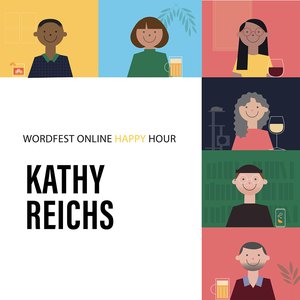 Wordfest Online Happy Hour with Kathy Reichs
May 07 @ 5:30 PM - 6:15 PM MT
Online

Join us for Wordfest's sixth Online Happy Hour event with Kathy Reichs, the author behind the hit Fox TV series, Bones. Her newest book A Conspiracy Of Bones is the nineteenth entry in her series featuring forensic anthropologist Temperance Brennan. Pour yourself your favourite libation and tune into Wordfest's Zoom Live-Stream at 5:30 PM (MT) for a conversation and audience Q&A. (Kathy was going to be with us in person in March and it's a testament to her generosity that she will be engaging with her fans at this safe, but celebratory distance.)
The preshow reel will begin at 5:15 PM MT. The interview will start at 5:30 PM MT. We will send you detailed instructions about how to access the live-stream on Facebook, Vimeo, Wordfest.com, or Zoom after you've RSVP'd.
A few tips for the best possible experience if you're planning on using Zoom:
Download zoom before the meeting. https://zoom.us/download 
Please email your questions to questions@wordfest.com. We will be monitoring this email before and during the event, so feel free to send your questions ahead of time if you already know what you want to ask. 

 
This event is free but if you RSVP, we'll send you easy instructions to help you get set up, as well as our unique Digital Doggie Bag after the event, sharing all the links, goodies and references that Kathy shares.
We are so grateful to Simon & Schuster for making it possible for us to connect with Kathy. To get a copy of A Conspiracy Of Bones, please get in touch with your local book stores (let's keep them in business!). Here are Calgary booksellers that would love to be able to deliver through curbside pickup or to your home: 
 Owl's Nest Books | Shelf Life | Pages On Kensington | Indigo.ca
About A Conspiracy Of Bones

It's sweltering in Charlotte, North Carolina, and Temperance Brennan, still recovering from neurosurgery following an aneurysm, is battling nightmares, migraines, and what she thinks might be hallucinations when she receives a series of mysterious text messages, each containing a new picture of a corpse that is missing its face and hands. Immediately, she's anxious to know who the dead man is, and why the images were sent to her.

An identified corpse soon turns up, only partly answering her questions.

To win answers to the others, including the man's identity, she must go rogue, working mostly outside the system. That's because Tempe's new boss holds a fierce grudge against her and is determined to keep her out of the case. Tempe bulls forward anyway, even as she begins questioning her instincts. But the clues she discovers are disturbing and confusing. Was the faceless man a spy? A trafficker? A target for assassination by the government? And why was he carrying the name of a child missing for almost a decade?

With help from a number of law enforcement associates including her Montreal beau Andrew Ryan and the always-ready-with-a-smart-quip, ex-homicide investigator Skinny Slidell, and utilizing new cutting-edge forensic methods, Tempe draws closer to the astonishing truth.

But the more she uncovers, the darker and more twisted the picture becomes...
About Kathy Reichs
Kathy Reichs is one of very few forensic anthropologists certified by the American Board of Forensic Anthropology. She served on the Board of Directors and as Vice President of both the American Academy of Forensic Sciences and the American Board of Forensic Anthropology, and as a member of the National Police Services Advisory Council in Canada. She divides her time between Charlotte, NC, and Montreal, QC. Visit Kathy at KathyReichs.com.
Curiouser?
Articles:
"Kathy Reichs's latest Temperance Brennan novel is rooted in a personal setback" — Montreal Gazette
Mentions: