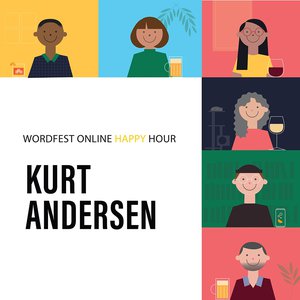 Wordfest Online Happy Hour with Kurt Andersen
Aug 20 @ 5:30 PM - 6:15 PM MT
Online

Join us for Wordfest's Happy Hour event with best-selling author Kurt Andersen, who we were lucky to present at our 2018 Imaginairium Festival. Pour yourself your favourite libation and watch on Wordfest.com at 5:30 PM (MT) for this timely conversation about money and politics in the U.S., hosted by CEO & Creative Ringleader Shelley Youngblut.
The pre-show reel will begin at 5:20 PM MT. The interview will start at 5:30 PM MT. 
This event is free but if you RSVP, we'll send you easy instructions to help you get set up, as well as our unique Digital Doggie Bag after the event, sharing all the links, goodies and references that Kurt and Shelley mention.
We are grateful to Penguin Random House Canada for making it possible for us to connect with Kurt. To pre-order copies of Evil Geniuses (publication date is August 11th), please get in touch with your local book stores (let's keep them in business). Here are Calgary booksellers that would love to be able to deliver through curb-side pickup or to your home:  
Owl's Nest Books | Pages on Kensington | Indigo
About Evil Geniuses
During the twentieth century, America managed to make its economic and social systems both more and more fair and more and more prosperous. A huge, secure, and contented middle class emerged. All boats rose together. But then the New Deal gave way to the Raw Deal. Beginning in the early 1970s, by means of a long war conceived of and executed by a confederacy of big business CEOs, the superrich, and right-wing zealots, the rules and norms that made the American middle class possible were undermined and dismantled. The clock was turned back on a century of economic progress, making greed good, workers powerless, and the market all-powerful while weaponizing nostalgia, lifting up an oligarchy that served only its own interests, and leaving the huge majority of Americans with dwindling economic prospects and hope.

Why and how did America take such a wrong turn? In this deeply researched and brilliantly woven cultural, economic, and political chronicle, Kurt Andersen offers a fresh, provocative, and eye-opening history of America's undoing, naming names, showing receipts, and unsparingly assigning blame—to the radical right in economics and the law, the high priests of high finance, a complacent and complicit Establishment, and liberal "useful idiots," among whom he includes himself.

Only a writer with Andersen's crackling energy, deep insight, and ability to connect disparate dots and see complex systems with clarity could make such a book both intellectually formidable and vastly entertaining. And only a writer of Andersen's vision could reckon with our current high-stakes inflection point, and show the way out of this man-made disaster.
"This is the one book everyone must read as we figure out how to rebuild our country. With lucid writing and head-snapping insights, Kurt Andersen explores how a confederacy of the right and big business, with unabashed greed, deliberately reengineered our economy. To fix that will require understanding the roots of the problem. A triumph."—Walter Isaacson, author of Steve Jobs and Leonardo da Vinci
Kurt Andersen is author of Heyday and Turn of the Century and frequently writes for New York and Vanity Fair. He is host and co-creator of the Peabody Award–winning public radio program Studio 360. In 2006, he founded Very Short List, an email service for connoisseurs of culture who would never call themselves "connoisseurs." He was cofounder of Spy magazine, and has been a columnist and critic for the New Yorker and Time. Andersen lives with his wife and daughters in Brooklyn.
Curiouser?
Articles: