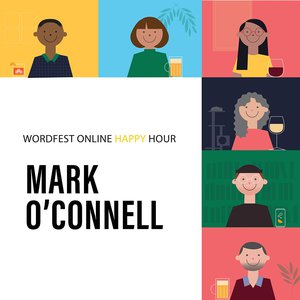 Wordfest Online Happy Hour with Mark O'Connell
May 28 @ 5:30 PM - 6:15 PM MT
Online

Join us for Wordfest's Happy Hour event with Irish-based journalist Mark O'Connell, whose doomsday obsession lead to his newest book Notes From An Apocalypse. Pour yourself a Guinness (Mark's favourite libation) and tune into Wordfest's Live-Stream on Wordfest's Facebook Live page at 5:30 PM (MT) for this timely conversation hosted by CEO & Creative Ringleader Shelley Youngblut.
The pre-show reel will begin at 5:15 PM MT. The interview will start at 5:30 PM MT. We will send you detailed instructions about how to access the live-stream after you've RSVP'd.
This event is free but if you RSVP, we'll send you easy instructions to help you get set up, as well as our unique Digital Doggie Bag after the event, sharing all the links, goodies and references that Mark and Shelley mention.
We are so grateful to Penguin Random House for making it possible for us to connect with Mark, who will be joining us from Dublin. To get a copy of Notes From An Apocalypse, please get in touch with your local book stores (let's keep them in business!). Here are Calgary booksellers that would love to be able to deliver through curb-side pickup or to your home: 
 Owl's Nest Books | The Next Page | Pages On Kensington | Shelf Life | Indigo.ca
About Notes From An Apocalypse
We're alive in a time of worst-case scenarios: The weather has gone uncanny. Old postwar alliances are crumbling. A pandemic draws our global community to a halt. Everywhere you look there's an omen, a joke whose punchline is the end of the world. How is a person supposed to live in the shadow of such a grim future? What does it mean to have children—nothing if not an act of hope—in such unsettled times? What might it be like to live through the worst? And what on Earth is anybody doing about it?

Dublin-based writer Mark O'Connell is consumed by these questions—and, as the father of two young children himself, he finds them increasingly urgent. In Notes from an Apocalypse, he crosses the globe in pursuit of answers. He tours survival bunkers in South Dakota. He ventures to New Zealand, a favoured retreat of billionaires banking on civilization's collapse. He engages with would-be Mars colonists, preppers, right-wing conspiracists. And he bears witness to those places, like Chernobyl, that the future has already visited—real-life portraits of the end of the world as we know it. In doing so, he comes to a resolution, while offering readers a unique window into our contemporary imagination.

Both investigative and deeply personal, Notes from an Apocalypse is an affecting, humorous, and surprisingly hopeful meditation on our present moment. With insight, humanity, and wit, O'Connell leaves you to wonder: What if the end of the world isn't the end of the world?
About Mark O'Connell
Mark O'Connell is the author of To Be a Machine, which was awarded the 2019 Rooney Prize for Irish Literature, the 2018 Wellcome Book Prize, and was shortlisted for the Baillie Gifford Prize for Non-Fiction. He is a contributor to The New York Times Magazine, Slate, and The Guardian. He lives in Dublin with his family.
Curiouser?
Articles and Reviews: