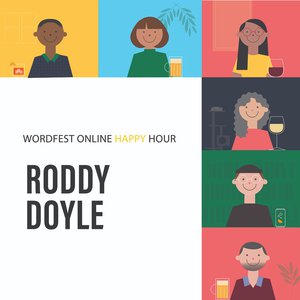 Wordfest Online Happy Hour with Roddy Doyle
Jul 23 @ 12 PM - 12:45 PM MT
Online

Join us for Wordfest's Online Happy Hour event with bestselling author Roddy Doyle. Pour yourself your favourite libation and tune in to Wordfest's Live-Stream at Wordfest.com at 12:00 PM (MT) for this conversation about his new book Love hosted by Wordfest's CEO & Creative Ringleader Shelley Youngblut.
The pre-show reel will begin at 11:50 AM MT. The interview will start at 12:00 PM MT. We will send you detailed instructions about how to access the live-stream after you've RSVP'd. 
** If you're only able to join us at our regularly scheduled time, you will be able to catch it on demand at that time on our website. 
This event is free but if you RSVP, we'll send you easy instructions to help you get set up, as well as our unique Digital Doggie Bag after the event, a recap that shares all the links, goodies and references Roddy and Shelley discuss.
We are so grateful to Penguin Random House for making it possible for us to connect with Roddy. To get a copy of Love, please get in touch with your local book stores (let's keep them in business!). Here are direct links to Calgary booksellers that would love to be able to deliver through curb-side pickup or to your home: 
Owl's Nest Books | Shelf Life Books | Pages On Kensington | The Next Page YYC
About Love
Two old friends reconnect in Dublin for a dramatic, revealing evening of confidences--some planned, some spontaneous--in this captivating new book from the author of the Booker Prize-winning Paddy Clarke Ha Ha Ha.

Old friends meet up on a summer's evening at a Dublin restaurant. Both are now married with grown-up children, and their lives have taken seemingly similar paths. But Joe has a secret he has to tell Davy, and Davy, a grief he wants to keep from Joe. Both are not the men they used to be.

Neither Davy nor Joe know what the night has in store, but as two pints turns to three, then five, and the men set out to revisit the haunts of their youth, the ghosts of Dublin entwine around them. Their first buoyant forays into adulthood, the pubs, the parties, broken hearts and bungled affairs, as well as the memories of what eventually drove them apart.

As the two friends try to reconcile their versions of the past over the course of one night, Love offers a moving portrait of what it means to put into words the many forms love can take throughout our lives.
About Roddy Doyle
Roddy Doyle was born in Dublin in 1958. He is the author of ten acclaimed novels, including The Commitments, The Van (a finalist for the Booker Prize), Paddy Clarke Ha Ha Ha (winner of the Booker Prize), The Woman Who Walked Into Doors, A Star Called Henry, The Guts and, most recently, Smile. Doyle has also written several collections of stories, as well as Two Pints, Two More Pints, and Two for the Road, and several works for children and young adults including the Rover novels. He lives in Dublin.
Curiouser?
Articles: