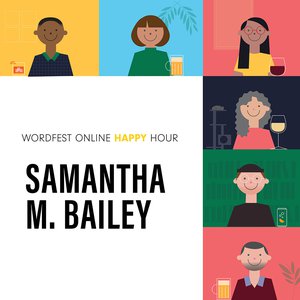 Wordfest Online Happy Hour with Samantha M. Bailey
Mar 26 @ 5:30 PM - 6:15 PM MT
Online

Join us for Wordfest's first online author event, a Happy Hour conversation with debut novelist Samantha M. Bailey about her bestselling thriller Woman On The Edge. Pour yourself a Rosé Spritzer or a coffee – Sam's favourite libations – and tune into Wordfest's Facebook page at 5:30 PM (MT) for a conversation hosted by Shelley Youngblut. You do not need a Facebook account to watch the live stream. 
This is a complimentary event. There's no need to sign up, but if you RSVP below, you'll be entered in a draw to win a copy of Woman On the Edge (courtesy of our partners at Simon & Schuster Canada).
You will still be able to ask questions, using the Facebook comments section. 
If you would like to purchase Woman On The Edge by Samantha Bailey, please get in touch with your local independent book store. Here are some Calgary booksellers that would love to be able to deliver to you: 
Owl's Nest Books | Pages On Kensington | Indigo.ca
About Woman On The Edge
A total stranger on the subway platform whispers, "Take my baby."

She places her child in your arms. She says your name.

Then she jumps.... 

In a split second, Morgan Kincaid's life changes forever. She's on her way home from work when a mother begs her to take her baby, then places the infant in her arms. Before Morgan can stop her, the distraught mother jumps in front of an oncoming train.

Morgan has never seen this woman before, and she can't understand what would cause a person to give away her child and take her own life. She also can't understand how this woman knew her name.

The police take Morgan in for questioning. She soon learns that the woman who jumped was Nicole Markham, prominent CEO of the athletic brand Breathe. She also learns that no witness can corroborate her version of events, which means she's just become a murder suspect.

To prove her innocence, Morgan frantically retraces the last days of Nicole's life. Was Nicole a new mother struggling with paranoia or was she in danger? When strange things start happening to Morgan, she suddenly realizes she might be in danger, too.

Woman on the Edge is a pulse-pounding, propulsive thriller about the lengths to which a woman will go to protect her baby—even if that means sacrificing her own life.
About Samantha M. Bailey
Samantha M. Bailey is a Toronto-based novelist, journalist, and freelance editor. Her work has appeared in NOW Magazine, The Village Post, and Oxford University Press, among other publications. She was a writer-in-residence for Kobo Writing Life at BookExpo America 2013. She is the co-founder of BookBuzz, a promotional and interactive author-reader event held in New York City and Toronto. Woman on the Edge is her debut novel. Connect with her on Twitter @SBaileyBooks and on her website at SamanthaMBailey.com.
Curiouser?
Articles:
"Thriller lands previously self-published Toronto writer on bestsellers list" — The Star
"When Depression, Anxiety And Motherhood Collide" — CJN