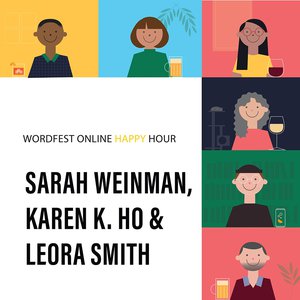 Wordfest Online Happy Hour with Sarah Weinman, Karen K. Ho, & Leora Smith
Aug 13 @ 5:30 PM - 6:30 PM MT
Online

Join us for Wordfest's Online Happy Hour event with bestselling author Sarah Weinman and contributors to the book, Karen K. Ho and Leora Smith. Pour yourself your favourite libation and tune into Wordfest's Live-Stream at Wordfest.com at 5:30 PM (MT) for this conversation about Unspeakable Acts hosted by Wordfest's CEO & Creative Ringleader Shelley Youngblut.
The pre-show reel will begin at 5:20 PM MT. The interview will start at 5:30 PM MT. We will send you detailed instructions about how to access the live-stream after you've RSVP'd. 
This event is free but if you RSVP, we'll send you easy instructions to help you get set up, as well as our unique Digital Doggie Bag after the event, sharing all the links, goodies and references that Sarah, Karen, Leora, and Shelley mention.
We are so grateful to HarperCollins Canada for making it possible for us to connect with Sarah, Karen, and Leora. To pre-order a copy of Unspeakable Acts (publication date is July 28), please get in touch with your local book stores (let's keep them in business!). Here are direct links to Calgary booksellers that would love to be able to deliver through curb-side pickup or to your home: 
Owl's Nest Books | Shelf Life Books | Pages On Kensington | Indigo
About Unspeakable Acts: True Tales of Crime, Murder, Deceit, and Obsession
A brilliant anthology of modern true-crime writing that illustrates the appeal of this powerful and popular genre, edited and curated by Sarah Weinman, the award-winning author of The Real Lolita.
The appeal of true-crime stories has never been higher. With podcasts like My Favorite Murder and In the Dark, bestsellers like I'll Be Gone in the Dark and Furious Hours, and TV hits like American Crime Story and Wild Wild Country, the cultural appetite for stories of real people doing terrible things is insatiable.
Acclaimed author of The Real Lolita and editor of Women Crime Writers: Eight Suspense Novels of the 1940s & 50s (Library of America) and Troubled Daughters, Twisted Wives (Penguin), Sarah Weinman brings together an exemplary collection of recent true crime tales. She culls together some of the most refreshing and exciting contemporary journalists and chroniclers of crime working today. Michelle Dean's Dee Dee Wanted Her Daughter To Be Sick went viral when it first published and is the basis for the TV show The Act and Pamela Colloff's The Reckoning, is the gold standard for forensic journalism. There are 13 pieces in all and as a collection, they showcase writing about true crime across the broadest possible spectrum, while also reflecting what makes crime stories so transfixing and irresistible to the modern reader.
About Sarah Weinman
Sarah Weinman is the author of The Real Lolita: A Lost Girl, An Unthinkable Crime, and a Scandalous Masterpiece, which was named a Best Book of 2018 by NPR, BuzzFeed, The National Post, Literary Hub, the San Francisco Chronicle, and Vulture, and won the Arthur Ellis Award for Excellence in Crime Writing. She also edited the anthologies Women Crime Writers: Eight Suspense Novels of the 1940s & 50s (Library of America) and Troubled Daughters, Twisted Wives (Penguin).
Weinman, currently a contributing editor and columnist at CrimeReads, has written for the New York Times, Vanity Fair, the Washington Post, New York, the New Republic, the Guardian, Topic, and Buzzfeed, among other outlets, while her fiction has appeared in Ellery Queen's Mystery Magazine, Alfred Hitchcock's Mystery Magazine, and numerous anthologies. Weinman also writes the "Crime Lady" newsletter, covering crime fiction, true crime, and all points in between. She lives in New York City.
About Karen K. Ho
Karen K. Ho is the global finance and economics reporter for Quartz. She frequently splits her time between New York and Toronto. Karen has been published in Chatelaine, The Globe and Mail, The Walrus, GQ, the Columbia Journalism Review, Glamour, and many other publications. She wrote TIME's cover story on Crazy Rich Asians. Her feature about Jennifer Pan in Unspeakable Acts was Toronto Life's most read story of the past decade and her first magazine article. Karen has a master's of arts from Columbia University's Graduate School of Journalism. 
About Leora Smith
Leora Smith is a writer and a lawyer living in Toronto. She is a graduate of Harvard Law School and has written about criminal justice policies and policing for outlets including Propublica, The Atlantic, and the CBC.
Curiouser?
Articles: