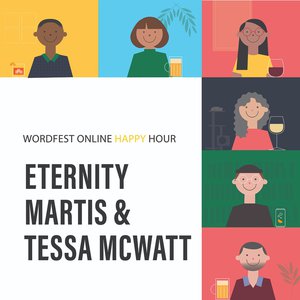 Wordfest Online Happy Hour with Tessa McWatt & Eternity Martis
Jul 16 @ 12 PM - 12:45 PM MT
Online

Join us for Wordfest's Happy Hour event with not one, but two powerhouse writers, Eternity Martis and Tessa McWatt. Pour yourself your favourite libation and tune into Wordfest's Live-Stream on Wordfest.com at noon PM (MT) for this 45-minute conversation hosted by Wordfest's CEO & Creative Ringleader Shelley Youngblut.
The pre-show reel will begin at 11:50 PM MT. The interview will start at Noon PM MT. We will send you detailed instructions about how to access the live-stream after you've RSVP'd.
** If you're only able to join us at our regularly scheduled time, you will be able to catch it on demand at that time on our website once the live stream wraps up. 
This event is free but if you RSVP, we'll send you easy instructions to help you get set up, as well as our unique Digital Doggie Bag after the event, sharing all the links, goodies and references that Eternity, Tessa, and Shelley mention.
We are grateful Penguin Random HouseCanada for making it possible for us to connect with Eternity and Tessa. To get copies of they said this would be fun and Shame On Me, please get in touch with your local book stores (let's keep them in business!). Here are direct links to Calgary booksellers that would love to be able to deliver through curb-side pickup or to your home: 
they said this would be fun
Owl's Nest Books | Shelf Life Books | Pages on Kensington | Indigo
Shame on Me
Owl's Nest Books | Shelf Life Books | Pages on Kensington | Indigo
About they said this would be fun
A powerful, moving memoir about what it's like to be a student of colour on a predominantly white campus.

A booksmart kid from Toronto, Eternity Martis was excited to move away to Western University for her undergraduate degree. But as one of the few Black students there, she soon discovered that the campus experiences she'd seen in movies were far more complex in reality. Over the next four years, Martis learned more about what someone like her brought out in other people than she did about herself. She was confronted by white students in blackface at parties, dealt with being the only person of colour in class and was tokenized by her romantic partners. She heard racial slurs in bars, on the street, and during lectures. And she gathered labels she never asked for: Abuse survivor. Token. Bad feminist. But, by graduation, she found an unshakeable sense of self – and a support network of other women of colour.

Using her award-winning reporting skills, Martis connects her own experience to the systemic issues plaguing students today. It's a memoir of pain, but also resilience.
About Eternity Martis
Eternity Martis is an award-winning Toronto-based journalist and a senior editor at Xtra. She earned an honours BA and a Certificate in Writing from Western University and an MJ from Ryerson University. She was a 2017 National Magazine Awards finalist for Best New Writer and the 2018 winner of the Canadian Online Publishing Awards for Best Investigative Article. Her work has appeared in Vice, Huffington Post, The Walrus, CBC, Hazlitt, The Fader, Salon, and in academic syllabuses around the world. Her work on race and language has influenced style guide changes across the country.
About Shame on Me: An Anatomy of Race and Belonging
Tessa McWatt has been called Susie Wong, Pocahontas and "black bitch," and has been judged not black enough by people who assume she straightens her hair. Now, through a close examination of her own body – nose, lips, hair, skin, eyes, ass, bones and blood – which holds up a mirror to the way culture reads all bodies, she asks why we persist in thinking in terms of race today when racism is killing us.

Her grandmother's family fled southern China for British Guiana after her great uncle was shot in his own dentist's chair during the First Sino-Japanese War. McWatt is made of this woman and more: those who arrived in British Guiana from India as indentured labour and those who were brought from Africa as cargo to work on the sugar plantations; colonists and those whom colonialism displaced. How do you tick a box on a census form or job application when your ancestry is Scottish, English, French, Portuguese, Indian, Amerindian, African and Chinese? How do you finally answer a question first posed to you in grade school: "What are you?" And where do you find a sense of belonging in a supposedly "post-racial" world where shadism, fear of blackness, identity politics and call-out culture vie with each other noisily, relentlessly and still lethally?

Shame on Me is a personal and powerful exploration of history and identity, colour and desire from a writer who, having been plagued with confusion about her race all her life, has at last found kinship and solidarity in story.
About Tessa McWatt
Tessa McWatt was born in Georgetown, Guyana, and was three years old when her family moved to Canada. Raised in Toronto in an extended family, she pursued literature, sports and music, but knew from a very young age that she wanted to write. She studied English at Queen's University and later at the University of Toronto, where her Master's degree focused on post-colonial literature, exploring themes of the outsider in society and conflicting notions of belonging.

Upon completing her university studies McWatt was employed as an editor and college instructor, living in Montreal, Paris, and Ottawa. Published in 1998, her first novel, Out of My Skin, is the story of an adopted Canadian woman trying to define her roots. Her second novel, Dragons Cry (2000), explores family relationships and love and was shortlisted for the City of Toronto Book Award and the Governor General's Literary Award for Fiction.

In 1999 McWatt moved to London, England, to research her third novel, This Body (2004). While working part-time teaching creative writing and helping to raise two children, she began to explore a new European angle to the themes of family, memory, migration and post-colonialism. She also wrote a young-adult novella titled There's No Place Like . . . (2004). Step Closer (2009), her fourth novel, was researched and written while travelling in Canada, Spain, Kenya and Scotland.

McWatt developed and leads the MA Writing: Imaginative Practice at the University of East London, a program that fosters new writing through encouraging students to experiment with hybridity and to move beyond traditional notions of form and genre. Exploring different forms of writing, she collaborated with a graphic artist for Vital Signs, her latest novel.

McWatt divides her time between her two extended families in London, England, and Toronto, Canada.
Curiouser?
Articles and Reviews for they said this would be fun:
"Eternity Martis reflects on the challenges of being a Black university student in her first book" — CBC
"'Black women: It's time society fights for our lives, too'" — Macleans
"ETERNITY MARTIS TALKS ISSUES OF COLLEGE CULTURE IN NEW MEMOIR" — The Eyeopener
"5 Essential Books About Being Black in Canada, Today" — FLARE
Articles and Reviews for Shame On Me:
"'What are you?': Canadian author using multi-racial background to break down racism in new memoir" — CTV News
"Shame on Me by Tessa McWatt review – on race and belonging" — The Guardian
"14 must-read books for spring 2020" — NOW
Articles and Reviews Featuring Shame On Me and they said this would be fun:
"They Said This Would Be Fun: Race, Campus Life, and Growing Up / Shame on Me: An Anatomy of Race and Belonging" — Quill & Quire
"25 books about being Black in Canada" — CBC
"20 moving Canadian memoirs to read right now" — CBC Books