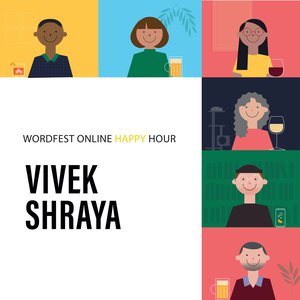 Wordfest Online Happy Hour with Vivek Shraya
Apr 16 @ 5:30 PM - 6:15 PM MT
Online

Join us for Wordfest's third Happy Hour conversation, in which artist and author Vivek Shraya launches her second novel, exploring social media and female friendships. Featuring a virtual reading of The Subtweet, a musical performance of songs from the book soundtrack, and a Q&A hosted by Shelley Youngblut. Pour yourself a Coke or an Orange Cream Soda – Vivek's favourite libations.
The preshow reel will begin at 5:15 PM MT. The interview will start at 5:30 PM MT. We will send you detailed instructions about how to access the live-stream on Zoom after you've RSVP'd. 
 A few tips for the best possible experience:
Download zoom before the meeting. https://zoom.us/download 
Leave your comments in the Chat section during the webinar. Wordfest will be monitoring your questions and the host will ask as many as possible during the event.  
If you are using the chat you can decide between sending the question to the Wordfest Team "All Panelists" or sharing with the audience "All Panelists and Attendees"  
If you would like to purchase The Subtweet by Vivek Shraya please get in touch with your local independent book store. Here are some Calgary booksellers that would love to be able to deliver to you: 
Shelf Life Books | Owl's Nest Books | Indigo.ca
About Vivek Shraya
Vivek Shraya is an artist whose body of work crosses the boundaries of music, literature, visual art, theatre, and film. Her best-selling new book, I'm Afraid of Men, was her­ald­ed by Vanity Fair as "cultural rocket fuel," and her album with Queer Songbook Orchestra, Part‑Time Woman, was nominated for the Polaris Music Prize. She is one half of the music duo Too Attached and the founder of the publishing imprint VS. Books. A five-time Lambda Literary Award finalist, Vivek was a 2016 Pride Toronto Grand Marshal, was featured on The Globe and Mail's Best Dressed list, and has received honours from The Writers' Trust of Canada and The Publishing Triangle. She is a director on the board of the Tegan and Sara Foundation and an Assistant Professor of Creative Writing at the University of Calgary. vivekshraya.com / @vivekshraya
About THE SUBTWEET
Everyone talks about falling in love, but falling in friendship can be just as captivating. When Neela Devaki's song is covered by internet-famous artist Rukmini, the two musicians meet and a transformative friendship begins. But as Rukmini's star rises and Neela's stagnates, jealousy and self-doubt creep in. With a single tweet, their friendship implodes, one career is destroyed, and the two women find themselves at the center of an internet firestorm. Celebrated multidisciplinary artist Vivek Shraya's second novel is a stirring examination of making art in the modern era, a love letter to brown women, an authentic glimpse into the music industry, and a nuanced exploration of the promise and peril of being seen. #thesubtweetbook
Curiouser?
Articles:
"The Subtweet" — Quill & Quire
"Vivek Shraya Is My Style Icon, Because She's Made It Clear That There's More Than One Way To Be Feminine" — Bustle
"Vivek Shraya Transforms Her Long-Festering Fears of Men into Cultural Rocket Fuel" — Vanity Fair
"Compelling Calgarians: Vivek Shraya" — The Calgary Herald