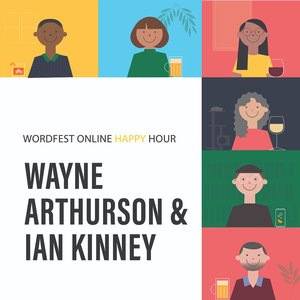 Wordfest Online Happy Hour with Wayne Arthurson and Ian Kinney
Jul 02 @ 5:30 PM - 6:15 PM MT
Online

Join us for Wordfest's Happy Hour event with Wayne Arthurson and Ian Kinney, both of whom were recently nominated for Alberta Book Awards. Pour yourself your favourite libation and watch on Wordfest.com at 5:30 PM (MT) for this timely conversation hosted by CEO & Creative Ringleader Shelley Youngblut.
The pre-show reel will begin at 5:20 PM MT. The interview will start at 5:30 PM MT. 
This event is free but if you RSVP, we'll send you easy instructions to help you get set up, as well as our unique Digital Doggie Bag after the event, sharing all the links, goodies and references that Ian, Wayne, and Shelley mention.
We are so grateful to The University of Calgary Press for making it possible for us to connect with Ian and Wayne, who are Albertan authors. To get copies of Air Salt and The Red Chesterfield, please get in touch with your local book stores (let's keep them in business!). Here are Calgary booksellers that would love to be able to deliver through curb-side pickup or to your home: 
Air Salt
Owl's Nest Books | Shelf Life Books | Pages on Kensington |  U of C Press | Indigo
The Red Chesterfield
Owl's Nest Books | Shelf Life Books | Pages on Kensington | U of C Press | Indigo
About The Red Chesterfield 
Gangsters. Yard sales. Politics. A severed foot. Family. How far is one person willing to go to issue a bylaw ticket?
M is a bylaw officer, living with two brothers, in their parents' old house. While investigating a suspicious yard sale, M discovers a red chesterfield sitting in a ditch. Looking closer, M finds a running shoe—and a severed foot.
Now M is involved in a murder investigation. Meanwhile, older brother K's work for a new political party begins to seem suspicious, while younger brother J navigates the complicated world of young-adulthood, and boss Rhonda demands more and more attention, M must navigate a world of Russian gangsters and neglected wives, biker gangs and suspicious coincidences. On top of everything else, M is determined to track down the owner of that red chesterfield and make sure they get a ticket.
The Red Chesterfield is a delightful, unusual novella that upends the tropes and traditions of crime fiction while asking how far one person is willing to go to solve a crime, be it murder or the abandonment of a piece of furniture.
About Wayne Arthurson 
Wayne Arthurson is a writer of Cree and French Canadian descent. He is the author of five novels, including Fall From Grace, winner of the Alberta Reader's Choice Award, and Traitors of Camp 113, a finalist for the High Plains Book Award for Best Indigenous Novel.
About Air Salt
Air Salt re/writes trauma and recovery in a fully-formed debut collection from a writer to watch.
Ian Kinney fell seven stories, and he survived. In Air Salt, Kinney (un)writes his hospitalization and recovery, using poetry as neuro-rehabilitation. A memoir written by an amnesiac, this collection stitches splintered narratives with projective verse, cutting up and reassembling found text from Get Well Soon Cards, emails between friends, excerpts from personal journals, written records of eye witnesses, the police and EMS reports, relevant Real Estate listings, nurses' charts, doctors' notes, hospital brochures, and Kinney's Neuropsychological Assessment: all increasingly recombinant, all increasingly in chorus. Kinney re-sorts the writing to etch in itself a more essential expression, Air Salt.
A challenging, prototypic piece of post-traumatic writing, Air Salt accommodates narrative discord and juxtaposes heterogenous voices. It reflects the lived experience of trauma, continually (re)arranging distorted phrases, interrogating and (re)forming itself, and (re)fusing to compromise. Air Salt reintegrates a shattered body of local narratives and presses on.
 About Ian Kinney
Ian Kinney holds an MA in creative writing from the Department of English, University of Calgary. His work has been short-listed for the Robert Kroetsch Award for Innovative Poetry. This bisexual settler poet lives in Calgary, and cares for his family's net-zero homestead on the Kainai territory between Lethbridge and Vulcan, Alberta.
Curiouser?
Articles and Reviews for The Red Chesterfield:
"The Red Chesterfield: Review" — Quill & Quire
"Red Chesterfield a seductive crime fiction oddity" — The Sudbury Star
"Wayne Arthurson plays with the mystery genre and magic in his novel The Red Chesterfield" — CBC
Articles and Reviews for Air Salt:
"Ian Kinney's debut collection of poetry mines found sources to explore a devastating accident and its aftermath" — Quill & Quire
"Notes From An Apocalypse: One Man's Journey To Visit Doomsday Preppers Around The World" — Forbes