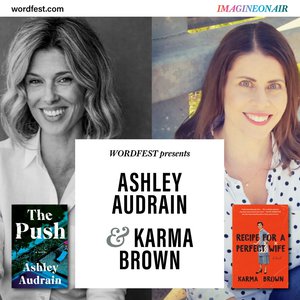 Wordfest presents Ashley Audrain and Karma Brown
Jan 12 @ 7 PM - 8 PM MT
Online

Wordfest is thrilled to kick off 2021 with an Imagine On Air conversation featuring January, 2021's most talked-about new release – Ashley Audrian's The Push – and a long-overdue chance to talk about 2020's most delightful early read – Karma Brown's Recipe for a Perfect Wife. Brown has also just released her newest bestseller, The 4% Fix: How One Hour Can Change Your Life. 
The hour-long conversation will start at 7:00 PM MT and will be hosted by Shelley Youngblut, Wordfest's CEO & Creative Ringleader (The pre-show will begin at 6:50 PM.)
This live stream event, broadcast on Wordfest.com, is free but, if you RSVP, we'll send you a reminder along with easy instructions to help you get set up, as well as our unique Digital Doggie Bag after the event with all the links, goodies and references from the conversation.
We are grateful to Penguin Random House Canada for making it possible for us to connect with Audrain and Brown. Copies with signed book plates will be available at Calgary's Owl's Nest Books.
About The Push
A tense, page-turning psychological drama about the making and breaking of a family, told through the eyes of a woman whose experience of motherhood is nothing at all what she hoped for—and everything she feared.
Blythe Connor is determined that she will be the warm, supportive mother she never had to her new baby Violet.
But in the thick of motherhood's exhausting early days, Blythe doesn't find the connection with her daughter she expected. She's convinced that something is wrong with Violet – the little girl is distant, rejects affection, and becomes increasingly disruptive at preschool.
Or is it all in Blythe's head? Her husband, Fox, says she is imagining things. Fox doesn't see what Blythe sees; he sees a wife who is struggling to cope with the day-to-day challenges of being a mother. And the more Fox dismisses her fears, the more Blythe begins to question her own sanity....
Then their son Sam is born – and with him, Blythe has the natural maternal connection she'd always dreamed of. Even Violet seems to love her little brother. But when life as they know it is changed in an instant, the devastating fall-out forces Blythe to face the truth about herself, her past, and her daughter.
The Push is a rare and extraordinary gift to readers: a novel about the expectations of motherhood we're taught not to challenge and what really happens behind the closed doors of even the most perfect-looking families. It's impossible to put down and impossible to forget.
About Ashley Audrain
Ashley Audrain previously worked as the publicity director of Penguin Books Canada. Prior to Penguin, she worked in public relations. She lives in Toronto, where she and her partner are raising their two young children. The Push is her first novel.
About Recipe for a Perfect Wife
#1 NATIONAL BESTSELLER
"Recipe for a Perfect Wife is a bold, intoxicating, page-turner. Karma Brown has long been a favorite of mine and this book is proof she just keeps getting better and better. This is a thrilling, audacious story about women daring to take control." —Taylor Jenkins Reid, New York Times bestselling author of Daisy Jones and the Six
When Alice Hale reluctantly leaves a promising career in publicity, following her husband to the New York suburbs, she is unaccustomed to filling her days alone in a big, empty house. However, she is determined to become a writer — and to work hard to build the kind of life her husband dreams of, complete with children.

At first, the old house seems to resent Alice as much as she resents it, but when she finds an old cookbook buried in a box in the basement, she becomes captivated by the cookbook's previous owner: 1950s housewife Nellie Murdoch. As Alice cooks her way through the past, she begins to settle into her new surroundings, even as her friends and family grow concerned that she has embraced them too fully: wearing vintage dresses and pearls like a 1950s housewife, making elaborate old-fashioned dishes like Baked Alaska, and drifting steadily away from her usual pursuits. 
Alice justifies the changes merely as research for her novel...but when she discovers that Nellie left clues about her own life within the cookbook's pages – and in a mysterious series of unsent letters penned to Nellie's mother – she quickly realizes that the housewife's secrets may have been anything but harmless. As she uncovers a more sinister side to Nellie's marriage and with pressure mounting in her own relationship, Alice realizes that to protect herself she must harbour and hatch a few secrets of her own....
About The 4% Fix
How to find guilt-free time for what you really want to do, and why it matters.
An award-winning journalist, avid reader, and new mom, Karma Brown dreamed of writing her first novel. But between diapers and tight deadlines, how could she? Like so many of us, she felt stretched taut and hyper-scheduled, her time a commodity over which she had lost control. For Brown, the answer to this problem was to rise earlier every day and use that time to write. Although she experienced missteps along the way, after committing to her alarm clock and an online community of early risers, she completed a debut novel that became a national bestseller.
In The 4% Fix, Brown reveals the latest research about time management and goal-setting and shares strategies that have worked for her as well as for others. Refreshingly, her jargon-free approach doesn't include time-tracking spreadsheets, tips on how to squeeze in yoga exercises while cooking dinner, or methods that add bulk to those never-ending lists.
How will you use this one hour – only 4% of your day – to change your life?
About Karma Brown
Karma Brown is an award-winning journalist and bestselling author of five novels: the #1 Globe and Mail national bestseller Recipe for a Perfect Wife, and the international bestsellers Come Away With Me (a Globe and Mail Top 150 books of 2015), The Choices We Make, In This Moment, and The Life Lucy Knew. In addition to her novels, Brown's writing has appeared in publications such as Self, Redbook, Canadian Living, Today's Parent, and Chatelaine. Her first non-fiction project, The 4% Fix: How One Hour Can Change Your Life, was published by HarperCollins Canada in December 2020. Brown lives just outside Toronto with her husband, daughter, and a labradoodle named Fred. 
Buy the Books
The Push
Owl's Nest Books
Recipe for a Perfect Wife
Owl's Nest Books
The 4% Fix (no signed bookplates available)
Owl's Nest Books
Curiouser?
Articles: