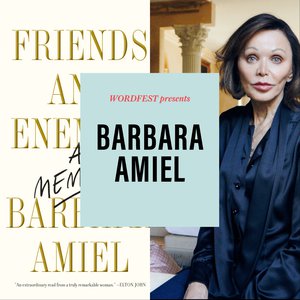 Wordfest presents Barbara Amiel
Oct 18 @ 5:30 PM - 6:15 PM MT
Online

Please join us as we welcome the indomitable Barbara Amiel to our virtual stage and celebrate the publication of her highly-anticipated memoir, Friends and Enemies.
The hour-long conversation, hosted by Shelley Youngblut, Wordfest's CEO & Creative Ringleader, will start at 5:30 PM MT. The pre-show will begin at 5:20 PM MT.
This live stream event is free but if you RSVP, we'll send you a reminder along with easy instructions to help you get set up, as well as our unique Digital Doggie Bag after the event with all the links, goodies and references from the conversation.
Get the Book
We would like to thank Penguin Random House Canada for making it possible for us to host Barbara Amiel, who has pre-signed copies of Friends and Enemies that are available exclusively through Calgary's Owl's Nest Books.

Get the Meal
Sidewalk Citizen Bakery will be creating a very special multi-course meal in Barbara Amiel's honour for $60, which you can pre-order and pick up the afternoon of the event at their location at 340 13th Ave. SW (Central Memorial Park) on Sunday, October 18 with pickup between 3pm and 5pm (advance orders only).
About Friends and Enemies
"I love liberty, opera, sex, and fashion," she once told an interviewer. "But life would have been easier if my passions had been for trainspotting and stamp collecting."
Barbara Amiel's much-talked-about life has been a subject of endless fascination for the media, many unauthorized biographies, as well as screen depictions. An instinctive feminist and now a foe of feminism's political correctness, she covers a formidable array of experiences—political, sexual, marital, and material—in these memoirs.
Born in London during World War II's Blitz, the only consistent strains in her life were a fierce belief in her identity as a Jew, even as the Jewish community disowned her, and an unquestioned view that women were free to do anything in any arena they chose without the need to win society's approval. Which she very often did not.
Her rise to the senior rungs of journalism began in Canada after the emigration of her family and continued in the United Kingdom on her return. With four marriages and an assorted number of beaus, some famous, some infamous (some rather young, some rather elderly), she moved through different worlds, encountering problems made more intractable on occasion by her own faulty choices.
Though her views on political and social issues were controversial and unpopular, it is a measure of her writing skill that she held down plum jobs for many decades in Canadian and British journalism, as well as appearances in U.S. publications ranging from the Wall Street Journal and the New York Times to the National Enquirer and Vogue.
When Barbara Amiel's family life broke apart in her early teens, she faced problems solved without the benefit of parental guidance in moments that are often hilarious as well as touching. As an adult and a writer of unabashedly libertarian views, she was derided as much for her wardrobe as for her ideas. Promoted by Maclean's magazine with the slogan "Love her or hate her," she was philosophical. "I love liberty, opera, sex, and fashion," she once told an interviewer. "But life would have been easier if my passions had been for trainspotting and stamp collecting."
Her life has an operatic quality played out against a backdrop of physical and mental difficulties with a wildly diverse cast including Elton John, Henry Kissinger, Anna Wintour, Oscar de la Renta, Princess Diana, Tom Stoppard, Brooke Astor, Margaret Thatcher, Gianni Agnelli, David Frost, and an array of the aristocrats of Manhattan and the stately homes of England. All handled, she writes "with my fatal combination of naiveté and self-absorption." The epic battle with the U.S. justice system leading to the trial and imprisonment of her husband, Conrad Black (eventually substantially vindicated), became a litmus paper for sorting out friends from those who were quick to judge and brutal in their dismissal. Friends and Enemies is not a book of vengeance but an attempt to find her own truth: a life that reads like a novel--eloquent, surprising, written with deeply personal candour and utterly unputdownable.
About Barbara Amiel
Barbara Amiel has been a columnist for The Times of London, The Daily Telegraph, Maclean's, Senior Political Columnist for The Sunday Times, Editor of The Toronto Sun (the first woman to edit a major daily paper in Canada), VP-Editorial for Hollinger newspapers, and co-authored By Persons Unknown, which won the prestigious Mystery Writers of America Edgar award.
Curiouser?
Articles:
Friends and Enemies: A Life in Vogue, Prison, and Park Avenue – Publisher's Weekly
"My memoir has cost me my best friends" – Barbara Amiel, The Spectator
Memoir as revenge: Barbara Amiel's campy tell-all makes for fascinating reading – The Globe and Mail