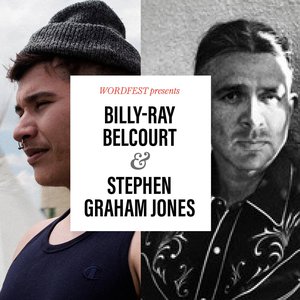 Wordfest presents Billy-Ray Belcourt & Stephen Graham Jones
Sep 03 @ 7 PM - 8 PM MT
Online

We're thrilled to launch our Thursday night Imagine on Air series with two of the leading figures of contemporary Indigenous writing: Billy-Ray Belcourt and Stephen Graham Jones.  
The 60-minute conversation, hosted by writer Joshua Whitehead, will start at 7:00 PM MT on Wordfest.com. (The pre-show will begin at 6:50 PM MT.) 
This live stream event is free but if you RSVP, we'll send you a reminder along with easy instructions to help you get set up, as well as our unique Digital Doggie Bag after the event with all the links, goodies and references from the conversation.
We are grateful to Penguin Random House Canada (Belcourt), and Simon & Schuster Canada (Jones) for making this event possible. Here are direct links to Calgary booksellers carrying A History of My Brief Body and The Only Good Indians:
A History of My Brief Body
Owl's Nest Books | Shelf Life Books
The Only Good Indians
Owl's Nest Books | Shelf Life Books
About A History of My Brief Body
From Billy-Ray Belcourt, the youngest ever winner of the Griffin Prize for This Wound Is a World, comes a startlingly honest debut memoir, A History of My Brief Body.
Billy-Ray Belcourt's debut memoir opens with a tender letter to his kokum and memories of his early life in the hamlet of Joussard, Alberta, and on the Driftpile First Nation. The work expands to encompass the big and broken world around him, in all its complexity and contradictions: a legacy of colonial violence and the joy that flourishes in spite of it, first loves and first loves lost, sexual exploration and intimacy, and the act of writing as a survival instinct through the grief.
What emerges is not only a profound meditation on memory, gender, anger, shame, and ecstasy, but also the outline of a way forward. With startling honesty, and in a voice distinctly and assuredly his own, Belcourt situates his life experiences within a constellation of seminal queer texts, among which this book is sure to earn its place. Eye-opening, intensely emotional, and excessively quotable, A History of My Brief Body demonstrates over and over again the power of words to both devastate and console us.
"Bursting with all the movements of sex, riot, and repose, this book presents us with a shock of recognition and reclamation, and we are better for it―punch drunk and aching but, oh, so much better. I'm gutted by his brilliant mind" – Cherie Dimaline
About Billy-Ray Belcourt
Billy-Ray Belcourt is a poet, author, and scholar from the Driftpile Cree Nation. He won the 2018 Griffin Poetry Prize for his debut collection, This Wound Is a World, which was also a finalist for the Governor General's Literary Award. Belcourt is a recipient of the prestigious Rhodes Scholarship and an Indspire Award, the highest honour the Indigenous community bestows on its leaders. He is currently working on his PhD at the University of Alberta and is an Assistant Professor in Indigenous Creative Writing for UBC's Creative Writing Program.
Curiouser?
"In 'A History of My Brief Body,' Billy-Ray Belcourt triumphs over oppression through lyric essays" – Washington Post
"Zones of Paradox: A Conversation with Billy-Ray Belcourt" – The Rumpus 
About The Only Good Indians
From the Jordan Peele of horror literature comes a tale of revenge, cultural identity, and the cost of breaking from tradition.
Seamlessly blending classic horror and a dramatic narrative with sharp social commentary, The Only Good Indians follows four American Indian men after a disturbing event from their youth puts them in a desperate struggle for their lives. Tracked by an entity bent on revenge, these childhood friends are helpless as the culture and traditions they left behind catch up to them in a violent, vengeful way.
The Only Good Indians was selected "a most anticipated book of summer" in Esquire, Elle, Vulture, Time, AV Club, Bustle and Literary Hub and a "must read" in The New York Times and The Guardian.
About Stephen Graham Jones
Stephen Graham Jones is a Blackfeet Native American writer of over twenty books of experimental fiction, horror, crime, and science fiction. He has been an NEA fellowship recipient, has won the Jesse Jones Award for Best Work of Fiction from the Texas Institute of Letters, the Independent Publishers Award for Multicultural Fiction, a Bram Stoker Award, four This is Horror Awards; and has been a finalist for the Shirley Jackson Award and the World Fantasy Award. Jones is the Ivena Baldwin Professor of English at the University of Colorado Boulder.
"More than I could have asked for in a novel." —Tommy Orange, Pulitzer Prize finalist author of There There
"Gritty and gorgeous" —Danielle Trussoni, The New York Times Book Review
Curiouser?
Articles:
"We've Already Survived an Apocalypse": Indigenous Writers are Changing Sci-Fi. – The New York Times
In Stephen Graham Jones's riveting 'The Only Good Indians,' old friends try to outrun a past mistake – Washington Post
Dead Dogs and Final Girls: And Interview with Stephen Graham Jones – Fiction Unbound
Grief and Guilt Spawns Sorrow in 'The Only Good Indian' – NPR
"If You Look Back at the Horrors We've Faced – You Have to Find a Way to Laugh About it" – The Star