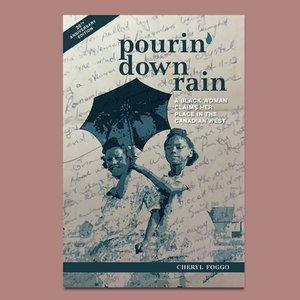 Wordfest Presents Cheryl Foggo (Pourin' Down Rain: A Black Woman Claims Her Place in the Canadian West)
Feb 08 @ 1 PM - 2:15 PM MT
Memorial Park Library, 2nd Floor
1221 2 St SW
Join us for the 30th anniversary re-release of Cheryl Foggo's, Pourin' Down Rain: A Black Woman Claims Her Place in the Canadian West. This event will feature live music, special guests, an on-stage interview and a book signing!
About Pourin' Down Rain: A Black Woman Claims Her Place in the Canadian West
Cheryl Foggo came of age during the 1960s in Calgary, a time when a Black family walking down the street still drew stares from everyone they passed. During her childhood, a community of extended family and friends, with roots in the Black migration of 1910 across the western provinces, worked together to provide intervals of respite from racism. But as an adolescent, Cheryl struggled to understand the negative attitudes towards Blackness she and her family encountered, and how she was made to feel like an outsider in the only place she ever knew as home. As she explores her ancestry, what comes to light gives her the confidence to claim her rightful place in the Canadian west as a proud Black woman. This beautiful, moving work celebrates the Black experience and Black resiliency on the prairies.
More information about the print edition is available on Brush Education's website. The audio book, which is read by Karen Robinson of Schitt's Creek, is available on ECW Press's website.
About Cheryl Foggo
Cheryl Foggo has been published and produced extensively as a screenwriter, playwright, writer of fiction and non-fiction, journalist and as a young adult novelist. Her works focusing on the lives of Black people living in Western Canada have received many provincial and national awards and nominations. In addition to launching this new edition of "Pourin' Down Rain" in 2020, the year will also see the launch of two new films directed by her: "Kickin' Up Fuss; The Charles Daniels Story" and the National Film Board of Canada documentary "John Ware Reclaimed."  Cheryl lives in Calgary.
Curiouser?
Articles:
"Pourin' Down Rain: Cheryl Foggo retraces one black family's journey to digging its very own western Canadian roots" — The Half Step
Books:
Books will be available for purchase at the event by local bookseller, Owl's Nest Books.
If you want to purchase the book in advance: