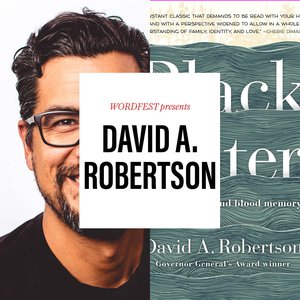 Wordfest presents David A. Robertson
Oct 01 @ 7 PM - 7:45 PM MT
Online

We are thrilled to present Governor General's Literary Award winner and Wordfest favourite David A. Robertson, who has just released not one, but two new books: the highly anticipated memoir Black Water and The Barren Grounds, book one of his newest YA series, the Misewa Saga.
The 45-minute conversation will start at 7:00 PM MT on Wordfest.com and will be hosted by noted youth author Alice Kuipers (another Wordfest fave). (The pre-show will begin at 6:50 PM MT.)
This live stream event is free but if you RSVP, we'll send you a reminder along with easy instructions to help you get set up, as well as our unique Digital Doggie Bag after the event with all the links, goodies and references from the conversation.
We are grateful to HarperCollins Canada and Penguin Random House Canada for making this event possible. To order copies of both new releases, as well as Robertson's extensive back list, please support these Calgary booksellers:  
Black Water
Owl's Nest Books | Shelf Life Books
The Barren Grounds
Owl's Nest Books | Shelf Life Books
"When someone lives their life in a good way, the Haisla call them handsome people. David A. Robertson's biography is the perfect example of someone who takes care with his words and speaks respectfully; he tackles identity and racism, family bonds and breaks, with nuance and honesty. The power of this approach makes Black Water an essential and timely book."  – Eden Robinson, bestselling author of The Trickster Trilogy
"A story is a gift, and with Black Water, David A. Robertson is at his most generous. He shares, with candour and tenderness, a personal story of father-son love, deftly weaving it into a larger social and political history of loss, trauma, survival and resurgence. At once intimate and expansive, this is a story of healing and home."   – Rachel Giese, author of Boys: What it Means to Become a Man
About Black Water
A son who grew up away from his Indigenous culture takes his Cree father on a trip to their family's trapline, and finds that revisiting the past not only heals old wounds but creates a new future.
The son of a Cree father and a non-Indigenous mother, David A. Robertson was raised with virtually no knowledge or understanding of his family's Indigenous roots. His father, Don, spent his early childhood on a  trapline in the bush northeast of Norway House, Manitoba, where his first teach was the land. When his family was moved permanently to a nearby reserve, Don was not permitted to speak Cree at school unless in secret with his friends and lost the knowledge he had been gifted while living on his trapline. His mother, Beverly, grew up in a small Manitoba town with not a single Indigenous family in it. Then Don arrived, the new United Church minister, and they fell in love. 
Structured around a father-son journey to the northern trapline where Robertson and his father will reclaim their connection to the land, Black Water is the story of another journey: a young man seeking to understand his father's story, to come to terms with his lifelong experience with anxiety, and to finally piece together his own blood memory, the parts of his identity that are woven into the fabric of his DNA.
"David A. Robertson has written such a fine, beautiful novel. He manages to combine hard truths about our history with a Narnia-like fantasy, sweeping us into the world of the story while opening our hearts as well." – Susin Nielsen, author of We Are All Made of Molecules and No Fixed Address
About The Barren Grounds
Narnia meets traditional Indigenous stories of the sky and constellations in an epic middle grade fantasy series from award-winning author David A. Robertson.

Morgan and Eli, two Indigenous children forced away from their families and communities, are brought together in a foster home in Winnipeg, Manitoba. They each feel disconnected, from their culture and each other, and struggle to fit in at school and at their new home – until they find a secret place, walled off in an unfinished attic bedroom. A portal opens to another reality, Askí, bringing them onto frozen, barren grounds, where they meet Ochek (Fisher). The only hunter supporting his starving community, Misewa, Ochek welcomes the human children, teaching them traditional ways to survive. But as the need for food becomes desperate, they embark on a dangerous mission. Accompanied by Arik, a sassy Squirrel they catch stealing from the trapline, they try to save Misewa before the icy grip of winter freezes everything – including them.
About David A. Robertson
David A. Robertson is the winner of the Governor General's Literary Award, the Beatrice Mosionier Indigenous Writer of the Year Award, and the John Hirsch Award for Most Promising Manitoba Writer. His books include When We Were Alone (winner of the Governor General's Award, a finalist for the TD Canadian Children's Literature Award and a McNally Robinson Best Book for Young People); Will I See? (winner of the Manuela Dias Book Design and Illustration Award, Graphic Novel category); the YA novel Strangers (recipient of the Michael Van Rooy Award for Genre Fiction); and Monsters (a McNally Robinson Best Book for Young People). Through his writings about Canada's Indigenous Peoples, Robertson educates as well as entertains, reflecting Indigenous cultures, histories, and communities while illuminating many contemporary issues. Robertson is a member of Norway House Cree Nation. He lives in Winnipeg.
About Alice Kuipers
Alice Kuipers is the award-winning, internationally bestselling author of 10 books and the chapter book series Polly Diamond, a Junior Library Guild selection praised for "bring[ing] the magic of imagination to life." Her work has been published in 36 countries.
On Ali's Book Club on CTV Saskatoon, Alice regularly shares her favourite reads. A mother of four, she teaches writing to thousands of people online. She's the co-chair of SPSF's campaign to raise $20 million to ensure every kid is reading at a Grade 3 level when they leave Grade 3. Join her here: www.alicekuipers.com
Curiouser?
Listen: