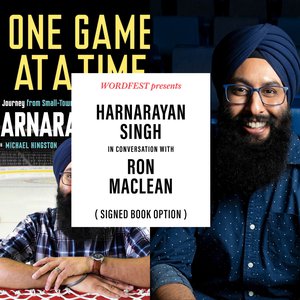 Wordfest Presents Harnarayan Singh
Oct 03 @ 12 PM - 1 PM MT
Online

Tune in to Wordfest's Imagine on Air as we celebrate the national launch of THE hockey book of the year, Harnarayan Singh's One Game at a Time. The groundbreaking host of Hockey Night in Canada Punjabi will be talking about his highly anticipated memoir with host Ron MacLean, who knows a thing or two about Hockey Nights in Canada himself. And because Canada's game is a team sport, we're filling the virtual broadcast booth with some of Singh's biggest fans (besides you, of course), including Nick Bonino and Kelly Hrudey.
The one-hour celebration will start at 12:00 PM MT. The pre-show will begin at 11:50 AM MT. 
This live-stream event is free and open to the public. And you can add a signed copy of One Game at a Time (managed by our bookselling partner Indigo) for an additional $29, which includes shipping. Both ticket packages include Wordfest's Digital Doggie Bag sent to your email right after the event, sharing all the links, goodies and references that Singh, MacLean, and these hockey legends mention. Thank you to Penguin Random House Canada for making this exceptional experience possible. 
Note: Please order your signed book by Thursday, Sept. 24 if you want to receive it before the event. Signed books will be still be available up until Oct. 3, with delivery following as soon as possible. 
About One Game at a Time
From the distinct and vibrant voice behind Hockey Night in Canada Punjabi comes the story of pursuing a dream and defying the odds, reminding us all of hockey's power to unite.
Bonino Bonino Bonino!
Ask a hockey fan if they have heard the wonderfully electric call of Nick Bonino's overtime-winning goal from the 2016 Stanley Cup Final and they will almost surely answer with a resounding yes! That's because video clips of the Hockey Night in Punjabi broadcast immediately went viral, amplifying the profile of Harnarayan Singh, the voice behind the call.
Growing up in small-town Alberta, Singh was like many other kids who dreamed about a life within the sanctum of the game they idolized. There was only one small difference – he didn't look like any of the other kids. And when he sat down on Saturday nights to tune in to Hockey Night in Canada with the rest of the nation, he couldn't ignore the fact that the broadcasters or analysts didn't look like him either. Undeterred, Singh worked his way from calling imaginary hockey games with his plastic toy microphone as a child, to funding secret flights from Calgary to Toronto every weekend in the early days of Hockey Night in Punjabi, to making history as the first Sikh to broadcast an NHL game in English.
Full of heart, humour, and bursting with personality (and maybe a few family prayers for Wayne Gretzky), One Game at a Time is the incredible and inspiring story of how Singh broke through the longstanding barriers and biases of the sport he loves. But more than that, Singh blends his unabashed love of hockey with a refreshing and necessary positive message about what it means to be a Canadian in the world, making him one of the most influential ambassadors of the game today.
About Harnarayan Singh
Harnarayan Singh is a co-host and play-by-play announcer, having called over 700 NHL games for Hockey Night in Canada Punjabi, along with becoming a host in English with Sportsnet for select national games. Having previously worked for CBC and TSN, Singh also produces a segment in Calgary called Flames TV Punjabi and serves on the Board of Directors for HEROS Hockey, a charity empowering marginalized youth through mentorship. In 2018, Harnarayan was the recipient of the Meritorious Service Medal by the Governor General of Canada for his contributions to Canadian society. He also serves as an ambassador for the NHL's Hockey Is For Everyone program and Chevrolet Canada's Good Deeds Cup.
Follow him on Twitter @IceSinghHNIC
About Host Ron MacLean
Ron MacLean brings more than 30 years of award-winning experience to his role as host of Hockey Night in Canada and Rogers Hometown Hockey. MacLean's extensive knowledge and passion for the game of hockey, combined with 30 years of hosting Hockey Night in Canada, has made him one of the country's most famous and beloved broadcasters.
MacLean began his broadcasting career in 1978 at CKRD Radio in Red Deer, Alberta, and in 1984 became host of the Calgary Flames television broadcasts on CFAC in Calgary. He became the sports anchor on the local evening news before joining CBC in 1986 as host of the Toronto Maple Leaf broadcasts on Hockey Night in Canada. In 1987, MacLean became national host of Hockey Night in Canada, which included hosting the iconic Coach's Corner alongside Don Cherry. During his career with CBC, MacLean also hosted 10 Olympic Games, the Commonwealth Games, IAAF World Championships, World Cup Hockey, the Calgary Stampede and Queen's Plate.
In 2015, MacLean was inducted to Canada's Walk of Fame, a prestigious honour acknowledging the achievements and accomplishments of successful Canadians. Also in 2015, he was recognized for his work on Hockey Night in Canada with a Canadian Screen Award for Best Host in a Sports Program or Series, adding to 10 Gemini Awards previously received. MacLean is also a two-time George Gross Award recipient, honouring excellence in sports broadcasting. He lives with his wife, Cari, in Oakville, ON.
Follow him on Twitter @RonMacLeanHTH
Curiouser?
Articles: