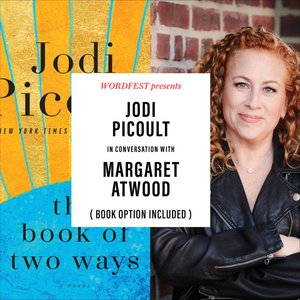 Wordfest Presents Jodi Picoult in Conversation with Margaret Atwood
Oct 08 @ 6 PM - 7 PM MT
Online

Exclusive Canadian Appearance! 
It's the meeting of the minds we've been waiting for. Please join us for Jodi Picoult in conversation with Margaret Atwood, to celebrate the launch of Jodi's newest novel The Book of Two Ways. The exclusive live-stream conversation starts at 6 p.m. MT on Wordfest.com. (The pre-show will begin at 5:50 PM MT.) 
We'll send you easy instructions to help you get set up, as well as our unique Digital Doggie Bag after the event, sharing all the links, goodies and references from Jodi and Margaret's conversation.
Your $40 ticket includes the live-stream event and a signed hardcover copy of The Book of Two Ways (managed by our bookselling partner Indigo, with the cost of shipping included). Thank you to Penguin Random House Canada for making this exceptional experience possible. 
Note: If you'd like the book in advance of the event, please purchase your ticket by Thursday, Sept. 24. Orders received after that date will arrive after Oct. 8. 
"It's hard to exaggerate how well Picoult writes." –Financial Times
About The Book of Two Ways
From the #1 bestselling author of A Spark of Light and Small Great Things, a riveting novel about the choices that change the course of our lives.
Everything changes in a single moment for Dawn Edelstein. She's on a plane when the flight attendant makes an announcement: prepare for a crash landing. As thoughts flash through her mind, Dawn braces herself for impact. The shocking thing is the thoughts are not of her husband but of a man she last saw 15 years earlier.
Miraculously, Dawn survives the crash, but so do all the doubts she suddenly feels. She has led a good life. Back in Boston, she has her husband, Brian, her beloved daughter, and her work as a death doula who helps to ease the transition between life and death for her clients. But somewhere in Egypt is Wyatt Armstrong, who works as an archaeologist unearthing ancient burial sites, a job she once studied for, but was forced to abandon. Now, when it seems that fate is offering her second chances, she is not as sure of the life choices she once made.
After the crash, once they've been checked out by a doctor, the airline offers the passengers flights to a destination of their choice. The obvious thing for Dawn is to fly home, to her work, to her family. The other option that occurs to her, though, is to travel to the archaeological site she left years before, reconnect with Wyatt and their unresolved history, and maybe even complete her research on The Book of Two Ways – the first known map of the afterlife.
As the story unfolds, Dawn's two futures unspool side by side, as do the secrets and doubts she's kept buried. And then there are the questions she's never truly asked: What does a well-lived life look like? When we leave the earth, what do we leave behind? Do we make choices or do our choices make us? And, who would you be, if you hadn't turned into the person you are right now?
About Jodi Picoult
Jodi Picoult is the #1 New York Times bestselling author of 26 novels, including A Spark of Light, Small Great Things, Leaving Time, The Storyteller, Lone Wolf, Sing You Home, House Rules, Handle with Care, Change of Heart, Nineteen Minutes, My Sister's Keeper, and, with daughter Samantha van Leer, two young adult novels, Between the Lines and Off the Page. Picoult lives in New Hampshire.
About Margaret Atwood
Margaret Atwood, whose work has been published in more than 45 countries, is the author of more than 50 books of fiction, poetry, critical essays, and graphic novels. In addition to The Handmaid's Tale, now an award-winning TV series, her novels include Cat's Eye, short-listed for the 1989 Booker Prize; Alias Grace, which won the Giller Prize in Canada and the Premio Mondello in Italy; The Blind Assassin, winner of the 2000 Booker Prize; Oryx and Crake, short-listed for the 2003 Man Booker Prize;The Year of the Flood, MaddAddam; and Hag-Seed. She is the recipient of numerous awards, including the Peace Prize of the German Book Trade, the Franz Kafka Prize, the PEN Center USA Lifetime Achievement Award, and the Los Angeles Times Innovator's Award. In 2019, she was made a member of the Order of the Companions of Honour for services to literature. Dearly, her new poetry collection, will be released on Nov. 10. The paperback edition of the 2019 Booker-Prize-winning The Testaments is now available. 
About Dearly
The collection of a lifetime from the bestselling novelist and poet.

By turns moving, playful and wise, the poems gathered in Dearly are about absences and endings, ageing and retrospection, but also about gifts and renewals. They explore bodies and minds in transition, as well as the everyday objects and rituals that embed us in the present. Werewolves, sirens and dreams make their appearance, as do various forms of animal life and fragments of our damaged environment.

Before she became one of the world's most important and loved novelists, Atwood was a poet. Dearly is her first collection in over a decade. It brings together many of her most recognizable and celebrated themes, but distilled - from minutely perfect descriptions of the natural world to startlingly witty encounters with aliens, from pressing political issues to myth and legend. It is a pure Atwood delight, and long-term readers and new fans alike will treasure its insight, empathy and humour.
Dearly, Margaret Atwood's new poetry collection, will be released on Nov. 10. You can preorder it through Indigo, Owl's Nest Books, and Shelf Life Books.
Curiouser?  
Start with Jodi's generous website, and make sure to follow her on Instagram and Twitter (@jodipicoult)
Review: "The Book of Two Ways" – Publishers Weekly
"Trump Supporters Need My Book" – The Guardian