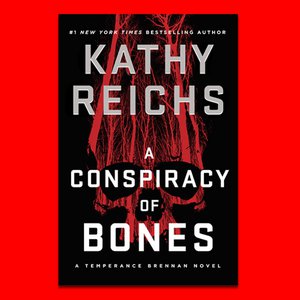 Wordfest Presents Kathy Reichs (A Conspiracy of Bones)
Mar 24 @ 7 PM - 8:30 PM $20 - $25
Patricia A. Whelan Performance Hall, Central Library
800 3 Street SE
Don't miss this chance to experience the New York Times bestselling author behind the hit Fox TV series, Bones, which is based on her acclaimed series of novels about the adventures of forensic anthropologist Temperance Brennan. Kathy Reichs presents her latest twisty thriller in the series at this live event featuring an on-stage interview hosted by Leah Sarich, followed by an audience Q&A and book signing.
"Nobody writes a more imaginative thriller than Kathy Reichs or crafts a better sentence. Her latest forensic investigation, A Conspiracy of Bones, rivets with its nonstop pursuit of some of the vilest villains ever." — Clive Cussler, author of Night Probe & Sahara
About A Conspiracy of Bones
It's sweltering in Charlotte, North Carolina, and Temperance Brennan, still recovering from neurosurgery following an aneurysm, is battling nightmares, migraines, and what she thinks might be hallucinations when she receives a series of mysterious text messages, each containing a new picture of a corpse that is missing its face and hands.
Immediately, she's anxious to know who the dead man is, and why the images were sent to her.An identified corpse soon turns up, only partly answering her questions. To win answers to the others, including the man's identity, she must go rogue, working mostly outside the system. That's because Tempe's new boss holds a fierce grudge against her and is determined to keep her out of the case. Tempe bulls forward anyway, even as she begins questioning her instincts. But the clues she discovers are disturbing and confusing. Was the faceless man a spy? A trafficker? A target for assassination by the government? And why was he carrying the name of a child missing for almost a decade?
With help from a number of law enforcement associates including her Montreal beau Andrew Ryan and the always-ready-with-a-smart-quip, ex-homicide investigator Skinny Slidell, and utilizing new cutting-edge forensic methods, Tempe draws closer to the astonishing truth. But the more she uncovers, the darker and more twisted the picture becomes...
"Don't miss this one! The corpse is ghastly. The investigation is intense. So many pulse-pounding twists and surprises—it kept me guessing till the end!"
— R.L. STINE, bestselling author of Goosebumps and Fear Street
About Kathy Reichs
Kathy Reichs is one of very few forensic anthropologists certified by the American Board of Forensic Anthropology. She served on the Board of Directors and as Vice President of both the American Academy of Forensic Sciences and the American Board of Forensic Anthropology, and as a member of the National Police Services Advisory Council in Canada. A Conspiracy of Bones is Kathy's nineteenth entry in her series featuring forensic anthropologist Temperance Brennan. Kathy was also a producer of the hit Fox TV series, Bones, which is based on her work and her novels. She divides her time between Charlotte, NC, and Montreal, QC. Visit Kathy at KathyReichs.com.
About Host Leah Sarich
Leah Sarich is a broadcast journalist. She's worked in media and communications for 23 years in numerous roles, most recently as the Host of Breakfast Television Calgary. For over a decade she was the Health Specialist for Citytv Calgary covering health trends and the latest research. Sarich is also the Co-Founder of the BT Calgary Book Club and a passionate book lover. Leah Sarich lives in Calgary with her family. 
Books:
Books will be available for purchase at the event by local bookseller, Owl's Nest Books.
If you want to purchase the book in advance: 
 Owl's Nest Books | The Next Page | Indigo.ca