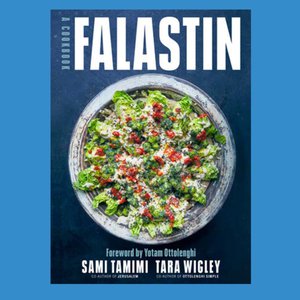 Wordfest Presents Sami Tamimi & Tara Wigley (Falastin)
Jun 25 @ 12 PM - 12:45 PM MT
Online

Don't miss THE online food event of 2020. Sami Tamimi and Tara Wigley's new cookbook Falastin is a love letter to Palestine, the land and its people; an evocative collection of 120 unforgettable recipes and stories from the co-authors of Jerusalem, Ottolenghi: The Cookbook, and Ottolenghi SIMPLE. 
This event includes an online conversation, hosted by Shelley Youngblut, with the audience contributing to the Q&A through the chat feature on Wordfest's Facebook page or on Wordfest.com or by emailing questions@wordfest.com. Go to Wordfest's Facebook page or wordfest.com at noon to watch the live broadcast (Sami and Tara will be joining us from London, England). The pre-show starts at 11:50 AM (MT).
** If you're only able to join us at our regularly scheduled Happy Hour time, we'll be rebroadcasting the show at 5:30 p.m. MT on Wordfest.com. 
Get the Book
We are grateful to Appetite by Random House for making it possible for us to connect you with Sami and Tara. Cookbook Co. has pre-signed copies of Falastin in stock, and would love to be able to deliver through curbside pickup or to your home. If you're watching from outside of Calgary, please order from your local independent bookseller or through Indigo.ca.
Get the Meal
Sidewalk Citizen Bakery will be creating a very special multi-course meal in Sami's honour, which you can pre-order and pick up on the morning of the event at the Simmons Building location in the East Village. In honor of Sami and Tara, they've created a meal from the book with a little twist. You'll start with a Chopped Salad, followed by Alberta Beef Kofta with Tahini, Potatoes, Onion and fresh Local Vegetables and Greens, and for dessert Malabi with Rose, Pomegranate and Pistachio. The cost is $38 per person and it can be picked at the Simmons at 10:30 on the day of the event. Order here.
 Event Details
The preshow reel will begin at 11:50 AM MT. The interview will start at noon MT on Wordfest's Facebook Page. This event is free but if you RSVP, we'll send you easy instructions to help you get set up, as well as our unique Digital Doggie Bag after the event, sharing all the links, goodies and references from the conversation.
About Falastin
When the events of 1948 forced residents from all regions of Palestine together into one compressed land, recipes that were once closely guarded family secrets were shared and passed between different groups in an effort to ensure that they were not lost forever. 

In Falastin (pronounced "fa-la-steen"), Sami Tamimi retraces the lineage and evolution of his country's cuisine, born of its agriculturally optimal geography, its distinct culinary traditions, and Palestinian cooks' ingenuity and resourcefulness. Tamimi covers the territory between the Mediterranean Sea and the Jordan River — East Jerusalem and the West Bank, up north to the Galilee and the coastal cities of Haifa and Akka, inland to Nazareth, and then south to Hebron and the coastal Gaza Strip — recounting his upbringing with eleven siblings and his decision to leave home at 17 to cook in West Jerusalem, where he first worked with Yotam Ottolenghi. 
"A stunning collection of recipes and stories that showcase the best of Palestinian culture. I want to eat everything in this book" —Yasmin Khan, author of Zaitoun and The Saffron Tales
From refugee-camp cooks to the home kitchens of Gaza and the mill of a master tahini maker, Hamimi teases out the vestiges of an ancient culinary tradition as he records the derivations of a dynamic cuisine and people in more than 130 transporting photographs and 120 recipes, including:

• Hassan's Easy Eggs with Za'atar and Lemon
• Fish Kofta with Yogurt, Sumac, and Chile
• Pulled-Lamb Schwarma Sandwich
• Labneh Cheesecake with Roasted Apricots, Honey, and Cardamom
The food is the perfect mix of traditional and contemporary, with recipes that have been handed down through the generations and reworked for a modern home kitchen, alongside dishes that have been inspired by the authors' collaborations with producers and farmers throughout Palestine.
Get ready to laden your table with the most delicious of foods — from abundant salads, soups and wholesome grains to fluffy breads, easy one-pot dishes and perfumed sweet treats — here are simple feasts to be shared and everyday meals to be enjoyed. These are stunning Palestinian-inspired dishes that you will want to cook, eat, fall in love with and make your own.
About Sami Tamimi
Sami Tamimi was born and raised in Jerusalem and was immersed in food from childhood. He started his career as commis-chef in a Jerusalem hotel and worked his way up, through many restaurants and ethnic traditions, to become head chef of Lilith, one of the top restaurants in Tel Aviv in the 1990s. Ottolenghi now has four stores and two restaurants, NOPI and ROVI, all in central London. As the executive head chef, Sami is involved in developing and nurturing young kitchen talents and creating new dishes and innovative menus. 
About Tara Wigley
Tara Wigley spent a decade working in publishing — at the Abner Stein Literary Agency in London and then Simon & Schuster — before going to cookery school in Ireland. She has developed, tested, and writen recipes for Ottolenghi's weekly column in the Guardian magazine and monthly New York Times columns, as well as for his cookbooks. For Falastin, Wigley has travelled with Tamimi throughout Palestine and eaten her body weight in chickpeas and tahini.
Curiouser?
Articles:
Interviews: