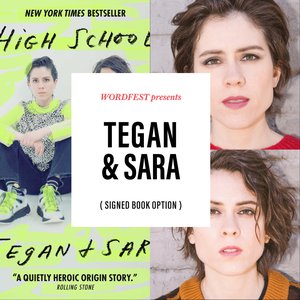 Wordfest Presents Tegan & Sara with Vivek Shraya
Oct 29 @ 7 PM - 8 PM MT
Online

Tune in to Wordfest's Imagine on Air as we welcome the pride of Calgary, Tegan & Sara, to our virtual stage to celebrate the launch of the paperback edition of High School, their New York Times bestseller. The conversation will be hosted by the equally multi-talented Vivek Shraya, whose first book, God Loves Hair, is also being re-released in a special 10th Anniversary edition. 
The 60-minute show will start at 7 PM MT (the pre-show starts at 6:50 PM MT) and can be watched on Wordfest.com or Wordfest's Facebook page. The livestream is free (we want to make this as inclusive and accessible as possible), but you can buy copies of both High School and God Loves Hair when you register. Signed copies of High School are available for the first 100 people to order, while Vivek will generously sign every copy of God Loves Hair. 
Each book is $18 + GST and available as an optional "add-on" during checkout when you register. You may pick up your purchase at our bookselling partner, Calgary's Shelf Life, or have them shipped for an additional $10 for one or both books.
Thank you to Simon & Schuster Canada and Arsenal Pulp Press for making this exceptional experience possible. 
Note: High School isn't being published until Oct. 6, so you'll just have to wait until then to pick up your copy.
About High School
NEW YORK TIMES AND NATIONAL BESTSELLER
First loves, first songs, and the drugs and reckless high school exploits that fueled them—meet music icons Tegan and Sara as you've never known them before in this intimate and raw account of their formative years.
High School is the revelatory and unique coming-of-age story of Sara and Tegan Quin, identical twins from Calgary, Alberta, growing up in the height of grunge and rave culture in the '90s, well before they became the celebrated musicians and global LGBTQ icons we know today. While grappling with their identity and sexuality, often alone, they also faced academic meltdown, their parents' divorce, and the looming pressure of what might come after high school. Written in alternating chapters from both Tegan's point of view and Sara's, the book is a raw account of the drugs, alcohol, love, music, and friendships they explored in their formative years. A transcendent story of first loves and first songs, it captures the tangle of discordant and parallel memories of two sisters who grew up in distinct ways even as they lived just down the hall from one another. This is the origin story of Tegan and Sara.
About Tegan & Sara
During the course of their twenty-year career, Tegan and Sara have sold well over one million records and released eight studio albums. They have received three Juno Awards, a Grammy nomination, a Governor General's Performing Arts Award, and the 2018 New York Civil Liberties Union Award. They have performed on some of the world's biggest stages, from Coachella to the Academy Awards. Outspoken advocates for equality, in 2016 Tegan and Sara created the Tegan and Sara Foundation, which fights for health, economic justice, and representation for LGBTQ girls and women. The sisters currently reside in Vancouver, British Columbia, and split their time between there and Los Angeles, California.
Visit them at TeganandSara.com or connect with them on Twitter, Instagram, and Facebook: @TeganandSara.
About Vivek Shraya
Vivek Shraya is an artist whose body of work crosses the boundaries of music, literature, visual art, theatre, and film. Her best-selling new book, I'm Afraid of Men, was her­ald­ed by Vanity Fair as "cultural rocket fuel," and her album with Queer Songbook Orchestra, Part‑Time Woman, was nominated for the Polaris Music Prize. She is one half of the music duo Too Attached and the founder of the publishing imprint VS Books.  A five-time Lambda Literary Award finalist, Vivek was a 2016 Pride Toronto Grand Marshal, was featured on The Globe and Mail's Best Dressed list, and has received honours from The Writers' Trust of Canada and The Publishing Triangle. She is a director on the board of the Tegan and Sara Foundation and Assistant Professor of Creative Writing at the University of Calgary. 
Website: vivekshraya.com  Twitter:  @vivekshraya
About God Loves Hair
In 2010, Vivek Shraya self-published her first book, God Loves Hair, a collection of short stories that follow a tender, intelligent, and curious child who navigates the complex realms of gender creativity, queerness, brownness, religion, and belonging. This tenth-anniversary edition, published in hardcover for the first time, includes a foreword by award-winning YA writer Cherie Dimaline (The Marrow Thieves), as well as a new preface, a new story, and new illustrations by Juliana Neufeld.
Curiouser?
Interview:
"Tegan and Sara Piece it All Together" – GQ.Com
Article:
"Tegan and Sara to produce TV series based on their High School memoir" – CBC
Reviews:
"RS Recommends: Tegan and Sara's Memoir High School Is a Moving Coming of Age Story" – Rolling Stone
"Tegan and Sara Forgive Their Teenage Selves in Their New Book High School" – The Muse, Jezebel