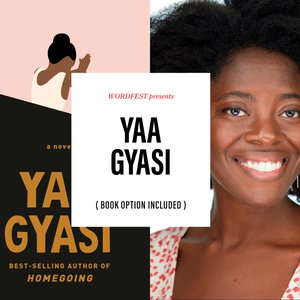 Wordfest presents Yaa Gyasi
Oct 15 @ 7 PM - 8 PM MT
Online

Wordfest is thrilled to present the first Canadian online event with award-winning novelist Yaa Gyasi and the launch of her highly anticipated new novel, Transcendent Kingdom.
"Absolutely transcendent. A gorgeously woven narrative about a woman trying to survive the grief of a brother lost to addiction and a mother trapped in depression while pursuing her ambitions. Not a word or idea out of place. Completely different from Homegoing. THE RANGE. I am quite angry this is so good." –Roxane Gay
The 60-minute conversation, hosted by CTV's Joelle Tomlinson, will start at 7:00 pm MT on wordfest.com (the pre-show will begin at 6:50 pm MT) and includes a hardcover copy of Transcendent Kingdom. Your $39 ticket includes the live-stream event and free shipping (though Indigo, our bookseller partner for this event). The first 200 people to buy tickets will receive an autographed copy, so please sign up now. Thank you to Penguin Random House Canada for making this exceptional experience possible. 
Note: Book orders, courtesy of our partner Indigo, will now arrive after Oct. 15. 
We'll send you easy instructions to help you get set up, as well as our unique digital doggie bag after the event, sharing all the links, goodies and references that Gyasi shares during the conversation.
About Transcendent Kingdom
Yaa Gyasi's stunning follow-up to her acclaimed national best seller Homegoing is a powerful, raw, intimate, deeply layered novel about a Ghanaian family in Alabama.
Gifty is a sixth-year PhD candidate in neuroscience at the Stanford University School of Medicine studying reward-seeking behavior in mice and the neural circuits of depression and addiction. Her brother, Nana, was a gifted high school athlete who died of a heroin overdose after an ankle injury left him hooked on OxyContin. Her suicidal mother is living in her bed. Gifty is determined to discover the scientific basis for the suffering she sees all around her. But even as she turns to the hard sciences to unlock the mystery of her family's loss, she finds herself hungering for her childhood faith and grappling with the evangelical church in which she was raised, whose promise of salvation remains as tantalizing as it is elusive. Transcendent Kingdom is a deeply moving portrait of a family of Ghanaian immigrants ravaged by depression and addiction and grief–a novel about faith, science, religion, love. Exquisitely written, emotionally searing, this is an exceptionally powerful follow-up to Gyasi's phenomenal debut.
About Yaa Gyasi
Yaa Gyasi was born in Ghana and raised in Huntsville, Alabama. She holds a BA in English from Stanford University and an MFA from the Iowa Writers' Workshop, where she held a Dean's Graduate Research Fellowship. Homegoing, her debut novel, won her, at the age of 26, the National Book Critics Circle's John Leonard Award for best first book, the PEN/Hemingway Award for a first book of fiction, the National Book Foundation's "5 under 35" honors for 2016 and the American Book Award.  Gyasi lives in Brooklyn, New York.
Curiouser?
Articles: