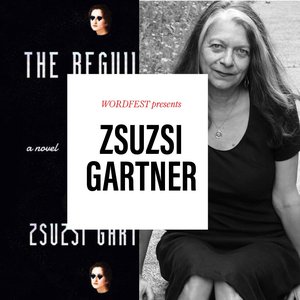 Wordfest presents Zsuzsi Gartner
Sep 24 @ 7 PM - 8 PM MT
Online

You won't want to miss acclaimed short-story writer and editor Zsuzsi Gartner as she returns to Wordfest with her highly anticipated first novel, The Beguiling. Part conversation, part reading, and part audience confessionals, this event will be unlike anything you've experienced online, in keeping with Gartner's off-kilter, generous brilliance.
The 60-minute event will start at 7:00 PM MT on Wordfest.com and will be hosted by Shelley Youngblut, Wordfest's CEO & Creative Ringleader. (The pre-show will begin at 6:50 PM MT.)
This live stream event is free but if you RSVP, we'll send you a reminder along with easy instructions to help you get set up, as well as our unique Digital Doggie Bag after the event with all the links, goodies and references from the conversation.
We're also including a unique opportunity for YOU to add to this event. Says Gartner, "In The Beguiling, my protagonist Lucy becomes a sort of lay confessor or 'human wailing wall' after a beloved cousin dies in bizarre circumstances. Lucy is accosted by complete strangers who confess their deepest, darkest secrets to her – sins no-one else on earth knows about. Brothers, sons, mothers, wives, lovers, cats and dogs -- they all have something to confess.
"Lucy doesn't judge. Lucy doesn't absolve them either. She simply listens."
If you are feeling burdened or simply itching to divulge something absurd or unbelievable – to confess – email Shelley Youngblut at syoungblut@wordfest.com and you might be one of the lucky three people who will be able to "confess" as part our event. We won't judge. We won't absolve you either. We'll simply listen. Your complete anonymity guaranteed.
We are grateful to Penguin Random House Canada for this event with Zsuzsi Gartner, who has pre-signed copies of The Beguiling that are available exclusively in Calgary at Shelf Life Books and in Vancouver at Pulp Fiction.
Photo: Imogene Broberg-Hull
About The Beguiling
An electrifying debut from the Giller Prize-shortlisted author of Better Living Through Plastic Explosives that takes readers for a wild ride with urban-gothic flair and delectably wicked humour.
"A symphony of a novel – multi-voiced and kaleidoscopic. Gartner's latest is a funny and darkly dazzling meditation on storytelling, the power of confession and its profound relationship to freedom, love and grief." – Mona Awad, author of Bunny and 13 Ways of Looking at a Fat Girl
Lucy is a lapsed-Catholic whose adolescent pretensions to sainthood are unexpectedly revived.
It all starts when her cousin Zoltan, in hospital following a bizarre incident at a party, offers her a disturbing deathbed confession. Lucy's grief takes an unusual turn: Zoltan's death appears to have turned her into a magnet for the unshriven. Lucy is transformed into a self-described "flesh-and-blood Wailing Wall" as strangers unburden themselves to her. She becomes addicted to the dark stories, finds herself jonesing for hit after hit.
As the confessions pile up, Lucy begins to wonder if Zoltan's death was as random and unscripted as it appeared. She clutches at alarming synchronicities, seeks meaning in the stories of strangers. Why do the stories seem connected to each other or eerily echo elements of her life? Could it be because Lucy has her own transgressions to acknowledge? And then there is that stubbornly resurfacing past, like a tell-tale ribbon of hair snagged on a fish hook. 
With ruthless wit and dizzying energy, The Beguiling explores blessings and curses, sainthood and sin, mortality and guilt in all its guises. Weaving together tales of errant mothers, vengeful plants, canine wisdom, and murder, it lays bare the flesh and blood sacrifices people are willing to make to get what they think they desire.
"Gothic tropes – a twin murdered in utero, a woman who may have cannibalized her husband, a sermon about hubris and human vanity delivered by a group of plants in an arboretum – abound in a work that is also highly moral and piercingly intelligent. The result is a book that disrupts convention and further entrenches Gartner outside the tradition of staid, comfortable Canadian fiction." – Steven W. Beattie, Quill and Quire, "The Art of Beguiling Readers"
About Zsuzsi Gartner
Zsuzsi Gartner is the author of the acclaimed story collection All the Anxious Girls on Earth and the editor of the award-winning Darwin's Bastards: Astounding Tales from Tomorrow. Her second book, Better Living through Plastic Explosives, was a Giller Prize finalist. Her fiction has been widely anthologized and won National Magazine Awards. Gartner was the inaugural Frank O'Connor International Short Story Fellow for Cork, Ireland, in 2016. Gartner has been on the faculty of UBC's Creating Writing MFA program and many of the Banff Centre's writing programs, and is the founder and director of Writers Adventure Camp in Whistler, BC. Excerpts from The Beguiling, her debut novel, have appeared in The Walrus, SubTerrin, and Maisonneuve. Raised in Calgary, she lives in Vancouver.