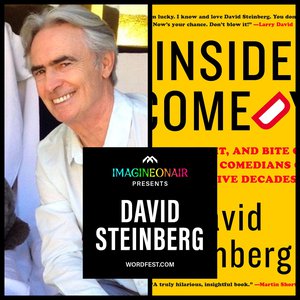 Imagine on Air presents David Steinberg
Jul 15 @ 7 PM - 8 PM MT
Online

Wordfest's Imagine On Air is thrilled to present this very special evening with Canadian comedy legend David Steinberg, who will regal us with stories and clips from his stellar six-decade career. The show, broadcast on Wordfest.com, will start at 7:00 PM MT and is free. If you RSVP, we'll send you a reminder along with easy instructions to help you get set up, as well as our unique Digital Doggie Bag after the event with bonus links and extras inspired by the show.
We are grateful to Penguin Random House Canada for making it possible for us to connect you with David Steinberg through this exclusive Canadian event. A limited number of signed copies (bookplates) of Inside Comedy are available through Owl's Nest (Calgary) and Flying Books (Ontario). 
About Inside Comedy: The Soul, Wit, and Bite of Comedy and Comedians of the Last Five Decades
"I'm lucky. I know and love David Steinberg. You don't. Now's your chance. Don't blow it!" –Larry David
"David has always been a comedy hero to me. One of his many gifts is the ability to inspire funny people to be even funnier, as you will discover in this truly hilarious, insightful book." –Martin Short
The world of comedy and comedians of the last five decades. By the man the New York Times calls "a comic institution himself," the only comedian (26 years in stand-up) to have made Elie Wiesel laugh, as well as having appeared on The Tonight Show (140 times, second only to Bob Hope, but who's counting). From the director of TV comedy series Mad About You, Seinfeld, Friends, Weeds, and Curb Your Enthusiasm.
From David Steinberg, a rabbi's son from Winnipeg, Canada, who at age fifteen enrolled at Hebrew Theological College in Chicago (the rabbinate wasn't for him) and four years later, entered the master's program in English literature at the University of Chicago, until he saw Lenny Bruce, the "Blue Boy" of Comedy, the coolest guy Steinberg had ever seen, and joined Chicago's Second City improvisational group, becoming, instead, the comedian's comedian, director, actor, working with, inspired by, teaching, and learning from the most celebrated, admired, complicated comedians, then and now – a funny, moving, provocative, insightful look into the soul, wit, and bite of comedy and comedians – a universe unto itself – of the last half-century.
From the greats: George Burns, Lenny Bruce, Sid Caesar, Lucille Ball, Mel Brooks, and Carl Reiner, et al., to the newer greats: Carol Burnett, Steve Martin, Lily Tomlin, Billy Crystal, Bob Newhart, and the man for all comedy, Martin (Marty) Short; to the greats of right now: Chris Rock, Dave Chappelle, Julia Louis-Dreyfus, Wanda Sykes; and more.
Steinberg, through stories, reminiscences, tales of directing, touring, performing, and, through the comedians themselves talking (from more than 75 interviews), makes clear why he loves comedy and comedians who have been by his side in his work, and in his life, for more than 60 years.

Here are: Will Ferrell, Eric Idle, Whoopi Goldberg, Mike Myers, Groucho himself and the greatest of them all (at least of the last half century): Jonathan Winters.
About David Steinberg
David Steinberg is a Canadian comedian, actor, writer, director, and author. Follow him on Twitter. 
Curiouser?
Buy the Book
Owl's Nest Books | Flying Books
Borrow the Book