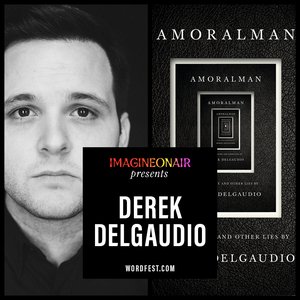 Imagine On Air presents Derek DelGaudio
Jun 22 @ 7 PM - 8 PM MT
Online

Imagine On Air is thrilled to present Derek DelGaudio and his new book, Amoralman: A True Story and Other Lies.  This special one-hour conversation on Wordfest.com will be hosted by Wordfest's Creative Ringleader Shelley Youngblut. It's free, and if you RSVP, we'll send you a reminder on the afternoon of the show, as well as our unique Digital Doggie Bag the next day with bonus extras sparked by the conversation.
You've seen the buzz about the new book. You know his biography and fascinating career. Now we invite you to go deeper: into the big generous brain of Derek DelGaudio.
We are grateful to Penguin Random House Canada for making it possible for to connect you with one of the world's most intriguing thinkers.
About Amoralman: A True Story and Other Lies  
"A sublime enlightenment. A disappointment only in that it came to an end."   -Tom Hanks
Truth and lies are two sides of the same coin. But who's flipping it?
A thought-provoking and brilliantly entertaining work of nonfiction from one of the world's leading deceivers, the creator and star of the astonishing theatre show and forthcoming film In & Of Itself.
Derek DelGaudio believed he was a decent, honest man. But when irrefutable evidence to the contrary is found in an old journal, his memories are reawakened and DelGaudio is forced to confront — and try to understand — his role in a significant act of deception from his past.
Using his youthful notebook entries as a road map, DelGaudio embarks on a soulful, often funny, sometimes dark journey, retracing the path that led him to a world populated by charlatans, card cheats, and con artists. As stories are peeled away and artifices are revealed, DelGaudio examines the mystery behind his father's vanishing act, the secret he inherited from his mother, the obsession he developed with sleight-of-hand that shaped his future, and the affinity he felt for the professional swindlers who taught him how to deceive others. And once he finds himself working as a crooked dealer in a big-money Hollywood card game, DelGaudio begins to question his own sense of morality, and discovers that even a master of deception can find himself trapped inside an illusion.
Amoralman is a wildly engaging exploration of the fictions we live as truths. It is ultimately a book about the lies we tell ourselves and the realities we manufacture in others.
About Derek DelGaudio
Derek DelGaudio is a writer and performer, primarily known for his highly-acclaimed one-man theatre show, In & Of Itself. which was made into a documentary film in 2020 that is currently streaming on Crave. He served as the Artist in Residence for Walt Disney Imagineering and cofounded the performance-art collective, A.BANDIT. DelGaudio lives in New York City.
Buy the Book
Owl's Nest Books | Shelf Life Books | Indigo
Borrow the Book
Curiouser?
Articles:
Derek DelGaudio and the Great Unburdening of Secrets  -The New York Times
The Magician Who Used His Skills to Cheat At Cards -The New Yorker
Derek DelGaudio's In & Of Itself Review: Frank Oz Turns a Magic Show Into a Life-Changing Journey -IndieWire
 Review: