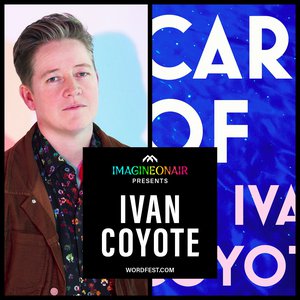 Imagine On Air presents Ivan Coyote
Aug 31 @ 7 PM - 8 PM MT
Online

Imagine On Air presents audience favourite Ivan Coyote and their new book Care Of. The hour-long conversation* will start at 7:00 PM MT and will be hosted by Shelley Youngblut. (The pre-show will begin at 6:50 PM.) You've seen the buzz about the new book. You know Coyote's biography and fascinating backlist. Now we invite you to go deeper: into the big generous brain of Ivan Coyote.
The livestream broadcast on Wordfest.com is free. If you RSVP, we'll send you a reminder on the afternoon of the show, as well as our unique Digital Doggie Bag after the event with links and bonus extras sparked by the conversation.
We are grateful to Penguin Random House Canada for making it possible for us to connect you with one of the world's most intriguing thinkers.
*Stay tuned at the end of the show for a free Fall Preview Event, hosted by the effervescent Shelley Youngblut, who will also be happy to answer any questions you have about our our upcoming fall season.
About Care Of
Beloved storyteller Ivan Coyote returns with their most intimate and moving book yet.
 
Writer and performer Ivan Coyote has spent decades on the road, telling stories around the world. For years, Ivan has kept a file of the most special communications received from readers and audience members — letters, Facebook messages, emails, soggy handwritten notes tucked under the windshield wiper of their truck after a gig. Then came Spring, 2020, and, like artists everywhere, Coyote was grounded by the pandemic, all their planned events cancelled. The energy of a live audience, a performer's lifeblood, was suddenly gone. But with this loss came an opportunity for a different kind of connection. Those letters that had long piled up could finally begin to be answered.
 
Care Of combines the most powerful of these letters with Coyote's responses, creating a body of correspondence of startling intimacy, breathtaking beauty, and heartbreaking honesty and openness. Taken together, they become an affirming and joyous reflection on many of the themes central to Coyote's celebrated work — compassion and empathy, family fragility, non-binary and Trans identity, and the unending beauty of simply being alive, a giant love letter to the idea of human connection, and the power of truly listening to each other. 

About Ivan Coyote
Ivan Coyote is a writer and storyteller. Born and raised in Whitehorse, Yukon, they are the author of thirteen books, the creator of four films, six stage shows, and three albums that combine storytelling with music. Coyote's books have won the ReLit Award, been named a Stonewall Honour Book, been longlisted for Canada Reads, shortlisted for the Hilary Weston Prize for non-fiction, and awarded BC and Yukon Book Prize's inaugural Jim Deva Prize for Writing That Provokes. In 2017 Coyote was given an honorary Doctor of Laws from Simon Fraser University for their writing and activism.
Order the Book
Owl's Nest Books | Shelf Life Books | Indigo | Flying Books (Ontario) | Massy Books (B.C.)
Borrow the Book
Curiouser?
Articles: