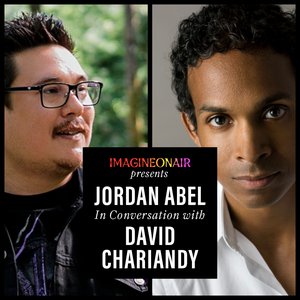 Imagine On Air presents Jordan Abel
May 27 @ 7 PM - 8 PM MT
Online

Imagine On Air is thrilled to present Jordan Abel and his astonishing new memoir NISHGA. This special one-hour conversation on Wordfest.com is free and will be hosted by author David Chariandy. If you RSVP, we'll send you a reminder on the afternoon of the show, as well as our unique Digital Doggie Bag the next day with bonus extras sparked by the conversation.
We are grateful to McClelland & Stewart/Penguin Random House Canada for making it possible for us to connect you with one of the world's most fascinating artists.
About NISHGA
"In NISHGA, Jordan Abel puts to use the documentary impulse that has already established him as an artist of inimitable methodological flair. By way of a mixture of testimonial vignettes, recordings of academic talks, found text/art, and visual art/concrete poetry, Abel sculpts a narrative of dislocation and self-examination that pressurizes received notions of "Canada" and "history" and "art" and "literature" and "belonging" and "forgiveness." Yes, it is a book of that magnitude, of that enormity and power. By its Afterword, NISHGA adds up to a work of personal and national reckoning that is by turns heartbreaking and scathing." —Billy-Ray Belcourt, author of NDN Coping Mechanisms and A History of My Brief Body 
"NISHGA is a book of profound artistic, philosophic, and emotional power. Reading it, I was taught, heart-moved, and deeply humbled." —David Chariandy, author of Brother and I've Been Meaning to Tell You
From Griffin Poetry Prize winner Jordan Abel comes a groundbreaking, deeply personal, and devastating autobiographical meditation that attempts to address the complicated legacies of Canada's residential school system and contemporary Indigenous existence.
As a Nisga'a writer, Jordan Abel often finds himself in a position where he is asked to explain his relationship to Nisga'a language, Nisga'a community, and Nisga'a cultural knowledge. However, as an intergenerational survivor of residential school - both of his grandparents attended the same residential school - his relationship to his own Indigenous identity is complicated to say the least.
NISHGA explores those complications and is invested in understanding how the colonial violence originating at the Coqualeetza Indian Residential School impacted his grandparents' generation, then his father's generation, and ultimately his own. The project is rooted in a desire to illuminate the realities of intergenerational survivors of residential school, but sheds light on Indigenous experiences that may not seem to be immediately (or inherently) Indigenous.
Drawing on autobiography and a series of interconnected documents (including pieces of memoir, transcriptions of talks, and photography), NISHGA is a book about confronting difficult truths and it is about how both Indigenous and non-Indigenous peoples engage with a history of colonial violence that is quite often rendered invisible.
About Jordan Abel
Jordan Abel is a Nisga'a writer from Vancouver. He is the author of The Place of Scraps(winner of the Dorothy Livesay Poetry Prize), Un/inhabited, and Injun (winner of the Griffin Poetry Prize). Abel's work has recently been anthologized in The New Concrete: Visual Poetry in the 21st Century (Hayward), The Next Wave: An Anthology of 21st Century Canadian Poetry (Anstruther), Best Canadian Poetry (Tightrope), Counter-Desecration: A Glossary for Writing Within the Anthropocene (Wesleyan), and The Land We Are: Artists and Writers Unsettle the Politics of Reconciliation (ARP). Abel's work has been published in numerous journals and magazines--including Canadian Literature, The Capilano Review, and Poetry Is Dead - and his visual poetry has been included in exhibitions at the Polygon Gallery, UNIT/PITT Gallery, and the Oslo Pilot Project Room in Oslo, Norway. Abel recently completed a Ph.D. at Simon Fraser University, and is currently working as an Assistant Professor in the Department of English and Film Studies at the University of Alberta where he teaches Indigenous Literatures and Creative Writing.
About David Chariandy
David Chariandy won the 2017 Rogers Writers' Trust Fiction Prize for Brother. His debut novel, Soucouyant, was nominated for 11 literary awards, including a Governor General's Literary Award. His first work of creative nonfiction, I've Been Meaning to Tell You: A Letter to My Daughter, was published in 2018. In 2019, Chariandy was announced as a Windham-Campbell Prize winner for his body of work, a prestigious international literary award administered by Yale University. A professor at Simon Fraser University, Chariandy lives in Vancouver.
Buy the Book:
Owl's Nest Books | Shelf Life Books | Audrey's Books
Borrow the Book:
Calgary Public Library | Edmonton Public Library