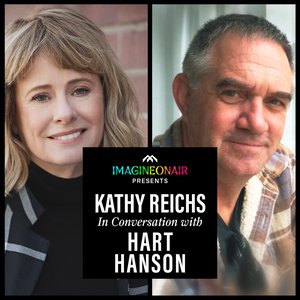 Imagine On Air presents Kathy Reichs
Jul 06 @ 7 PM - 8 PM MT
Online

Wordfest's Imagine On Air presents bestselling author Kathy Reichs in a major Canadian celebration of  The Bone Code, the 20th novel in the Temperance Brennan series. The hour-long conversation will start at 7:00 PM MT and will be hosted by Hart Hanson, creator of Bones, the television series based on Reichs' books. (The pre-show will begin at 6:50 PM.) The livestream broadcast on wordfest.com is free and if you RSVP, we'll send you a reminder on the afternoon of the show, as well as our unique Digital Doggie Bag the next day with bonus extras sparked by the conversation.
We are grateful to Simon & Schuster Canada for making it possible for us to connect you with Kathy Reichs.
About The Bone Code
"I await the next Kathy Reichs thriller with the same anticipation I have for the new Lee Child or Patricia Cornwell. The Bone Code over-achieves. Temperance Brennan uses all her skills as a forensic anthropologist to solve a murder mystery story that races across America at the speed of fright." —James Patterson, bestselling author of the Alex Cross series
#1 New York Times bestselling author Kathy Reichs returns with her 20th gripping novel featuring forensic anthropologist Temperance Brennan, whose examinations, 15 years apart, of unidentified bodies ignite a terrifying series of events.
On the way to hurricane-ravaged Isle of Palms, a barrier island off the South Carolina coast, Tempe receives a call from the Charleston coroner. The storm has tossed ashore a medical waste container. Inside are two decomposed bodies wrapped in plastic sheeting and bound with electrical wire. Tempe recognizes many of the details as identical to those of an unsolved case she handled in Quebec years earlier. With a growing sense of foreboding, she travels to Montreal to gather evidence.
Meanwhile, health authorities in South Carolina become increasingly alarmed as a human flesh-eating contagion spreads. So focused is Tempe on identifying the container victims that, initially, she doesn't register how their murders and the pestilence may be related. But she does recognize one unsettling fact. Someone is protecting a dark secret — and willing to do anything to keep it hidden.
An absorbing look at the sinister uses to which genetics can be put, and featuring a cascade of ever-more-shocking revelations, The Bone Code is Temperance Brennan's most astonishing case yet — one that gives new meaning to today's headlines.
About Kathy Reichs
Kathy Reichs's first novel Déjà Dead, published in 1997, won the Ellis Award for Best First Novel and was an international bestseller. The Bone Code is Kathy's twentieth entry in her series featuring forensic anthropologist Temperance Brennan. Kathy was also a producer of Fox Television's longest running scripted drama, Bones, which is based on her work and her novels. One of very few forensic anthropologists certified by the American Board of Forensic Anthropology, Kathy divides her time between Charlotte, North Carolina, and Montreal, Québec. Visit her at KathyReichs.com or follow her on Twitter @KathyReichs.
About Hart Hanson
Hart Hanson is best known for creating the Fox television series Bones, which ran for 12 seasons, making it the longest-running scripted hour-long series in Fox history. Prior to creating Bones, Hart was Executive Producer of the Emmy nominated CBS TV series Judging Amy and Joan of Arcadia, which won the Humanitas, People's Choice Award, and the AFI Program of the Year Award as well as a "Best Series" Emmy nomination. Before moving to the United States from Canada in 1998 Hart wrote and produced a number of Canadian series including Beachcombers, North of 60, The Odyssey, Ready or Not, The Road to Avonlea, Cold Squad, Stargate, Street Legal, and The Outer Limits. Hart won the Writers Guild of Canada Award for best writing in a television series for "Traders". He is also the author of The Driver, a novel published by Dutton Books in 2017. Hart lives with his wife Brigitte in Venice, California. Follow him on Twitter @HartHanson
Buy the Book
Owl's Nest Books | Shelf Life Books | Indigo | Flying Books (Ontario)
Borrow the Book