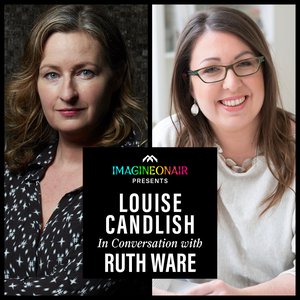 Imagine On Air presents Louise Candlish
Jul 18 @ 1 PM - 2 PM MT
Online

Discover Britain's "Queen of the Sucker Punch Twist," thriller writer Louise Candlish, who is guaranteed to finally take North America by storm with her new novel The Other Passenger. And who better to introduce us to her than the remarkable Ruth Ware, who just happens to be Louise's biggest fan. Think of this as a super-hot Sunday tea combo, accompanied by delicious revelations. 
The hour-long conversation will start at 1 PM MT/ 2 PM CT/ 3 PM ET/ Noon PT. (The pre-show will begin 10 minutes earlier.)
This livestream broadcast produced by Wordfest is free, and if you RSVP, we'll send you a reminder along with easy instructions to help you get set up, as well as our unique Digital Doggie Bag after the event with links and extras sparked by this conversation. 
We are grateful to Simon & Schuster Canada for making it possible to connect you with Louise Candlish and Ruth Ware.
About The Other Passenger
"A novel like a roulette wheel at full tilt: smooth, hypnotic, relentless, exciting — and ultimately, just as unpredictable...Psychological suspense at its most elegant and sinister." –A.J. FINN, bestselling author of The Woman in the Window
 "Just brilliant; gripping from the first page with an incredible first-person narrative and a sense of place that pulls you through the pages fast enough to make your head spin. Louise Candlish just gets better and better. I love her." – LISA JEWELL, bestselling author of Invisible Girl
The "queen of the sucker-punch twist" (Ruth Ware, #1 New York Times bestselling author) and author of Our House weaves a suspenseful thriller about a commuter who becomes a suspect in his friend's mysterious disappearance. Perfect for fans of the unputdownable page-turners by Christina McDonald and Lisa Jewell.
It all happens so quickly. One day you're living the dream, commuting to work by ferry with your charismatic neighbour Kit in the seat beside you. The next, Kit hasn't turned up for the boat and his wife, Melia, has reported him missing.
When you get off at your stop, the police are waiting. Another passenger saw you and Kit arguing on the boat home the night before and the police say that you had a reason to want him dead. You protest. You and Kit are friends — ask Melia, she'll vouch for you. And who exactly is this other passenger pointing the finger? What do they know about your lives?
No, whatever danger followed you home last night, you are innocent, totally innocent.
Aren't you?
About Louise Candlish
Louise Candlish is The Sunday Times (London) bestselling author of fourteen novels, including Our House, which won the Fiction Crime & Thriller Book of the Year at the 2019 British Book Awards and was shortlisted for several other awards. It is soon to be a major ITV drama made by Death in Paradise producers Red Planet Pictures. Louise lives in London with her husband and teenage daughter. Visit her at louisecandlish.com or follow her on Twitter.
About Ruth Ware
Ruth Ware worked as a waitress, a bookseller, a teacher of English as a foreign language, and a press officer before settling down as a full-time writer. She now lives with her family in Sussex, on the south coast of England. She is the #1 New York Times and Globe and Mail bestselling author of In a Dark, Dark Wood; The Woman in Cabin 10; The Lying Game; The Death of Mrs. Westaway; The Turn of the Key; and One by One. Visit her at ruthware.com or follow her on Twitter. 
About One By One
From Ruth Ware, the #1 New York Times bestselling author of In a Dark, Dark Wood, The Woman in Cabin 10, The Lying Game, The Death of Mrs. Westaway, and The Turn of the Key, comes her highly anticipated sixth novel.

Getting snowed in at a luxurious, rustic ski chalet high in the French Alps doesn't sound like the worst problem in the world. Especially when there's a breathtaking vista, a full-service chef and housekeeper, a cozy fire to keep you warm, and others to keep you company. Unless that company happens to be eight coworkers…each with something to gain, something to lose, and something to hide.

When the cofounder of Snoop, a trendy London-based tech startup, organizes a weeklong trip for the team in the French Alps, it starts out as a corporate retreat like any other: PowerPoint presentations and strategy sessions broken up by mandatory bonding on the slopes. But as soon as one shareholder upends the agenda by pushing a lucrative but contentious buyout offer, tensions simmer and loyalties are tested. The storm brewing inside the chalet is no match for the one outside, however, and a devastating avalanche leaves the group cut off from all access to the outside world. Even worse, one Snooper hadn't made it back from the slopes when the avalanche hit.

As each hour passes without any sign of rescue, panic mounts, the chalet grows colder, and the group dwindles further…one by one.
Buy the Books
The Other Passenger
Owl's Nest Books | Shelf Life Books | Indigo | Flying Books (Ontario) | Once Upon a Crime (U.S. readers) 
One By One
Owl's Nest Books | Shelf Life Books | Indigo | Once Upon a Crime (U.S. readers) 
Borrow the Books
The Other Passenger
One By One
Curiouser?
Articles:
Reviews:
The Other Passenger: compelling tale of London property noir – Evening Standard
The Other Passenger by Louise Candlish – culturefly