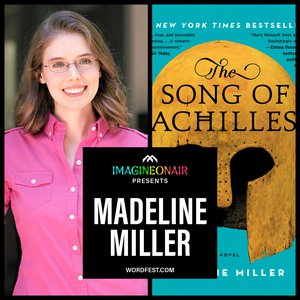 Imagine On Air presents Madeline Miller
Aug 19 @ 7 PM - 8 PM MT
Online

Imagine On Air is thrilled to present Madeline Miller, whose award-winning The Song of Achilles is once again on the international bestseller lists, proving that a great book is timeless. This special one-hour conversation on Wordfest.com will be hosted by Wordfest's Creative Ringleader Shelley Youngblut. The livestream broadcast on Wordfest.com is free, and if you RSVP, we'll send you a reminder along with easy instructions to help you get set up, as well as our unique Digital Doggie Bag after the event with links and extras inspired by the conversation.
You've seen the buzz about her books. You know Miller's biography and backlist. Now we invite you to go deeper: into the big generous brain of Madeline Miller.
We are grateful to HarperCollins Canada for making it possible for us to connect you with one of the world's most intriguing thinkers.
About The Song of Achilles
"At once a scholar's homage to The Iliad and startlingly original work of art… A book I could not put down." —Ann Patchett, author of The Dutch House
A tale of gods, kings, immortal fame, and the human heart, The Song of Achilles is a dazzling literary feat that brilliantly reimagines Homer's enduring masterwork, The Iliad. An action-packed adventure, an epic love story, a marvelously conceived and executed page-turner, Miller's monumental debut novel has already earned resounding acclaim from some of contemporary fiction's brightest lights — and fans of Mary Renault, Bernard Cornwell, Steven Pressfield, and Colleen McCullough's Masters of Rome series will delight in this unforgettable journey back to ancient Greece in the Age of Heroes.
About Madeline Miller
Madeline Miller grew up in New York City and Philadelphia. She attended Brown University, where she earned her BA and MA in Classics. Miller has taught and tutored Latin, Greek, and Shakespeare to high school students for over fifteen years. She also studied at the University of Chicago's Committee on Social Thought, and in the Dramaturgy department at Yale School of Drama, where she focused on the adaptation of classical texts to modern forms.
The Song of Achilles, her first novel, was awarded the 2012 Orange Prize for Fiction and was a New York Times Bestseller. Miller was also shortlisted for the 2012 Stonewall Writer of the Year. Her second novel, Circe, was an instant #1 New York Times bestseller, and won the Indies Choice Best Adult Fiction of the Year Award and the Indies Choice Best Audiobook of the Year Award, as well as being shortlisted for the 2019 Women's Prize for Fiction. Circe also won The Red Tentacle Award, an American Library Association Alex Award (adult books of special interest to teen readers), and the 2018 Elle Big Book Award.  It is currently being adapted for a series with HBO Max. Miller's novels have been translated into more than 25 languages including Dutch, Mandarin, Japanese, Turkish, Arabic, and Greek, and her essays have appeared in publications including the Guardian, Wall Street Journal, Washington Post, Telegraph, Lapham's Quarterly and NPR.org. She lives outside Philadelphia.
Buy the Book
Owl's Nest Books | Shelf Life Books | Indigo | Flying Books (ON) | Massy Books (BC)
Borrow the Book
You May Also Like