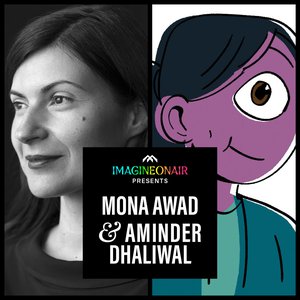 Imagine On Air presents Mona Awad & Aminder Dhaliwal
Aug 24 @ 7 PM - 8 PM MT
Online

Wordfest's Imagine On Air presents Mona Awad and Aminder Dhaliwal with their much-buzzed-about new books, All's Well and Cyclopedia Exotica. The hour-long conversation will start at 7:00 PM MT and will be hosted by Giller-nominated author Zsuzsi Gartner. (The pre-show will begin at 6:50 PM.)
The livestream broadcast on Wordfest.com is free. If you RSVP, we'll send you a reminder on the day of the show, as well as our unique Digital Doggie Bag after the event with links and extras inspired by the conversation.
We are grateful to Drawn & Quarterly and Penguin Random House Canada for making it possible for us to connect you with Awad and Dhaliwal.
About All's Well
Mind-blowing. Equal parts brilliant and hilarious." –Heather O'Neill, bestselling author of The Lonely Hearts Hotel and Lullabies for Little Criminals
From the critically acclaimed author of Bunny, a darkly funny novel about a theatre professor suffering chronic pain who, in the process of staging a troubled production of Shakespeare's most maligned play, suddenly and miraculously recovers.
Miranda Fitch's life is a waking nightmare. The accident that ended her burgeoning acting career left her with excruciating, chronic pain, a failed marriage, and a deepening dependence on painkillers. And now she's on the verge of losing her job as a college theatre director. Determined to put on Shakespeare's All's Well That Ends Well, the play that promised — and cost — her everything, she faces a mutinous cast hell-bent on staging Macbeth instead. Miranda sees her chance at redemption slip through her fingers.
That's when she meets three strange benefactors who have an eerie knowledge of Miranda's past and a tantalizing promise for her future: one where the show goes on, her rebellious students get what's coming to them, and the invisible, doubted pain that's kept her from the spotlight is made known.
With prose Margaret Atwood has described via Twitter as "no punches pulled, no hilarities dodged… genius," Mona Awad has concocted her most potent, subversive novel yet. All's Well is the story of a woman at her breaking point and a formidable, piercingly funny indictment of our collective refusal to witness and believe female pain.
About Mona Awad
Mona Awad is the author of 13 Ways of Looking at a Fat Girl, a finalist for the Scotiabank Giller Prize that won the Amazon Canada First Novel Award, the Colorado Book Award, and an Honorable Mention from the Arab American Book Awards. It was also longlisted for the International Dublin Literary Award and the Stephen Leacock Memorial Medal for Humour. The recipient of an MFA in Fiction from Brown University and a PhD in English and Creative Writing from the University of Denver, Awad has published work in Time, VICE, Electric Literature, McSweeney's, Los Angeles Review of Books, and elsewhere. She currently lives in Boston.
About Cyclopedia Exotica
The characters in Dhaliwal's stories sparkle. They're tenderly rendered and their problems are real…The struggle of the cyclops unfolds in metaphors for race, sexuality, gender, and disability. Tangling with ideas about fetishization, interracial relationships, passing, and representation." –Carmen Maria Machado, author of In the Dream House
Following the critical and popular success of Woman World — the hit Instagram comic which appeared on 25 best of lists — Aminder Dhaliwal returns with Cyclopedia Exotica. Also serialized on instagram to her 250,000 followers, this graphic novel showcases Dhaliwal's quick wit and astute socio-cultural criticism.
In Cyclopedia Exotica, doctor's office waiting rooms, commercials, dog parks, and dating app screenshots capture the experiences and interior lives of the cyclops community; a largely immigrant population displaying physical differences from the majority. Whether they're artists, parents, or yoga students, the cyclops have it tough: they face microaggressions and overt xenophobia on a daily basis. However, they are bent on finding love, cultivating community, and navigating life alongside the two-eyed majority with patience and the occasional bout of rage.
Through this parallel universe, Dhaliwal comments on race, difference, beauty, and belonging, touching on all of these issues with her distinctive deadpan humour steeped in millennial references. Cyclopedia Exotica is a triumph of hilarious candor.
About Aminder Dhaliwal
Aminder Dhaliwal is a native of Brampton, Ontario and received a Bachelors of Animation from Sheridan College. She now lives in Los Angeles, where she is the Director at Disney TV Animation. Previously, she worked as a Storyboard Director at Cartoon Network and Storyboard Director on the Nickelodeon show Sanjay and Craig. She has serialized Woman World biweekly on Instagram since March 2017 and has garnered over 120,000 followers. Woman World was nominated for an Ignatz Award for Outstanding Online Comic.
Follow Aminder on Instagram.
About Host Zsuzsi Gartner
Vancouver writer Zsuzsi Gartner is the author of the Scotiabank Giller Prize shortlisted Better Living through Plastic Explosives and the acclaimed story collection All the Anxious Girls on Earth, and editor of the award-winning anthology Darwin's Bastards: Astounding Tales from Tomorrow. Her debut novel, The Beguiling (Penguin Random House Canada), was a finalist for the 2020 Rogers Writers' Trust Fiction Prize and a Globe & Mail "Best Book." A French edition, Le Malenchantment de Sainte Lucy, will be published in August by Ḗditions Alto.
About The Beguiling
Finalist for the Writers' Trust Fiction Prize and A Globe and Mail Best Book.

The perfect next read for fans of Ottessa Moshfegh and George Saunders, an electrifying debut about a woman who is transformed into a real life "flesh-and-blood Wailing Wall" as strangers unburden their sins to her at every turn.

Lucy is a lapsed Catholic whose adolescent pretensions to sainthood are unexpectedly revived following the disturbing deathbed confession of her cousin Zoltán. Afterwards, Lucy becomes a magnet for the unshriven, and she's transformed into a self-described "flesh-and-blood Wailing Wall" as strangers unburden themselves to her. Lucy finds herself addicted to these dark stories, craving hit after hit.
As the confessions pile up, Lucy begins to wonder if Zoltán's death was as random and unscripted as it appeared. She clutches at alarming synchronicities and seeks meaning from the strangers' stories, wondering why they seem connected to each other and eerily echo elements of her own life.
With ruthless wit and dizzying energy, The Beguiling explores blessings and curses, sainthood and sin, mortality and guilt in all its guises. Weaving together tales of errant mothers, vengeful plants, canine wisdom, and murder, this electrifying debut novel lays bare the sacrifices some are willing to make to get what they think they desire.
Buy the Books
All's Well
Owl's Nest Books | Shelf Life Books | Indigo | Flying Books (Ontario) | Massy Books (B.C.)
Cyclopedia Exotica
Owl's Nest Books | Shelf Life Books |  Indigo | Flying Books (Ontario) | Massy Books (B.C.)
The Beguiling
Owl's Nest Books | Shelf Life Books | Indigo | Flying Books (Ontario) | Massy Books (B.C.)
Borrow the Books
All's Well
Cyclopedia Exotica
The Beguiling
You May Also Like