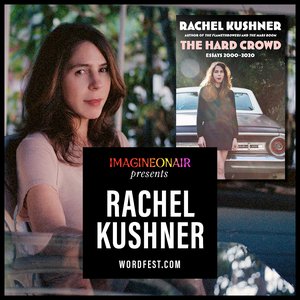 Imagine On Air presents Rachel Kushner
May 25 @ 7 PM - 8 PM MT
Online

Imagine On Air is thrilled to present Rachel Kushner and her new book The Hard Crowd. This special one-hour conversation on Wordfest.com will be hosted by Wordfest's Creative Ringleader Shelley Youngblut. It's free and, if you RSVP, we'll send you a reminder on the afternoon of the show, as well as our unique Digital Doggie Bag the next day with bonus extras sparked by the conversation.
You've seen the buzz about the new book. You know her biography and riveting backlist. Now we invite you to go deeper: into the big generous brain of Rachel Kushner. 
We are grateful to Simon & Schuster Canada for making it possible for us to connect you with one of the world's most provocative thinkers.
About The Hard Crowd
"Kushner can really write. Her prose has a poise and wariness and moral graininess that puts you in mind of Robert Stone and Joan Didion." –Dwight Garner, The New York Times
From a writer celebrated for her "chops, ambition, and killer instinct" (John Powers, Fresh Air), a career-spanning collection of spectacular essays about politics and culture.
Rachel Kushner has established herself as "the most vital and interesting American novelist working today" (Michael Lindgren, The Millions) and as a master of the essay form. In The Hard Crowd, she gathers a selection of her writing from over the course of the last 20 years that addresses the most pressing political, artistic, and cultural issues of our times — and illuminates the themes and real-life terrain that underpin her fiction.
In nineteen razor-sharp essays, The Hard Crowd spans literary journalism, memoir, cultural criticism, and writing about art and literature, including pieces on Jeff Koons, Denis Johnson, and Marguerite Duras. Kushner takes us on a journey through a Palestinian refugee camp, an illegal motorcycle race down the Baja Peninsula, 1970s wildcat strikes in Fiat factories, her love of classic cars, and her young life in the music scene of her hometown, San Francisco. The closing, eponymous essay is her manifesto on nostalgia, doom, and writing.
These pieces, new and old, are electric, phosphorescently vivid, and wry, and they provide an opportunity to witness the evolution and range of one of our most dazzling and fearless writers. "Kushner writes with startling detail, imagination, and gallows humor," said Leah Greenblatt in Entertainment Weekly. Writes Paula McLain in the Wall Street Journal: "The authority and precision of Kushner's writing is impressive, but it's the gorgeous ferocity that will stick with me."
About Rachel Kushner
Rachel Kushner is the bestselling author of three novels: the Booker- and NBCC Award–shortlisted The Mars Room; The Flamethrowers, a finalist for the National Book Award and a New York Times Top 10 book of 2013; and Telex from Cuba, a finalist for the National Book Award. She grew up in San Francisco and lives in Los Angeles.
Buy the Book
Owl's Nest Books | Shelf Life Books
Borrow the Book
Curiouser?
Review
Rachel Kushner Remembers her Hard-Rocking Friends, Many of Whom Are Gone -The New York Times
Articles