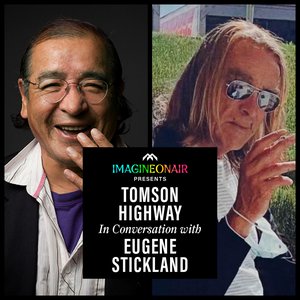 Imagine On Air presents Tomson Highway
Oct 14 @ 7 PM - 8 PM MT FREE
Online

Wordfest's Imagine On Air is honoured to present renowned playwright and novelist Tomson Highway and his highly anticipated memoir Permanent Astonishment. The hour-long conversation will start at 7:00 PM MT and will be hosted by Highway's long-time friend and collaborator Eugene Stickland. (The pre-show will begin at 6:50 PM.) The livestream broadcast on Wordfest.com is free, and if you RSVP, we'll send you a reminder along with easy instructions to help you get set up, as well as our unique Digital Doggie Bag after the event with links and extras inspired by the conversation.
We are grateful to Penguin Random House Canada for making it possible to connect you with Tomson Highway.
About Permanent Astonishment: A Memoir
Capricious, big-hearted, joyful: an epic memoir from one of Canada's most acclaimed Indigenous writers and performers.
Tomson Highway was born in a snowbank on an island in the sub-Arctic, the 11th of 12 children in a nomadic, caribou-hunting Cree family who traversed the tundra by dogsled and lived off the land. In Permanent Astonishment, one of the greatest writers of our time animates the magical world of his northern childhood, paying tribute to a way of life that few have experienced and fewer still have chronicled.
Growing up in a land of ten thousand lakes and islands, Tomson Highway relished being pulled by dogsled beneath a night sky alive with stars; sucking the juices from roasted muskrat tails; and singing country music songs with his impossibly beautiful older sister and her teenaged friends. Surrounded by the love of his family and the vast, mesmerizing landscape they called home, his was in many ways an idyllic far north childhood. But five of Tomson's siblings died in childhood, and Balazee and Joe Highway, who loved their surviving children profoundly, wanted their two youngest sons, Tomson and Rene, to enjoy opportunities as big as the world. And so when Tomson was 6, he and Rene were flown south by float plan to attend a residential school and begin the rest of their education.
In 1990 Rene Highway, a world-renowned dancer, died of an AIDS-related illness. Permanent Astonishment is Tomson's extravagant embrace of his younger brother's final words: "Don't mourn me, be joyful".
Infused with joy and outrageous humour, Permanent Astonishment offers insights, both hilarious and profound, into the Cree experience of culture, conquest, and survival. 
About Tomson Highway
Tomson Highway is best-known for the plays The Rez Sisters and Dry Lips Oughta Move to Kapuskasing, as well as the best-selling novel Kiss of the Fur Queen. He divides his year between Gatineau, Quebec and Naples, Italy.
About Eugene Stickland
Eugene Stickland writes plays, novels, journalistic extravagances and the odd poem. A collection of shorter plays titled No Harm Done (Durvile Publications) will be released in the fall of 2021 and a play about Canadian-born artist Agnes Martin titled Agnes will open at Edmonton's Theatre Network in the 2022-23 season. He lives in Calgary.
About No Harm Done: Three Plays About Medical Conditions and a Dramatist's Guide
No Harm Done contains the text of three short plays, each an exploration of some aspect of a disease. They are: Closer & Closer Apart, Alzheimer Disease; Fade to Light, Stargardt, a form of macular blindness; and The Last Dance, Parkinson Disease. The plays themselves, and Stickland's introductions to them, comprise the first component of the book, writings by experts in the field comprise the second section, and the third component is a guide to playwriting based on teachings the author has been engaged in for decades. This section also includes a how-to approach to writing a play for a specific cause or event. The book will be of interest not only to theatre practitioners and students of playwriting, but to students and professionals (doctors, caregivers, therapists, et al) in the medical field as well.
Buy the Books
Permanent Astonishment: A Memoir
Owl's Nest Books | Shelf Life Books | Indigo | Massy Books (BC)
No Harm Done: Three Plays About Medical Conditions and a Dramatist's Guide
Owl's Nest Books | Shelf Life Books | Indigo | Massy Books (BC)
Borrow the Books
Permanent Astonishment: A Memoir