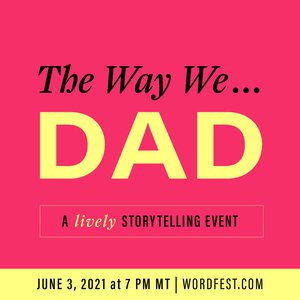 The Way We Dad
Jun 03 @ 7 PM - 8 PM MT
Online

May gave us The Way We Mom, now it's Dad's turn. Our June storytelling event, The Way We Dad, features four writers with distinct takes on fatherhood: Wayne Grady, David Macfarlane, Steve Patterson, and Ben Philippe.   
Each will perform an open-mic style monologue on the theme as well as answer questions from the host, Pam Rocker. The hour-long Imagine On Air event starts at 7:00 PM MT (The pre-show starts at 6:50 PM MT.) The broadcast on Wordfest.com is free, and if you RSVP, we'll send you a reminder along with easy instructions to help you get set up, as well as our unique Digital Doggie Bag after the event with bonus interviews with each author.
We are grateful to HarperCollins Canada and Penguin Random House Canada for helping us connect you with these writers.
THE STORYTELLERS
About Wayne Grady
Wayne Grady is the award-winning author of more than a dozen works of nonfiction and is also one of Canada's top literary translators. He is also the author of two novels, Up From Freedom and Emancipation Day, a national bestseller that won the 2013 Amazon.ca First Novel Award and was longlisted for the Scotiabank Giller Prize. Grady lives in Kingston, Ontario, with his wife, the novelist and creative nonfiction writer, Merilyn Simonds. His website is www.waynegrady.ca
About The Good Father
From bestselling author Wayne Grady comes The Good Father, his first contemporary novel, which comically and tragically reckons with a father and daughter's estrangement, the failures brought on by hubris, the limits of perception and the price we pay for second chances.
Every story has two sides, two perspectives. And when it comes to a relationship between a daughter and her father, separated first by divorce and then by both generational gaps and physical and emotional distance, those perspectives can colossally diverge.
Such is the case with Harry Bowes and his only daughter, Daphne. Harry is a mild mannered journalist turned teacher turned wine merchant who is content to putter around his home in Toronto eating things straight out of the fridge that both his doctor and his second wife, Elinor, would disapprove of, and procrastinate calling his daughter even though he senses something is amiss. Meanwhile, in Vancouver, Daphne seems intent on a course of nihilism, having gone from being a loving girl to a top student to a hostile young woman who is determined to destroy her life and relationships by self-medicating with drugs and alcohol. When a catastrophic event wrenches them out of their states, one of stasis and one of chaos, Harry and Daphne are forced to examine the ways in which their self-absorption has eroded their connection and discover whether a family's bond is truly ironclad or if their damage is irreparable.
Told in alternating perspectives, The Good Father delivers a deeply satisfying and layered novel of love, perception, family, and domesticity.
About David Macfarlane
David Macfarlane's family memoir, The Danger Tree, was described by Christopher Hitchens as "one of the finest and most intriguing miniature elegies that I have read in many a year". Macfarlane's novel, Summer Gone, was short-listed for the Scotiabank Giller Prize. Based on The Danger Tree, "The Door You Came In," a two-man show (co-written and performed with Douglas Cameron) has been produced, to acclaim, from St. John's, Newfoundland, to Stratford, Ontario. Macfarlane lives in Toronto with his wife, the designer, Janice Lindsay.
About Likeness: Fathers, sons, a portrait
When the worst that can happen, happens, the only useful lesson is the knowledge that it can. That's the take-away: a world can actually end, time can actually run out, sadness can prevail. But I didn't know that then . . . 
From one of Canada's most celebrated writers comes an occasionally hilarious, sometimes heart-breaking meditation on love, memory, and the fathomless depths of grief. 
Likeness is a multi-generational story told through the vehicle of a painting, a portrait of Macfarlane by the well-known Canadian artist, John Hartman. The painting has ended up unexpectedly, temporarily, and enormously in Macfarlane's living room. He looks at it — a lot. It's hard to avoid.
To Macfarlane's surprise, the painting becomes a portal www.benphilippe.comnot only into his own past, but into his father's, too. Through these two histories is woven the present — one dominated by illness. Macfarlane's son undergoes treatment for leukemia during the time the painting hangs in the family living room. Blake is a young man rich in creative possibility. There is music to be composed. There are films to be made. But Blake's future is as circumscribed by fate as his father's was wide open. A tragic difference, eloquently noted.
Likeness can be very funny. But it is also inescapably, achingly sad. A book of transcendent beauty, Likeness demonstrates the power of memory to transform the tragic into the precious and profound.
About Steve Patterson
Steve Patterson is a stand-up comedian and host of the CBC Radio show The Debaters. He performs all around the world, either live stand-up comedy or his Debaters Live On Tour theatre show. He also hosts his own web series, The Smartass-ociates. He has appeared in numerous Just For Laughs galas, the Halifax and Winnipeg comedy festivals and also brought funny to the world of film critiquing as host and moderator of Short Film Faceoff, which awards cash and national recognition to emerging Canadian filmmakers. His previous book is The Book of Letters I Didn't Know Where to Send.
About Dad Up! Long Time Comedian. First-Time Father
From one of the country's most beloved comedians and host of CBC Radio's incredibly popular program The Debaters comes a funny, poignant, and at times unexpectedly wise look at what it means to be a dad in this day and age.
Steve Patterson has been thinking about dad-dom for quite a while. In Dad Up! he gives his all to be the best father possible to two young girls while imparting his hard-won wisdom and insights to readers everywhere.
The youngest of five boys growing up in an Irish Catholic household, Patterson mines his childhood for any sage advice he might have picked up from his own dad. He talks with candour about the difficulty he and his wife, Nancy, had conceiving, finding humour in their experiences with the fertility clinic's automated phone calls (which Patterson calls "RoboPimp") informing them when Nancy was ovulating. He chronicles the disappointment of failing to get pregnant, only to have the miracle conception take place in Regina during Grey Cup Week, under the guiding spirit of the Saskatchewan Roughriders and comedian Brent Butt (don't ask).
From that point on, Patterson assumes full dad-mode, riffing on the biohazard that is changing a diaper, the absolute futility of stuffed animals, becoming a public breastfeeding warrior in the most unexpected of places, and how growing up a little boy in no way prepares you to being a father to little girls.
Most importantly, Dad Up! charts the awesome experience of watching tiny infants that you somehow had a hand in creating evolve into confident and crafty little people, and the lessons that they teach along the way.
About Ben Philippe
Ben Philippe is a New York–based writer and screenwriter, born in Haiti and raised in Montreal. He has a Bachelor of Arts from Columbia University and an MFA in fiction and screenwriting from the Michener Center for Writers in Austin, Texas. He also teaches film studies and screenwriting at Barnard College. He is the author of the William C. Morris Award-winning novel The Field Guide to the North American Teenager. Find him online at www.benphilippe.com.
About Sure, I'll Be Your Black Friend: Notes From the Other Side of the Fist Bump
It is a truth universally acknowledged that a good white person of liberal leanings must be in want of a Black friend. In the biting, hilarious vein of What Doesn't Kill You Makes You Blacker and We Are Never Meeting in Real Life comes Ben Philippe's candid memoir-in-essays, chronicling a lifetime of being the Black friend (see also: foreign kid, boyfriend, coworker, student, teacher, roommate, enemy) in predominantly white spaces.  
In an era in which "I have many black friends" is often a medal of Wokeness, Ben hilariously chronicles the experience of being on the receiving end of those fist bumps. He takes us through his immigrant childhood, from wanting nothing more than friends to sit with at lunch, to his awkward teenage years, to college in the age of Obama, and adulthood in the Trump administration — two sides of the same American coin.
Ben takes his role as your new black friend seriously, providing original and borrowed wisdom on stereotypes, slurs, the whole "swimming thing," how much Beyoncé is too much Beyoncé, Black Girl Magic, the rise of the Karens, affirmative action, the Black Lives Matter movement, and other conversations you might want to have with your new BBFF.
Oscillating between the impulse to be "one of the good ones" and the occasional need to excuse himself to the restrooms, stuff his mouth with toilet paper, and scream, Ben navigates his own Blackness as an "Oreo" with too many opinions for his father's liking, an encyclopedic knowledge of CW teen dramas, and a mouth he can't always control.
From cheating his way out of swim tests to discovering stray family members in unlikely places, he finds the punchline in the serious while acknowledging the blunt truths of existing as a Black man in today's world.
Extremely timely, Sure, I'll Be Your Black Friend is a conversational take on topics both light and heavy, universal and deeply personal, which reveals incisive truths about the need for connection in all of us.
About Pam Rocker
Pam Rocker is a native Texan turned Albertan, atypical activist, award winning writer, speaker, and musician. Rocker has worked for over a decade for the full inclusion of LGBTQ2S+ people in faith communities and beyond. She was chosen as one of the Top 40 Under 40 in Calgary, and as one of the top 30 activists in Canada. She was a frequent panelist on CBC Radio's Unconventional Panel, is the Chair of Broadview Magazine, and an Instructor with YouthWrite Alberta and YOUth Riot. Rocker is currently the Director of Affirming Connections, performs queer feminist ukulele comedy music, and speaks and plays across in the US and Canada
Curiouser?
Articles:
Buy the Books
The Good Father
Owl's Nest Books | Shelf Life Books
Likeness: Fathers, sons, a portrait
Owl's Nest Books | Shelf Life Books
Dad Up! Long Time Comedian. First-Time Father
Owl's Nest Books | Shelf Life Books
Sure, I'll Be Your Black Friend: Notes From the Other Side of the Fist Bump
Owl's Nest Books | Shelf Life Books
Borrow the Books
The Good Father
Likeness: Fathers, sons, a portrait
Dad Up! Long Time Comedian. First-Time Father
Sure, I'll Be Your Black Friend: Notes From the Other Side of the Fist Bump