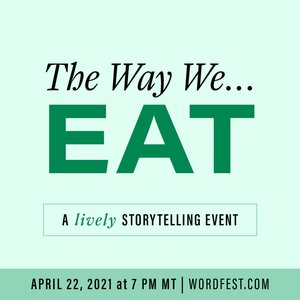 The Way We Eat
Apr 22 @ 7 PM - 8 PM MT
Online

Our lively April storytelling event, The Way We Eat, features four writers riffing about our complex relationships with food: Uzma Jalaluddin, Michael Moss, Lisa Ray, and Alex Wood.
Each author will perform an open-mic style monologue on the theme, as well as answer questions from the new series host, Pam Rocker. The 75-minute-Imagine On Air event show at 7:00 p.m. MT (The pre-show starts at 6:50 p.m. MT.) The broadcast on Wordfest.com is free and if you RSVP, we'll send you a reminder along with easy instructions to help you get set up, as well as our unique Digital Doggie Bag after the event with bonus videos from the authors.
We are grateful to Arsenal Pulp Press, HarperCollins Canada and Penguin Random House Canada for helping us connect you with these tasty writers.
THE STORYTELLERS
About Uzma Jalaluddin
Uzma Jalaluddin is the author of Ayesha at Last and Hana Khan Carries On. A high school English teacher, she is also a Toronto Star columnist and a contributor to The Atlantic. Her debut novel, Ayesha at Last, was published in the U.S, the UK, Australia, and India and has been optioned for film by Amy Pascal and Sony Pictures.
About Hana Khan Carries On: A Novel
"Come for Darcy reimagined as a hyper-conservative young man and Elizabeth Bennet as a wannabe poet frustrated by family obligation; stay for Uzma Jalaluddin's warm portrait of life for twentysomething Muslims in suburban Toronto struggling to honor their heritage while pursuing their dreams." –The Globe and Mail
From the author of Ayesha at Last comes a sparkling new rom-com for fans of You've Got Mail, set in two competing halal restaurants
Sales are slow at Three Sisters Biryani Poutine, the only halal restaurant in the close-knit Golden Crescent neighbourhood. Hana waitresses there part time, but what she really wants is to tell stories on the radio. If she can just outshine her fellow intern at the city radio station, she may have a chance at landing a job. In the meantime, Hana pours her thoughts and dreams into a podcast, where she forms a lively relationship with one of her listeners. But soon she'll need all the support she can get: a new competing restaurant, a more upscale halal place, is about to open in the Golden Crescent, threatening Three Sisters.
When her mysterious aunt and her teenage cousin arrive from India for a surprise visit, they draw Hana into a long-buried family secret. A hate-motivated attack on their neighbourhood complicates the situation further, as does Hana's growing attraction for Aydin, the young owner of the rival restaurant — who might not be a complete stranger after all.
As life on the Golden Crescent unravels, Hana must learn to use her voice, draw on the strength of her community and decide what her future should be.
About Michael Moss
Michael Moss is the author of the #1 New York Times bestseller Salt Sugar Fat: How the Food Giants Hooked Us, a Pulitzer Prize-winning investigative reporter formerly with The New York Times, a keynote speaker, and occasional guest on shows like CBS This Morning, The Dr. Oz Show, CNN's The Lead, All Things Considered, and The Daily Show.
About Hooked: Food, Free Will, and How the Food Giants Exploit Our Addictions
"The processed food industry has managed to avoid being lumped in with Big Tobacco — which is why Michael Moss's new book is so important." –Charles Duhigg, author of The Power of Habit
From the #1 New York Times bestselling author of Salt Sugar Fat comes a powerful exposé of how the processed food industry exploits our evolutionary instincts, the emotions we associate with food, and legal loopholes in their pursuit of profit over public health.
Everyone knows how hard it can be to maintain a healthy diet. But what if some of the decisions we make about what to eat are beyond our control? Is it possible that food is addictive, like drugs or alcohol? And to what extent does the food industry know, or care, about these vulnerabilities? In Hooked, Pulitzer Prize-winning investigative reporter Michael Moss sets out to answer these questions — and to find the true peril in our food.
Moss uses the latest research on addiction to uncover what the scientific and medical communities — as well as food manufacturers — already know: that food, in some cases, is even more addictive than alcohol, cigarettes, and drugs. Our bodies are hardwired for sweets, so food giants have developed fifty-six types of sugar to add to their products, creating in us the expectation that everything should be cloying; we've evolved to prefer fast, convenient meals, hence our modern-day preference for ready-to-eat foods. Moss goes on to show how the processed food industry — including major companies like Nestlé, Mars, and Kellogg's — has tried not only to evade this troubling discovery about the addictiveness of food but to actually exploit it. For instance, in response to recent dieting trends, food manufacturers have simply turned junk food into junk diets, filling grocery stores with "diet" foods that are hardly distinguishable from the products that got us into trouble in the first place. As obesity rates continue to climb, manufacturers are now claiming to add ingredients that can effortlessly cure our compulsive eating habits.
About Lisa Ray
Lisa Ray is an Indian-Canadian actress, model, television host, philanthropist, and socialactivist. She divides her time between Mumbai and Nelson, B.C.
About Close to the Bone: A Memoir
"A thrilling journey inwards as much as outwards... A must-read." –Freida Pinto
Lisa Ray is one of India's first supermodels. She's also an actor, a cancer survivor, a mother of twins through surrogacy. She is a woman who has lived many lives. And this is her story.
Close to the Bone is an unflinching, deeply moving account of Lisa Ray's life, tracing her childhood in Canada as the biracial daughter of an Indian man and a Polish woman, her rise as a popular Bollywood star, and her battle with a rare, incurable cancer. Transporting and atmospheric, it takes readers across the world, from Toronto in the 1970s, when Ray was desperately trying to find place and purpose to the intense frenetic streets of Bombay, where, unmoored and lost, she began her film career; from the hot and sweaty sensuality of Colombo, a place where she finally began finding acceptance; to the romance of Holland Park in London.
At once funny, charming, and gut-wrenchingly honest, Close to the Bone is Ray's brave and inspiring story of a life lived on her own terms.
About Alex Wood
Alex Wood is a comedian, writer, and podcaster who has been featured on NBC's Today Show, Kevin Hart's LOL, Vice, and Sirius XM Radio. His podcast How Alex Wood Quit Everything takes listeners on a journey through his addiction and subsequent recovery. Float like a Butterfly, Drink Mint Tea is his first book. He lives in Toronto.
About Float Like a Butterfly, Drink Mint Tea: How I Beat the Shit Out of All My Addictions
Float like a Butterfly, Drink Mint Tea is a must-read for anybody who is thinking about trying stand-up comedy, or cocaine. This book is not just about addiction; it's a story of love, loss, laughter, stand-up comedy, and boxing. All in all, I think I was mentioned in this book just the right amount. –K. Trevor Wilson, comedian
A wildly disarming memoir by comedian Alex Wood on how he overcame his multiple addictions.
As an alcoholic, drug-addicted comedian with tendencies to over-indulge and under-achieve since he was a teenager, Alex Wood was on track for to achieve his greatest goals: to die young and drunk. At the age of twenty-eight, feeling desperate in the face of addiction and associated health problems (ulcers, pancreatitis) — which were compounded by the deaths of loved ones and even worse undiagnosed issues — he decided to do something he'd been doing all his life: fight.
Wood concocted a plan to quit not only alcohol and drugs, but everything else that he felt was holding him back: cigarettes, caffeine, red meat, dairy, sugar, social media, smartphones, porn, credit cards, nail-biting, and gossip. His biggest weapons? A pair of boxing gloves and plenty of peppermint tea. But as Wood soon learned, people don't change overnight, and sobriety isn't a linear journey; there's heartbreak, relapses, and abuse along the way, but there's also love, support, and lots of laughter. In this memoir, Wood wants to prove that people really can change, or go on a withdrawal-inspired murder spree, whichever comes first.
With plenty of self-effacing wit and grace, Float like a Butterfly, Drink Mint Tea tears down the walls of shame surrounding addiction, providing an honest and open portrait of the stakes involved when one is willing to quit everything to survive.
About Host Pam Rocker
Pam Rocker is a native Texan turned Albertan, atypical activist, award winning writer, speaker, and musician. Rocker has worked for over a decade for the full inclusion of LGBTQ2S+ people in faith communities and beyond. She was chosen as one of the Top 40 Under 40 in Calgary, and as one of the top 30 activists in Canada. She was a frequent panelist on CBC Radio's Unconventional Panel, is the Chair of Broadview Magazine, and an Instructor with YouthWrite Alberta and YOUth Riot. Rocker is currently the Director of Affirming Connections, performs queer feminist ukulele comedy music, and speaks and plays across in the U.S. and Canada.
Buy the Books
Hana Khan Carries On: A Novel
Owl's Nest Books | Shelf Life Books
Hooked: Food, Free Will, and How the Food Giants Exploit Our Addictions
Owl's Nest Books | Shelf Life Books
Close to the Bone: A Memoir
Owl's Nest Books | Shelf Life Books
Float Like a Butterfly, Drink Mint Tea: How I Beat the Shit Out of All My Addictions
Owl's Nest Books | Shelf Life Books
Borrow the Books from the Library
Hana Khan Carries On: A Novel
Hooked: Food, Free Will, and How the Food Giants Exploit Our Addictions
Close to the Bone: A Memoir
Float Like a Butterfly, Drink Mint Tea: How I Beat the Shit Out of All My Addictions
Curiouser?
Articles: