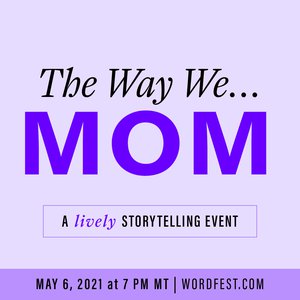 The Way We Mom
May 06 @ 7 PM - 8 PM MT
Online

Our May storytelling event, The Way We Mom, features four writers and their unique stories about mothering: Angie Abdou, Perdita Felicien, Harriet Alida Lye, and Keiler Roberts. 
Each writer will perform an open-mic style monologue on the theme as well as answer questions from the host, Pam Rocker. The hour-long Imagine On Air event starts at 7:00 p.m. MT (The pre-show starts at 6:50 p.m. MT.) The broadcast on Wordfest.com is free, but if you RSVP, we'll send you a reminder along with easy instructions to help you get set up, as well as our unique Digital Doggie Bag after the event with bonus videos from the authors.
We are grateful to Drawn & Quarterly, ECW Press, and Penguin Random House Canada for helping us connect you with these writers.
THE STORYTELLERS
About Angie Abdou
Angie Abdou is the author of five novels and a memoir of hockey parenting, Home Ice. Her first novel, The Bone Cage, was a CBC Canada Reads finalist and was awarded the 2011–12 MacEwan Book of the Year. Angie is Associate Professor of Creative Writing at Athabasca University. She lives in Fernie, B.C., with her family and two beloved but unruly dogs.
About This One Wild Life: A Mother-Daughter Wilderness Memoir
"In this brave and intimate 21st century memoir, Abdou negotiates the whipsawing tensions between motherhood, selfhood, marriage, and public life in an age when secrets have never been harder to keep, social media can be a truth-teller's harshest critic, and not even Nature can be counted on for sanctuary." –John Valliant
From the author of Canada Reads finalist The Bone Cage.
Disillusioned with overly competitive organized sports and concerned about her lively daughter's growing shyness, author Angie Abdou sets herself a challenge: to hike a peak a week over the summer holidays with Katie. They will bond in nature and discover the glories of outdoor activity. What could go wrong? Well, among other things, it turns out that Angie loves hiking but Katie doesn't.
Hilarious, poignant, and deeply felt, This One Wild Life explores parenting and marriage in a summer of unexpected outcomes and growth for both mother and daughter.
About Perdita Felicien
Perdita Felicien is an author, television host, sports broadcaster, 2-time Olympian, 10-time National Champion, and the first Canadian woman to win a World Championship gold medal in track and field. During her career as a 100-metre hurdler she earned numerous honours, including Canada's Athlete of the Year, Keys to the City of Pickering, and the Queen Elizabeth Diamond Jubilee Medal. Felicien retired from professional sports in 2013 and is now a broadcast journalist. She was part of CBC's broadcast team at the 2016 summer Olympic Games in Rio de Janeiro, Brazil, and was inducted into Athletics Canada's Hall of Fame. My Mother's Daughter is her first book.
About My Mother's Daughter: A Memoir of Struggle and Triumph
A raw and affecting memoir about a mother and daughter who beat the odds together.
Perdita Felicien's story is woven into her mother's like an intricate braid. To understand Perdita's story, you must know Catherine's.
Catherine is larger than life. At seventeen years old, she is determined and tenacious, and longing to experience a better life. But she is also pregnant with her second child, and just scraping by in St. Lucia by selling homemade jewellery on the beach. So when she meets a wealthy white Canadian family vacationing on the island, she knows she's found her chance. After babysitting the couple's infant son for two weeks, she asks them to bring her to Canada and employ her as a nanny. Somehow, they agree.
This was the beginning of Catherine's new life: a life of great opportunity, but also profound suffering. Within a few years, she would find herself pregnant a third time — this time in a new country, Canada, with no family supporting her, and this time, with Perdita. Together, in the years to come, they would experience poverty, racism, domestic abuse, and even homelessness, but Catherine's will would always pull them through.
As Perdita grew and began to discover her preternatural gifts — athleticism at what would one day prove to be an Olympic level — she was edged onward by her mother's love, grit, and faith. Facing literal and figurative hurdles, she learned to leap, and pick herself back up when she stumbled. Beautifully written and deeply absorbing, My Mother's Daughter is a daughter's memoir — a book about the power of a parent's love to transform their child's life.
About Harriet Alida Lye
Harriet Alida Lye's acclaimed debut novel, The Honey Farm, was published in Canada, the US, and Australia. She was the founder and editor of Her Royal Majesty, a literary arts magazine that ran for six years. Her work has appeared in VICE, Hazlitt, The Happy Reader, Catapult, The Guardian, and The National Post. She studied Philosophy and English at the University of King's College in Halifax and lived in Paris for the better part of eight years. She now lives in Toronto.
About Natural Killer: A Memoir
"I need people to know that I exist, that their experiment worked, that by some combination of luck and science, I'm alive."
In this harrowing and intimate memoir, Harriet Alida Lye explores how, at just fifteen years old, she was diagnosed with a form of leukemia called Natural Killer, named "the rarest and worst malignancy". The average survival time of patients with this diagnosis is 58 days. There were no known survivors. Fifteen years after Lye's diagnosis, she became pregnant, despite having been told that her chemotherapy treatment would likely make conception impossible. To be a mother is to make a death, as death is bound up in life. She knew her body had the ability to create death. She never trusted, was told to not even imagine, that it also had the power, that magical banality, to create life. Weaving in source material from the year she spent in hospital, written by both of her parents and her teenage self, this personal reflection is told through a seamless blend of narrative, snapshots, journal entries, and blog updates posted for friends and family. With probing lyricism and searing honesty, Natural Killer explores what it's like to live with a life-threatening illness and survive it; what it means for a body to turn against itself, to self-destruct from within; and what it takes to regain trust in a body that has committed the ultimate betrayal.
About Keiler Roberts
Keiler Roberts makes autobiographical comics. She is the recipient of the Slate Cartoonist Studio Prize for Chlorine Gardens and is the author of Powdered Milk, Happy Happy Baby Baby, Miseryland, Rat Time, and Sunburning which was translated into Spanish as Isolada. Also the winner of the Ignatz Award, Roberts teaches comics at The School of The Art Institute in Chicago. 
About My Begging Chart
Keiler Roberts mines the passing moments of family life to deliver an affecting and funny account of what it means to simultaneously exist as a mother, daughter, wife, and artist. Drawn in an unassuming yet charming staccato that mimics the awkward rhythm of life, no one's foibles are left unspared, most often the author's own.
When Roberts considers whether or not to dust the ceiling fan, it's effectively relevant. She can get lost in the rewarding melodrama of playing Barbies with her daughter and will momentarily snap out of her depression. Her harmless fibs to get through the moment are brought up by her daughter a year or two later, yet without hesitation Roberts will request that her daughter's imaginary friend not visit when she is around. Her MS diagnosis lingers in the background, never taking centre stage.
In her most encompassing work yet, Keiler meditates on routine and stillness. The vignettes of her everyday life exude immense presence, making her comics thoroughly relatable and reflective of our all-too-human lives as they unfold with humour, sadness, and relieving joy. In transporting these stories onto paper, Keiler observes, and at times relishes, a fleeting present.
About Host Pam Rocker
Pam Rocker is a native Texan turned Albertan, atypical activist, award winning writer, speaker, and musician. Rocker has worked for over a decade for the full inclusion of LGBTQ2S+ people in faith communities and beyond. She was chosen as one of the Top 40 Under 40 in Calgary, and as one of the top 30 activists in Canada. She was a frequent panelist on CBC Radio's Unconventional Panel, is the Chair of Broadview Magazine, and an Instructor with YouthWrite Alberta and YOUth Riot. Rocker is currently the Director of Affirming Connections, performs queer feminist ukulele comedy music, and speaks and plays across in the U.S. and Canada.
Buy the Books
This One Wild Life: A Mother-Daughter Wilderness Memoir
Owl's Nest Books | Shelf Life Books
My Mother's Daughter: A Memoir of Struggle and Triumph
Owl's Nest Books | Shelf Life Books
Natural Killer: A Memoir
Owl's Nest Books | Shelf Life Books
My Begging Chart
Owl's Nest Books | Shelf Life Books
Borrow the Books
This One Wild Life: A Mother-Daughter Wilderness Memoir
My Mother's Daughter: A Memoir of Struggle and Triumph
Natural Killer
My Begging Chart
Curiouser?
Articles:
Perdita Felicien draws strength from the hurdles her mother faced -The National
Excerpt from This One Wild Life: A mother-daughter wilderness memoir -Canadian Geographic
Reviews: